Mother Nature did the Yankees a solid on Wednesday afternoon, sparing their bullpen with some late-inning rain and lightning. The Yankees and Blue Jays played just six and a half innings, long enough for the Bombers to finish off the three-game sweep and the 5-1 homestand.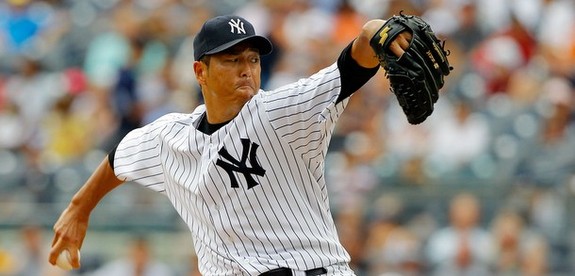 Hirok 'n Roll
Hiroki Kuroda has now made five starts during the day this season, and he's yet to allow a run in 30 innings. Wednesday's effort featured seven shutout innings and virtually zero stress; he was never in any kind of danger at any point. Kuroda struck out five, allowed four hits (just one for extra bases), and recorded all but one of his 21 outs on the infield. He retired 12 of the first 14 men he faced with the two exceptions coming on an Alex Rodriguez throwing error and an infield single.
Kuroda technically threw a complete-game shutout, the third of his MLB career. These rain-shortened ones don't really count as a true shutouts in my opinion, but that shouldn't take away from his performance. It was a pretty great start … awesome to see Hiroki shake off those last two duds and get back to being the guy he was in May and June.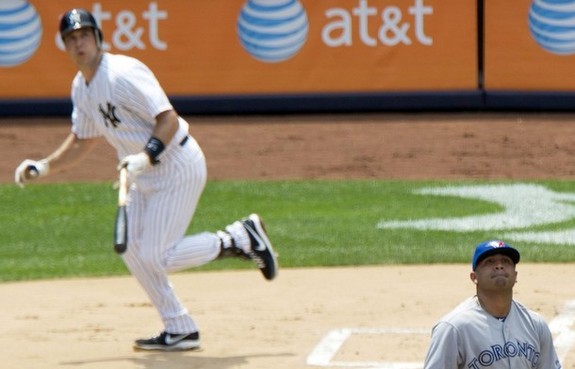 Early Runs
It took all of three batters for the Yankees to extend their streak of consecutive games with three or more runs to 42. Derek Jeter doubled off the right field wall to leadoff the first, Nick Swisher followed up with a single to right, and Mark Teixeira make it three-zip with a homer. Just like that, the Yankees had a nice little lead and the second longest single-season streak of scoring 3+ runs in baseball history. They're six away from tying the record and seven from setting a new one.
That wasn't all the offense though. Left-hander Ricky Romero looks nothing like the guy he was just last year, getting hit hard and leaving way too many pitches out over the plate. Andruw Jones singled off the wall to drive in Robinson Cano three batters after Teixeira's homer and Dewayne Wise plated a run with a ground-rule double in the fourth and then another with a single in the sixth. Dunno if you heard, but his bunt turned the season around. New York had baserunners in every inning but the fifth.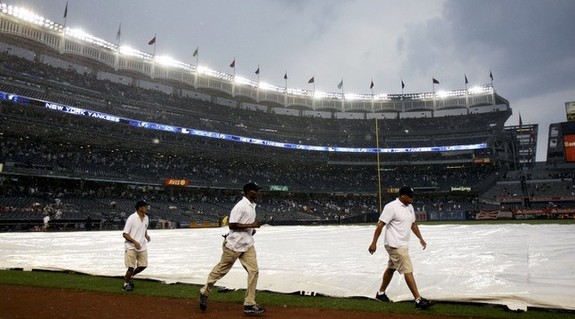 Leftovers
Cano extended his hitting streak to 21 games and his on-base streak to 24 games — both career bests — with a double off Rajai Davis' glove in the first inning. Davis should have caught it, not for nothing. This is the longest hitting streak by a Yankee since A-Rod hit in 23 straight back in April 2007. Four more games and it'll be the second longest hit streak by a Yankee since Joe DiMaggio's 56-gamer back in 1941 if you can believe that.
Jayson Nix had himself a nice little series, going a combined 5-for-7 with a double in two spot starts against the left-handers. Then again, he did get picked off first in the first inning on Wednesday after getting throwing out trying to steal third (with no outs!) on Tuesday, so maybe it wasn't so great after all. Eh, whatever. It seems like whoever Joe Girardi pencils into the lineup these days does something productive. Everyone's contributing, even the bench guys.
As for the rest of the offense … Jeter had a double and single, Swisher a single, Teixeira a homer and a single, Cano a double, Andruw a single, Nix a single and double, Russell Martin a single, and Wise a double and single. Twelve hits (and two walks) off Romero in just six innings. They worked him over pretty well.
The 3+ run streak is getting all the attention, but the Yankees have now scored at least five runs in ten straight games. That's the longest streak in baseball since the Mets did it in 12 straight back in August 2007. It's the longest such streak by the Yankees since they ran off ten straight the same month the Amazin's had their 12-gamer. The all-time record is 18 straight by the 1950 Red Sox.
One last note: The Yankees have already swept eight series this year. They swept nine all of 2011. Now that's a fun stat.
Box Score, WPA Graph & Standings
MLB.com has the box score and video highlights, FanGraphs the nerd score, and ESPN the updated standings. Spoiler Alert: The Yankees have a really big lead in the AL East.

Source: FanGraphs
Up Next
The Yankees are going going, back back, to Cali Cali. They're off to the West Coast for a seven-game trip starting with four against the Athletics in Oakland. Freddy Garcia gets the ball against rookie right-hander A.J. Griffin in the opener Thursday night. Griffin will be making his fifth career start, Garcia his 335th.