And now the losing streak at Tropicana Field is up to the nine games, as the Yankees were once again beaten by the Island of Misfit Hitters who populated the Rays' lineup on Tuesday. Jeff Keppinger and Sean Rodriguez did the honors this time, as he Bombers compounded the problem by making errors — both physical and mental — and outs on the bases.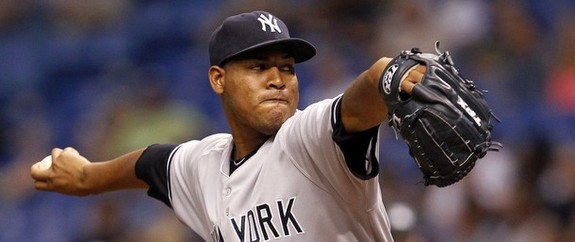 No, Nova
On the one-year anniversary of the day he was sent to the minors to make room in the rotation for Phil Hughes, Ivan Nova turned in an ugly six-run, six-inning appearance against Tampa. Granted, three of those runs were unearned after Russell Martin didn't hold onto the ball on a play at the plate, but runs are runs. We can't blame the hanging slider to Keppinger that resulted in a two-run single one batter later on Martin, that's all on Nova. One inning later he grooved a 2-1 pitch that Rodriguez hit out of the park for a two-run homer, effectively the game-winner.
I really don't have to much to add here. Nova didn't pitch well but it happens, guys aren't to be on their game each and every time out. It's just annoying when you get beat by guys like Keppinger and Rodriguez, especially when Evan Longoria and Matt Joyce are on the shelf. You can't let those two guys beat you, and the Yankees have in the last two games.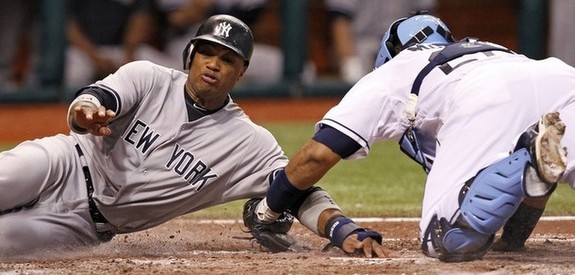 Bad Send
The Yankees scored a pair of first inning runs for the second straight night, then Dewayne Wise tacked on a third run two innings later with a solo homer off one of the catwalks. I dunno what's gotten into that guy, but they should pass it around the clubhouse. They scored a fourth run — an inning after Tampa tied it at three — when Eric Chavez singled in Raul Ibanez, who chugged around third and scored when Desmond Jennings' throw to the plate was offline. That was a pretty good send with two outs with Martin on deck, but an accurate throw beats Raul by about 15 feet.
They got lucky with the throw that inning, but not in the sixth. Robinson Cano was thrown out at the plate on Ibanez's double down the line, which was just an awful send by third base coach Robbie Thomson. The throw beat Cano to the plate by about ten feet and although he made the play closer than it should have been with a creative slide, the fact that the ball beat him to the base by that much shows it was a bad send. With one out, you gotta stop the man at third and take your chances. Thompson admitted his mistake after the game but it was too little, too late. The out at the plate completely took the wind out of the Yankees' sails and they put just one runner on-base the rest of the game.
Leftovers
Cano forgot how many outs there were in the first, simply putting his head down and running on Nick Swisher's fly ball and getting doubled off the base. I say this all the time, but I'm going to have to repeat it again: physical mistakes happen, they're part of the game. Mental mistakes are far less forgivable. Robbie's gotta know better than that.
Martin not only went 0-for-4 at the plate, but he committed two errors — one on the play at the plate and another when he threw the ball into center field — and allowed five stolen bases in five chances. I don't think you can overstate how awful the team's catchers have been this season, both at the plate and behind it. They've been brutal.
Derek Jeter (single and double), Cano (two singles), Ibanez (two doubles), and Wise (homer and single) all had two hits each. Curtis Granderson doubled off Carlos Pena's glove and Chavez sliced a little run-scoring ground ball single through the left side. The Yankees drew zero walks and went a healthy 3-for-8 (.375) with runners in scoring position. Some more homers would have helped.
Chad Qualls allowed two runs — one his own and one he inherited from Clay Rapada who inherited it from Nova — but was nice enough to throw 36 pitches across 1.2 innings to spare everyone else in the bullpen. He's now allowed ten (!) of the 16 runners he's inherited to score this season, an awful 62.5%. Thank goodness he was on the Phillies for just about all of that.
Box Score, WPA Graph & Standings
MLB.com has the box score and video highlights, FanGraphs the advanced stats, and ESPN the updated standings.

Source: FanGraphs
Up Next
It's a Fourth of July matinee for the series finale, with a pair of Davids — Phelps and Price — squaring as the Yankees look to salvage something on this trip to Florida. That one starts at 3pm ET.