Make it eight straight losses at Tropicana Field dating back to last season. To make matters worse, the Yankees were beat by three players who are at least in the conversation for the worst hitter in the American League. Pretty awful.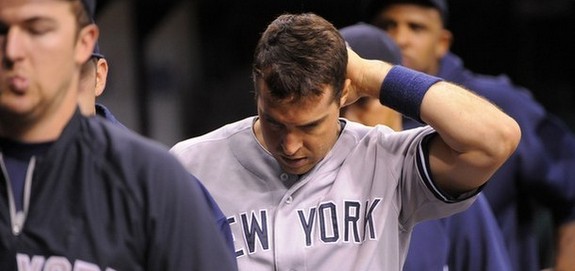 Gift Wrapped
The Yankees carried a 3-2 lead into the seventh inning and while that isn't the most comfortable of leads, it's certainly better than being on the other end of the ledger. The eventual game-winning rally was setup by a one-out walk to pinch-hitter Sean Rodriguez, who has drawn five of his 15 (!) walks against the Yankees this season. I know Boone Logan is a lefty specialist and Rodriguez is a righty, but man he's got to do better than walking that guy when he's ahead in the count 1-2.
The big blow came when David Robertson fell behind in the count to the certifiably awful Brooks Conrad, who laced a 3-1 double off the right field wall to tie the game. The ball was maybe three or four feet from hitting the pole for a homer. Robertson has to be more aggressive there, you can't fall behind in the count to a guy like Brooks freakin' Conrad. Logan too, they have to stop showing respect to these trash hitters and put them away. Mark Teixeira's three-base error — on a play he makes 99 out of 100 times — to allow the game-winning run was just icing on the cake. The loss falls on the shoulders of Joe Girardi's top two setup relievers and their inability to put non-Major League caliber hitters away. Loved the move to go to Robertson in that spot, he just didn't get the job done.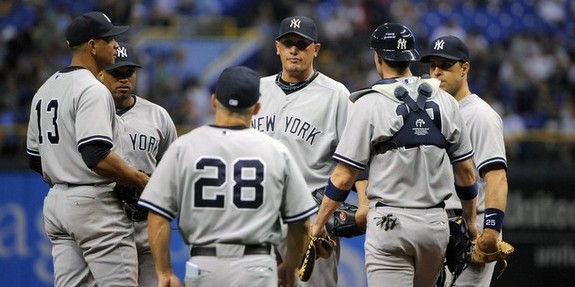 The Return of Sweaty Freddy
Injuries to CC Sabathia and Andy Pettitte forced Freddy Garcia back into the rotation, and he turned in a very solid outing against the Rays on Monday. He was definitely left in a batter — arguably two, but that's not worth the effort — too long, but two runs in 5.1 innings is something I think we all would have signed up for coming into the game. I dunno why Girardi would have Clay Rapada up and warming if he wasn't going to use him against Yankees killer Carlos Pena in the sixth, but whatever. Pena homered to tie the game.
Anyway, Freddy did it in typical Freddy fashion. He got away with several hard-hit balls that happened to find defenders, but he also got his fair share of weak pop-ups and funny, off-balance swings. Girardi said he was scheduled for 60-70 pitches but ended up throwing 74, though maybe playing indoors in the air conditioning helped keep him fresh. Either way, Garcia struck four, walked none, and gave the team a pretty big lift. Nice job, Fred.
Leftovers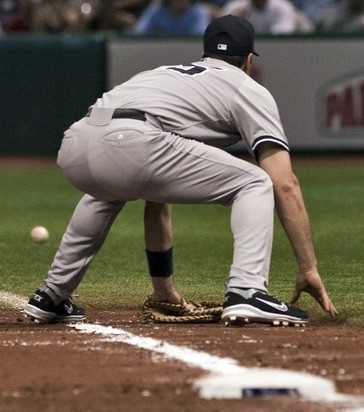 The Yankees scored a pair of runs in the first thanks to a really bad misplay by former embedded Yankee Hideki Matsui, who lost a ball in the roof and turned a routine popup into a double. They really had a chance to pile on Matt Moore in that first inning but only managed to two runs. Their third run came in the seventh without the benefit of a hit — Chris Stewart walked, moved to second on a wild pitch, then came around to score on two sacrifice flies.
Annoyingly enough, on two occasions Moore followed up a visit from the pitching coach with an inning-ending double play on the very next pitch. It happened in the first, then it happened in the sixth. They say the first pitch after a visit from the pitching coach will always be a fastball, but when the guy is throwing 95-96 with ease, maybe it's not the wisest idea to swing no matter what. Also, it was pretty funny how the two starting pitchers in the game could not have been any more different.
Every starter had a hit except for Curtis Granderson — he drove in the team's third run with a sac fly — and Nick Swisher. The 3-4-5 hitters went a combined 5-for-10 with two walks but everyone else went a combined 4-for-22. Robinson Cano lined into a double play back to Moore with two men on in the third, just a frustratingly bad piece of luck. Moore three seven innings and did not set the side down in order a single time. He was in trouble all night.
Logan and Robertson effectively blew the game in the seventh, but the rest of the bullpen took care of business. Cody Eppley allowed an infield hit but otherwise got a double play and recorded three outs while facing three hitters. Rapada struck out Pena (two innings too late), the only man he faced. Chad Qualls made his Yankees debut by retiring the two right-handers he faced. That's the one real problem with the bullpen right now, these three guys are all specialists and it limits flexibility.
Box Score, WPA Graph & Standings
Yuck. MLB.com has the box score and video highlights, FanGraphs some other stats, and ESPN the updated the standings.

Source: FanGraphs
Up Next
Same teams, different starters (Jamie Shields vs. Ivan Nova) in game two of this three game series on Tuesday night. Winning at Tropicana Field shouldn't be this difficult.