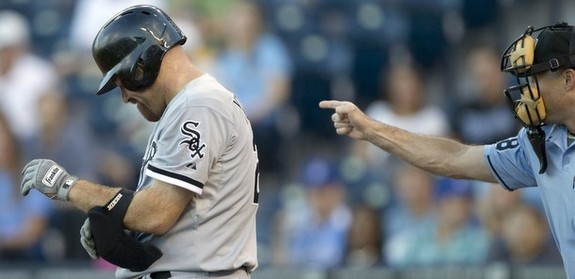 The Yankees have yet to visit Minnesota, Cleveland, and Chicago this season, but they'll get the latter two out of the way this week. The Bombers are in the Windy City for a three-game series after splitting four with the White Sox in the Bronx back in late-June.
What Have They Done Lately?
The White Sox lead the Tigers by two games in the AL Central with a 65-55 record (+64 run differential). They nearly got no-hit by Jeremy Guthrie yesterday, completing a three-game sweep at the hands of the Royals. They'd won three straight prior to that. The ChiSox have won just five of their last dozen games, so they're scuffling a bit.
Offense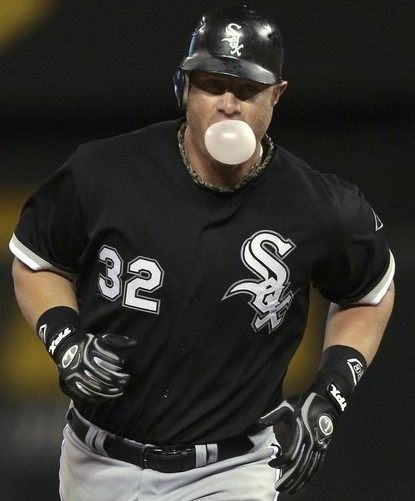 With an average of 4.7 runs per game, Chicago has a sneaky good offense that can really hit the ball out of the park. Paul Konerko (141 wRC+) recently came off the seven-day concussion DL and joins MLB homer king Adam Dunn (121 wRC+) to give the club 55 dingers in the middle of the order. Thirty-five of those bombs belong to Dunn, who should see a whole lot of Clay Rapada and Boone Logan these next three days — 101 wRC+ vs. LHP and 134 vs. RHP.
Outside of those two, rookie manager and former Yankee Robin Ventura has been getting excellent production from A.J. Pierzynski (133 wRC+) and Alex Rios (125 wRC+). Both Kevin Youkilis (104 wRC+) and Alejandro De Aza (101 wRC+) have been solid as well, though both are battling nagging injuries — Youk a sore knee, De Aza a sore oblique. Both are day-to-day at the moment. Taking De Aza's spot in center field (and atop the lineup) for the time being is former Yankee Dewayne Wise (121 wRC+ in limited time). As you may recall, his bunt turned the season around.
The rest of the roster is filled out by flawed but occasionally useful hitters. Dayan Viciedo (93 wRC+) has power, Alexei Ramirez (67 wRC+) makes a lot of contact, and Gordon Beckham (64 wRC+) … really doesn't do much of anything. Tyler Flowers (79 wRC+) is the backup catcher and Ray Olmedo (7 wRC+ in very limited time) is the backup infielder. Chicago employs a 13-man pitching staff and with the Youkilis and De Aza injuries, they're a little short on healthy bodies at the moment.
Pitching Matchups
Monday: RHP Freddy Garcia vs. RHP Gavin Floyd
It's been a bit of a tough year for the 29-year-old Floyd, who spent some time on the DL with flexor tendinitis in his elbow and has seen his ERA (4.43) rise for the fourth consecutive season. His walk (3.22 BB/9 and 8.2 BB%) and homer (1.32 HR/9) rates are the highest they've been since becoming a full-time starter for the ChiSox, though his strikeout numbers (7.52 K/9 and 19.2 K%) are among his career bests. Floyd is using his mid-80s cutter more than three out of every ten pitches this year, by far the highest rate of his career. His four- and scantily-used two-seamer both sit in the low-90s and his trademark curveball is an upper-70s hammer. It is very underappreciated in the pantheon of baseball's great pitches. He'll also use a low-80s changeup. The Yankees tagged Floyd for four runs with more walks (five) than strikeouts (three) in 5.1 innings earlier this year.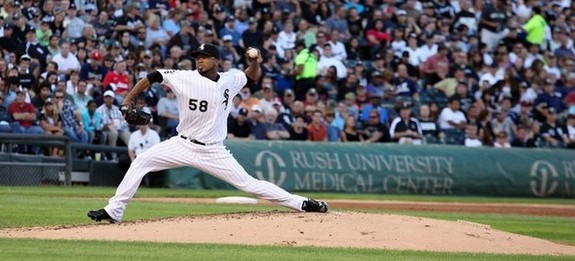 Tuesday: RHP Ivan Nova vs. LHP Francisco Liriano
One of three deadline pickups, Liriano has actually been pretty good for the ChiSox. He threw a total dud against the Athletics last week (six runs in 3.1 IP), but otherwise has thrown at least five innings and allowed no more than two runs in his other three outings since the trade. The 28-year-old southpaw's numbers are all over the place, with strong strikeout (9.85 K/9 and 24.9 K%) and ground ball (44.2%) rates but an ugly walk (4.77 BB/9 and 12.1 BB%) percentage. Pretty much a microcosm of his career. Liriano is a two-seamer (low-90s) and slider (mid-80s) machine, throwing the two pitches just about 75% of the time. A mid-80s changeup is his other offering.
Wednesday: RHP Phil Hughes vs. LHP Chris Sale
When these two clubs met for four games earlier this year, the 23-year-old Sale was the one pitcher the Yankees did not see. The left-hander is a legitimate Cy Young candidate in his first full year as a starter, pitching to a 2.72 ERA (3.18 FIP) with dynamite peripherals — 8.48 K/9 (23.8 K%), 2.17 BB/9 (6.1 BB%), and 44.4% grounders. Sale employs both two- and four-seamers that run from the low-to-mid-90s, and he backs them up with a wipeout upper-70s slider that is just death on lefties (.229 wOBA against). His low-80s changeup is an effective second offspeed pitch. Sale has slowed down a bit of late, allowing at least four runs in three of his last five outings, leading to questions about his workload (career-high 145.1 IP) and fatigue.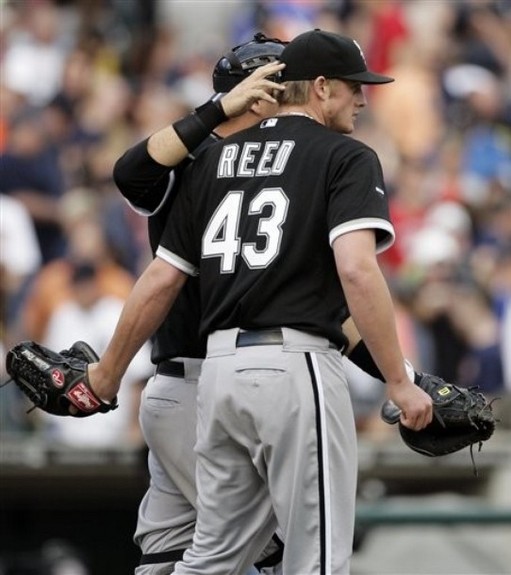 Bullpen Status
Ventura has eight pitchers in the bullpen and right now four of them are rookies, including closer Addison Reed (3.17 FIP). He's being setup by a pair of veterans — right-hander Brett Myers (4.05 FIP) and left-hander Matt Thornton (3.24 FIP) — with another veteran guy in the middle innings (Jesse Crain, 3.19 FIP) and another in long relief (Phil Humber, 5.54 FIP). Obviously things have gone downhill since the perfect game. Rookie left-handers Donnie Veal (1.00 FIP in very limited time) and Hector Santiago (5.25 FIP) join righty Nate Jones (3.69 FIP) in the middle innings.
Former Yankees farmhand Jose Quintana gave the ChiSox seven innings in yesterday's loss, so their bullpen is pretty fresh. Veal and Jones have pitched in each of the last two games, so they might be unavailable tonight. Crain pitched yesterday for the third time in four games, so he might be off limits as well. Other than that, their late-inning guys are good to go. The Yankees are in good bullpen shape as well thanks to Hiroki Kuroda's eight innings last night, but check out our Bullpen Workload page for exact recent reliever usage. South Side Sox is the best White Sox blog around, so check that out for the latest and greatest on the opponent for the next three days.