Cleveland is one of just two AL cities the Yankees have yet to visit this season (Minnesota is the other), but the Yankees are in town for a three-game set this weekend. The Bombers swept three games from the Tribe back in late-June, back when they were on the middle of an all-out assault against the rest of baseball.
What Have They Done Lately?
The Indians are bad. I mean really, really bad. They've lost eight in a row and 21 of their last 25 games overall. Since topping out at five games over .500 on June 10th, Cleveland has gone 23-43 and fallen 15 games back of the White Sox in the AL Central. At 54-70 with a -131 run differential, the Tribe has the second worst record and easily the worst run differential in the league.
Offense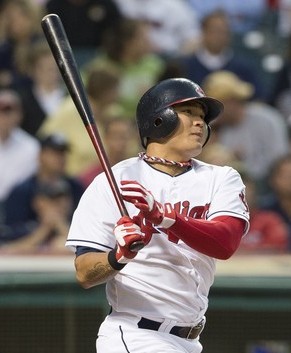 With an average of 4.4 runs per game and a team 97 wRC+, the Indians are essentially a league average offense. Their best player is true five-tool outfielder Shin-Soo Choo (133 wRC+), who can beat you with his legs, his defense, or his bat. He leads the club with 15 homers and pretty much every other meaningful offensive category as well. It's worth noting that Choo, a left-handed hitter, has a massive platoon split — 166 wRC+ vs. RHP but a 67 wRC+ vs. LHP.
Most of Cleveland's top hitters are left-handed, but switch-hitters Carlos Santana (112 wRC+) and Asdrubal Cabrera (111 wRC+) provide some balance. Michael Brantley (106 wRC+) and Jason Kipnis (100 wRC+) provide a little more lineup depth as well. Casey Kotchman (82 wRC+) has been predictably terrible, though the recently recalled Ezequiel Carrera (130 wRC+) has provided some spark in limited action. Former Yankee Shelley Duncan (94 wRC+ vs. LHP) leads the gaggle of platoon players that includes Jack Hannahan (80 wRC+ vs. RHP) and Brent Lillibridge (39 wRC+ vs. LHP). Utility infielder Jason Donald (45 wRC+) and backup catcher Lou Marson (82 wRC+) round out the bench. The Yankees catch a little bit of a break because Travis Hafner (121 wRC+) is on the DL with back problems.
Pitching Matchups
Friday: LHP CC Sabathia vs. RHP Corey Kluber
A 26-year-old rookie, Kluber will be making his fifth career start tonight. He pitched very well in Triple-A (3.59 ERA and 3.38 FIP) but has been unable to carry that success over to the show — his best start was three runs in six innings against the lowly Twins. Otherwise he's pitched to a 6.27 ERA (5.77 FIP) with few strikeouts (6.27 K/9 and 14.8K%) but decent ground ball (42.4%) and walk (3.38 BB/9 and 8.0 BB%) rates in just 18.2 innings. Kluber is a true four-pitch pitcher, using a low-90s fastball to setup his upper-80s slider, mid-80s changeup, and low-80s curveball. The Yankees, obviously, have never seen him before.

Saturday: RHP Hiroki Kuroda vs. RHP Justin Masterson
Masterson was Cleveland's Opening Day starter this year, but he's been unable to build on last year's breakout season. He's sitting on a 4.73 ERA (4.13 FIP) that closely resembles his pre-2011 performance, and the same goes for his walk rate (3.90 BB/9 and 9.9 BB%). Both his strikeout (7.07 K/9 and 18.0 K%) and ground ball (56.0%) percentages remain at their usual levels. Masterson is essentially a two-pitch pitcher, relying on a bowling ball low-90s sinker and a sweepy mid-80s slider. He'll throw two or three mid-80s changeup per start, but that's it. The Yankees have seen plenty of the 27-year-old dating back to his days with the Red Sox, and they tagged him for four runs in six innings earlier this year. It's worth noting that Masterson has a massive platoon split, holding righties to a .279 wOBA but getting tagged for a .357 wOBA by lefties.
Sunday: RHP David Phelps Freddy Garcia vs. RHP Ubaldo Jimenez
You have to think the Indians expected a little more than a replacement level pitcher when they traded away four young players for Jimenez last season. The 28-year-old right-hander owns a 5.59 ERA (5.33 FIP) in 143.1 innings this season, all because of astronomical walk (5.02 BB/9 and 12.3 BB%) and homer (1.44 HR/9) rates. Both the strikeout (7.53 K/9 and 18.4 K%) and ground ball (39.2%) numbers are way down compared to his career norms. Jimenez has been steadily losing velocity in recent years and now sits in the low-90s with his two- and four-seamers. He'll also throw a mid-80s split-change hybrid as well as a low-80s slider and an upper-70s curveball. Like Masterson, the Yankees hung four runs on six innings on Ubaldo earlier this season.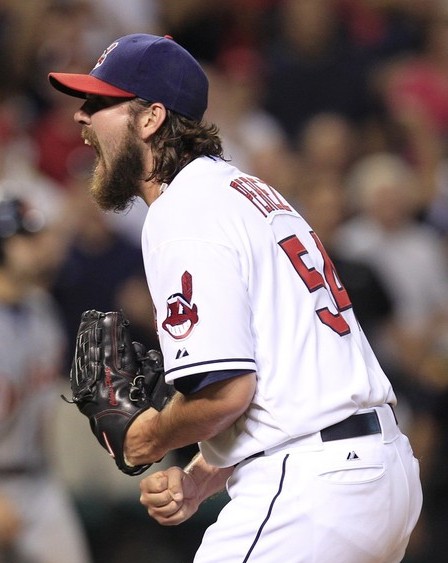 Bullpen Status
Like the Yankees, the Tribe has a fresh bullpen because they had Thursday off. Manager Manny Acta has one of the best closer-setup tandems in baseball at his disposal in Chris Perez (2.47 FIP) and Vinnie Pestano (2.87 FIP). I'm kinda disappointed that Pestano is from California and not Brooklyn, just because a name like Vinnie Pestano should belong to a Brooklynite. You just know his grandmother calls him Vincent.
Anyway, the Indians are carrying eight relievers these days. Tony Sipp (4.39 FIP) and Chris Seddon (3.74 FIP in limited time) are the two left-handers, and right-hander Cody Allen (3.61 FIP) has emerged as a late-game arm recently. He was a 23rd round pick in last year's draft and became the second player from that class to reach to big leagues earlier this season. Only Trevor Bauer beat him. Frank Herrmann (3.62 FIP), Esmil Rogers (3.91 FIP), and Joe freakin' Smith (3.67 FIP) round out their relief corps. Check out our Bullpen Workload page for info on the Yankees' bullpen, and then check out any of The DiaTribe, Let's Go Tribe, or Wahoo's on First for the latest and greatest on the Cleveland nine.