Didn't these two teams just meet? The Yankees took two of three from the Mariners in Seattle last week, but lost Alex Rodriguez to a hand injury in the process. Felix Hernandez hit him with a pitch. Will the Bombers retaliate? I'm guessing no, it's not worth losing someone to a suspension.
What Have They Done Lately?
The Mariners haven't lost a single game since the Yankees beat them last Wednesday. They took four straight from the Royals and four straight from the Blue Jays, all at home. This hot streak has moved them into … still last place. Seattle is 50-57 with a +3 run differential, well out of the AL West race.
Offense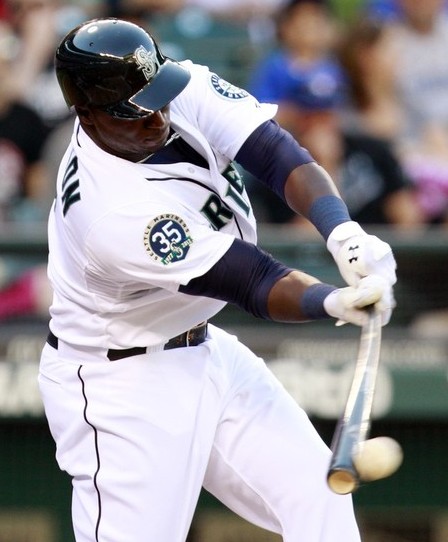 Away from Safeco Field, the Mariners have been a completely different team this year. They've mustered a pathetic 65 wRC+ at home this season compared to a 98 mark on the road. They're basically league average offense away from Safeco, a marked improvement over the last two or three years.
Seattle's best hitter all season has been John Jaso (138 wRC+), who is essentially a platoon bat against righties. Michael Saunders (108 wRC+) and Kyle Seager (101 wRC+) have been solid as well, ditto Mike Carp (98 wRC+) and Casper Wells (98 wRC+) in smaller samples. Ichiro Suzuki came to the Yankees and has been replaced by the recently acquired Eric Thames (one homer in three plate appearances) and the recently recalled Trayvon Robinson (4-for-12). The rest of the roster is filled out by Dustin Ackley (79 wRC+), Brendan Ryan (67 wRC+), Chone Figgins (48 wRC+), Miguel Olivo (46 wRC+), and Munenori Kawasaki (28 wRC+).
And, naturally, we have to talk about Jesus Montero. The former Yankees wunderkind has hit .260/.305/.395 (89 wRC+) with ten homers this season, doing most of his damage against lefties (178 wRC+) and on the road (118 wRC+). He's been abysmal against righties (47 wRC+) and at home (61 wRC+). Montero has been pretty awesome since the All-Star Break (.323/.400/.477), and he's already homered once at Yankee Stadium this season. I highly recommend this Lookout Landing post breakdown his season.
Pitching Matchups
Friday: LHP CC Sabathia vs. RHP Kevin Millwood
It's the exact same three guys the Yankees saw in Seattle last week. Millwood held the Bombers to three runs in seven innings in the series opener, and overall has pitched to a 3.90 ERA and 3.46 FIP. He's doing it with peripherals that don't exactly jump out at you –6.48 K/9 (16.9 K%), 3.20 BB/9 (8.3 BB%), and 44.6% grounders. Millwood sits right around 90 with the four-seamer, two-seamer, and cutter, backing them up with a low-80s slider, a low-80s changeup, and a low-70s curveball.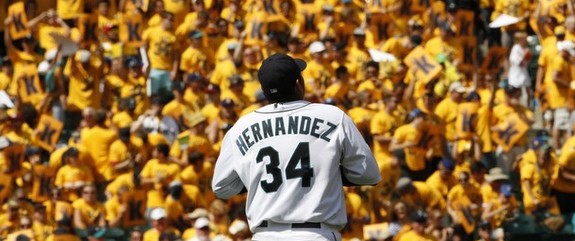 Saturday: RHP Hiroki Kuroda vs. RHP Felix Hernandez
Felix pitched pretty well when he wasn't busy breaking A-Rod's hand last week, allowing two runs in 7.1 innings. He's allowed two earned runs or fewer in eight of his last nine starts, leading to a 2.79 ERA and a career-best 2.93 FIP. The strikeout (8.88 K/9 and 24.4 K%) and walk (2.38 BB/9 and 6.5 BB%) rates are ridiculous, though the ground ball rate (46.3%) is down quite a bit from recent years. Felix is more low-90s with the fastball than mid-90s these days, but his secondary stuff — upper-80s changeup, mid-80s slider, low-80s curveball — is among the very best in the game. He's nasty.
Sunday: RHP Freddy Garcia vs. RHP Hisashi Iwakuma
The Yankees scored just one run off Iwakuma last week, but they forced him out of the game after five innings due to his pitch count. The Japanese veteran will be making his sixth start since coming out of the bullpen, and overall he's pitched to a 4.10 ERA and 5.27 FIP. The strikeout (7.58 K/9 and 20.2 K%) and ground ball (52.4%) rates are solid, but the walk rate (4.25 BB/9 and 11.5 BB%) is not. Iwakuma is a classic kitchen sink type, throwing a low-90s four-seamer, a low-90s sinker, a mid-80s splitter, a low-80s slider, and a low-70s curveball. The Yankees will be the first team to see him twice as a starter, so hopefully that experience pays off.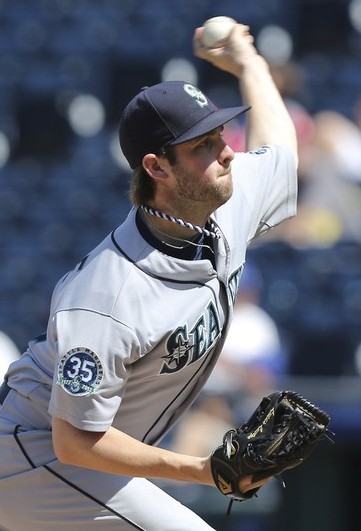 Bullpen Status
Both clubs are coming off scheduled off days, so the bullpens are rested. The Mariners' relief corps looks quite a bit different than it did last week following the trades of Brandon League and Steve Delabar, but it is still anchored by closer Tom Wilhelmsen (2.44 FIP) and LOOGY extraordinaire Lucas Luetge (2.14 FIP vs. LHB). Shawn Kelly (3.49 FIP) handles most of the right-handed setup work these days, though Josh Kinney (3.77 FIP) figures to see some late-inning time as well.
Two recently recalled rookies have taken the place of League and Delabar. Hard-throwing but erratic right-hander Stephen Pryor (5.33 FIP in limited action) is back off the DL and fellow righty Carter Capps is the third 2011 draftee to reach the big leagues behind Trevor Bauer and Cody Allen (a 23rd round pick by the Indians). The next appearance Capps makes will be his first as a big leaguer. The last guy in Seattle's bullpen is Oliver Perez (1.80 FIP), who appears to have found some success in the great northwest. Check out our Bullpen Workload page for details on Joe Girardi's bullpen, and check out U.S.S. Mariner and the aforementioned Lookout Landing for the latest and greatest on this weekend's opponent.