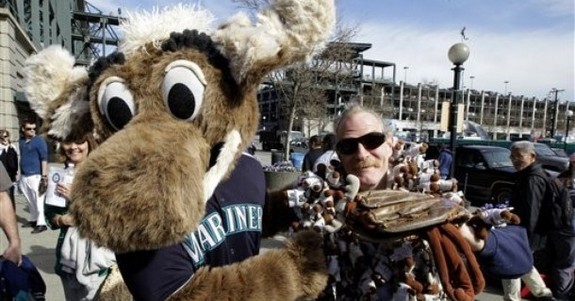 The schedule gods were kind to the Yankees this year. This is their final trip out to the West Coast and it only lasts six days. Not too bad. The Yankees are in Seattle to open a three-game set against Robinson Cano and the Mariners tonight. Seattle won all three games at Yankee Stadium earlier this season, one of which was postponed a few weeks by rain.
What Have They Done Lately?
The Mariners are coming in very hot. They've won eight of their last nine games (including the makeup game in the Bronx) and just took three of four from the oh so terrible Rays in Tampa. At 34-29 with a +34 run differential, the Mariners currently sit in the second wildcard spot, 2.5 games up on New York.
Offense
Manager Lloyd McClendon's team has an 85 wRC+ and averages 4.16 runs per game, so they're below-average offensively. They're banged up too. 1B Logan Morrison (8 wRC+) and DH Corey Hart (82 wRC+) are on the disabled list and both 1B Justin Smoak (79 wRC+) and OF Michael Saunders (112 wRC+) are day-to-day with quad and shoulder problems, respectively. Smoak has been used as a defensive replacement the last few days but hasn't been able to do much more than that.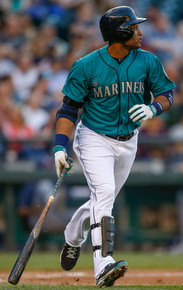 As expected, Cano (120 wRC+) has been the team's best hitter this year, though his power output (two homers and .090 ISO) is way down. 3B Kyle Seager (118 wRC+) has been very good while Brooklyn-born OF James Jones (99 wRC+) has been league average. He grew up in the Ebbets Field apartments. Pretty cool, no? OF Cole Gillespie (121 wRC+ in limited time) has been a useful part-timer, but otherwise the Mariners don't have anyone who has been even an average hitter this season.
OF Dustin Ackley (81 wRC+) and C Mike Zunino (84 wRC+) are disappointments, but at least Zunino has the whole "young catcher in MLB" excuse to fall back on. SS Brad Miller (47 wRC+) has been awful, Ditto OF Stefen Romero (69 wRC+), OF Endy Chavez (65 wRC+ in limited time), and backup C John Buck (84 wRC+ in limited time). UTIL Willie Bloomquist (72 wRC+) has been playing first base with Smoak banged up. Cano and Seager are the two guys the Yankees can't let beat them.
Pitching Matchups
Tuesday: LHP Vidal Nuno (vs. SEA) vs. RHP Hisashi Iwakuma (vs. NYY)
Iwakuma, 33, was on the disabled list with a finger injury when these two clubs first played. Masahiro Tanaka's former teammate with the Rakuten Golden Eagles has a 2.66 ERA (3.44 FIP) in seven starts and 50.2 innings this year. Last year, when he finished third in the AL Cy Young voting, Iwakuma had a … 2.66 ERA and 3.44 FIP. Freaky. His strikeout (6.39 K/9 and 19.2 K%) and walk (0.71 BB/9 and 2.1 BB%) rates are both down a bit from last year while his ground ball rate (55.8%) has jumped a notch. Iwakuma's homer rate (1.07 HR/9 and 15.8 HR/FB%) is about the same and lefties (.313 wOBA) had hit him much harder than righties (.228 wOBA). Like Tanaka, Iwakuma's out pitch is a mid-80s splitter, though his upper-80s four-seamer and sinker lag behind his ex-teammate. A slow low-80s slider is his other offspeed pitch.
Wednesday: RHP Masahiro Tanaka (No vs. SEA) vs. RHP Chris Young (vs. NYY)
The Mariners have struck scrap heap gold with Young, who has a 3.42 ERA (5.38 FIP) in eleven starts (and one relief appearance) and 68.1 innings. Safeco Field has been perfect for his extreme fly ball (25.8% grounders) ways, as he's been much more effective at home (.230 wOBA) than on the road (.269 wOBA). He doesn't have a platoon split, doesn't miss bats (4.35 K/9 and 11.6 K%), doesn't limit walks (3.95 BB/9 and 10.6 BB%), and doesn't keep the ball in the park (1.32 HR/9 and 8.0 HR/FB%). And yet, it works for him. Baseball is so weird. Young is a pure two-pitch pitcher these days, throwing a mid-80s fastball about 75% of the time and filling in the gaps with upper-70s sliders. He survives because of his funky delivery, which hides the ball very well. Young held the Yankees to two runs (one earned) in 5.2 innings back in April.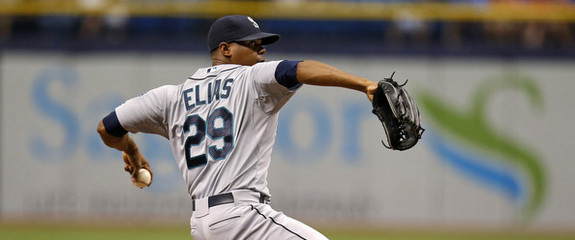 Thursday: RHP Chase Whitley (No vs. SEA) vs. LHP Roenis Elias (vs. NYY)
Due to injuries, the 25-year-old Elias jumped straight from Double-A to MLB this season, and he has a 3.64 ERA (4.01 FIP) in 13 starts and 81.2 innings so far. Not bad for an unheralded Cuban signee. Elias has good but unspectacular peripherals across the board — 7.71 K/9 (20.8 K%), 3.20 BB/9 (8.7 BB%), 0.99 HR/9 (11.8 HR/FB%), and 46.3% grounders — and he has small home/road and left/right splits. Elias uses a low-90s fastball to set up his mid-80s changeup and upper-70s curveball, both of which are quality offerings. The Yankees won't have to face Felix Hernandez this series, but Elias did strike out a career-high ten while allowing two runs in seven innings in the Bronx a few weeks ago.
Bullpen Status
The Mariners made the long flight from Tampa to Seattle yesterday, and their bullpen has worked quite a bit of late. Closer RHP Fernando Rodney (2.72 FIP) has pitched in two of the last three days and four of the last seven. Setup man RHP Danny Farquhar (2.70 FIP) threw two innings yesterday and RHP Dominic Leone (2.85 FIP) has pitched in back-to-back games.
The rest of the bullpen includes RHP Yoervis Medina (4.04 FIP), RHP Tom Wilhelmsen (4.06 FIP), LHP Joe Beimel (3.08 FIP), and LHP Charlie Furbush (3.66 FIP). There isn't a true long man in the bunch, but that's not necessarily a bad thing. Just unusual. The Yankees were rained out yesterday, so their bullpen is rested. Check out our Bullpen Workload page anyway. For the latest and greatest on the Mariners, head over USS Mariner and Lookout Landing.