Cody Eppley not paying attention and getting plunked in the noggin' with Eric Chavez's return lob in the sixth inning pretty much sums up the state of the Yankees right now. The Tuesday night loss to the Tigers was New York's 12th loss in their last 18 games, and they're just 2-10 against non-Mariners competition during that stretch.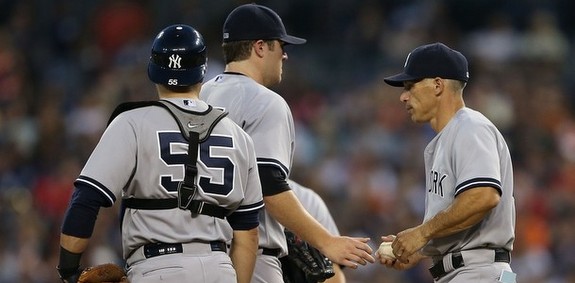 Phil Abused
For an inning and a third, the second half 2010 version of Phil Hughes made a return. The Yankees had just staked him to a two-run lead in the top of the fourth, but he promptly gave it back in the bottom half. Miguel Cabrera hit a homer, which is just going to happen regardless of who's pitching, but Brennan Boesch worked a 12-pitch at-bat and was rewarded with a ten-hop ground ball single, and it was all downhill from there. Jhonny Peralta doubled in Boesch to tie the game and 42 pitches (17 foul balls!) later, Phil was out of the inning. He threw just 43 pitches in the first three innings combined.
Naturally, the offense barely gave their starting pitcher time to breath with a nine-pitch 1-2-3 fifth inning, so Hughes was right back out there not five minutes later. Ground ball single, ground ball single, line drive to short, double by Cabrera, end of the night. I have no idea how Phil was allowed to face Miggy in that spot after throwing like, 60 pitches in the previous 20 minutes, but he was left in and I guess the desired outcome was achieved. Hughes allowed more than three earned runs for the first time since mid-June and got ground-balled to death other than the two rockets from Cabrera. He just couldn't put anyone away after the first three innings.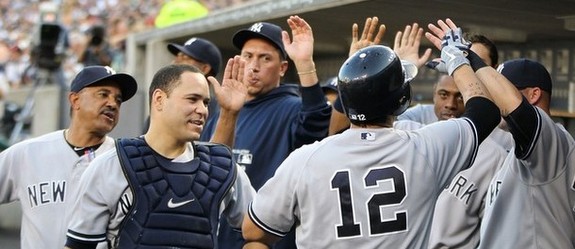 Just Short
The Yankees scored their first two runs on an Eric Chavez opposite field homer in the fourth and their third run on an Ichiro Suzuki double down the left field line in the seventh. A three-run deficit heading into the ninth is pretty sizable, but they made things very interesting against Jose Valverde. The highlight of the inning was Raul Ibanez's hard-fought nine-pitch walk to bring the tying run to the plate with two outs, leading to a run-scoring single from Ichiro and a run-scoring double from Russell Martin. Curtis Granderson popped out to first with men on second and third to end the game, however.
I guess the O'Neill Theory is in effect for tomorrow, but that's little consolation. The Yankees lost yet another one-run game, their eighth straight loss in games decided by one-run. All eight have come during this hideous 18-game stretch. They're doing just enough to make it interesting but not enough to win. I don't know how to put this kind of frustration into words but I suspect you all know exactly how it feels. The Tigers are scooting ground balls through every infield hole and the Yankees have nothing to show for their balls hit to the wall. Baseball is cruel.

Leftovers
Ichiro had his first multi-hit game as a Yankee and they were his first two hits with runners in scoring position since the trade. Good timing, I suppose. The Yankees as a team went 3-for-7 (.429) with men on second and or third, but that just wasn't enough.
Mark Teixeira (two singles), Chavez (single, homer), and Nick Swisher (single and two doubles) also had multiple hits. The top three hitters in the order went a combined 1-for-13, a pretty awesome way to hold back the offense. It's only been five games, but it might be time to take Grandy out of the leadoff spot only because he's been slumping hard for about three weeks now.
The bullpen did the job for the most part, though Eppley allowed a run in the sixth when he was left in to face a lefty and Joba Chamberlain — pitching for the second straight day for the first time since coming off the DL — allowed another run in the eighth. Southpaws Clay Rapada and Boone Logan retired all four lefties they faced.
Box Score, WPA Graph & Standings
MLB.com has the box score and video highlights, FanGraphs the nerd score and no highlights, ESPN the updated standings.

Source: FanGraphs
Up Next
The Yankees and Tigers will play the third game of this four-game set on Wednesday night when CC Sabathia gives it a go against Anibal Sanchez. I'd say the Bombers could really use a complete game shutout from their ace, but they'd probably find a way to score -1 runs anyway.