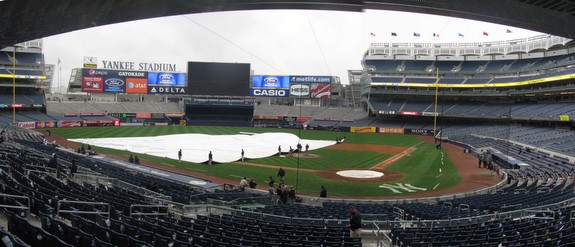 The first two games of this four-game series have gone about as well as the Yankees could have possibly hoped. Unfortunately, Mother Nature looks poised to throw a wrench into things tonight. The weather forecast calls for scattered thunderstorms through the evening, so we might have to sit through a rain delay or two. Furthermore, Robinson Cano is out of the lineup with a "stiff neck." That wasn't part of the script. Here is today's starting nine…
SS Derek Jeter
1B Nick Swisher
CF Curtis Granderson
DH Mark Teixeira
3B Eric Chavez
LF Raul Ibanez
C Russell Martin
RF Ichiro Suzuki
2B Jayson Nix
RHP Freddy Garcia
Tonight's game is scheduled to start a little after 7pm ET, but who knows with the weather. If and when they do play, you can watch on YES locally and ESPN nationally. Enjoy.
Update: The Yankees already announced that tonight's game will not start on time, so that's that. No word on a start time yet.
Update Part Two: The game is expected to begin at 8:45pm ET. In case you're wondering, the Yankees and Rangers share three mutual off days the rest of the way. Making this one up wouldn't be a problem.