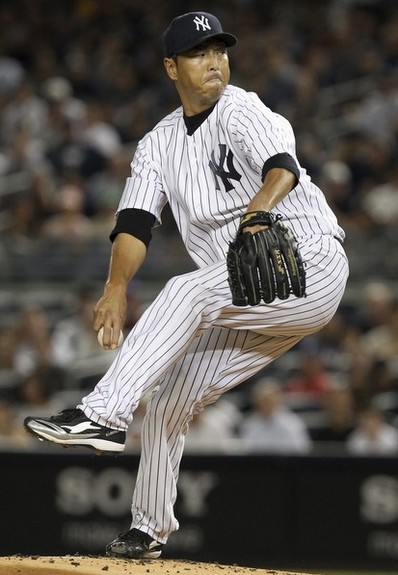 I think it's safe to say that outside of Derek Jeter's return to offensive stardom, the biggest story of the season for the Yankees has been Hiroki Kuroda's legitimate ace-level performance. The 37-year-old right-hander led his club to another win last night, the ninth time in his last eleven starts New York came out on top. Only once in his last seven starts and four times in his last 16 starts has he allowed more than two earned runs. He's been brilliant.
Despite playing for the team with the second-best offense in the league (4.93 runs per game), Kuroda has done all of this despite limited run support. Last night was the the sixth straight time the offense scored no more than four runs for their right-hander, and the 16th time they've done it in his 25 starts overall. Following last night's win, Kuroda ranks eighth in the AL with an average of 3.84 runs of support per start. He's tied with Felix Hernandez, who hardly plays for an offensive juggernaut.
That 3.84 run support average breaks down into 96 runs across 25 starts, compared to 501 total runs in the 96 games started by everyone else this year. That's an average of 5.22 runs per game. For whatever reason, the Yankees are scoring one and a third fewer runs per game with Kuroda on the mound this season than they are with anyone else out there. The last time New York had a starter finish the season with fewer than even 4.30 runs of support (min. 25 starts) was Mike Mussina back in 2001 (4.12). Bartolo Colon received the club's worst run support last season at 4.50 runs per game.
Now this is just a fluke and not really indicative of anything meaningful. Maybe the Yankees feel like they don't need to score a million runs with Kuroda on the mound, but that seems kinda silly. Five times this year the Yankees have lost a game in which he's allowed no more than two earned runs, which is about five too many as far as I'm concerned. Hiroki just ran into a hard-luck year in terms of run support, but he's pitched so well that it hasn't even mattered most of the time. It would be nice if the Yankees put up some crooked numbers for him in the coming weeks just to give him some breathing room, because Kuroda sure has picked his teammates up a number of times this summer. Time to return the favor a bit.