My goodness, I don't think you could have scripted the first two games of this four-game series any better. The David Phelps-Derek Lowe tandem was fantastic on Monday and Hiroki Kuroda managed to outdo them on Tuesday, throwing a two-hit, complete-game shutout.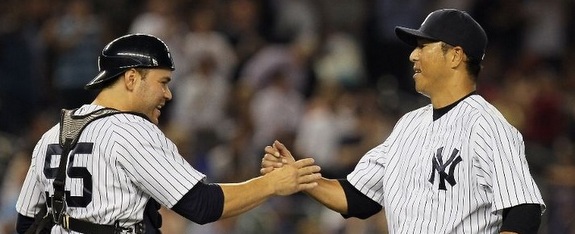 The Staff Ace
With CC Sabathia on the sidelines, Kuroda has assumed the role of staff ace and led his team to a win with nine brilliant innings against the highest scoring offense in baseball. Hiroki carried a no-hitter into the seventh inning for the second time this year — remember the Mets game? — and limited Texas to just two dinky little hits overall. The first was an infield single by Elvis Andrus, the second a little ten-hopper back up the middle by Michael Young. I'm not exaggerating when I say that the Rangers didn't hit a ball well all night. There was zero hard contact.
Kuroda slayed the two-time defending AL champs with a steady diet of breaking balls, throwing 37 sliders and five curveballs out of his 109 pitches. The Rangers have a right-handed heavy lineup, and he kept feeding them sliders just off the outside corner. Some went for called strikes and others for swings and misses, but they were almost all effective. Kuroda struck out five and walked two, recording 17 of his 22 ball-in-play outs on the ground. The Rangers didn't hit the ball out of the infield until the fourth inning, and overall 23 of the 27 outs were recorded on the infield. I'm not good enough with words to do Hiroki's performance justice, he was absolutely masterful against a powerhouse offense. Just brilliant.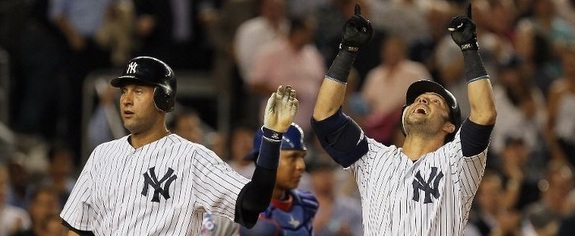 Big Hit Swish
For the second night in a row, the big hit belonged to Nick Swisher. Ground ball machine Matt Harrison danced around danger — most notably a bases loaded situation in the third — to match zeroes with Kuroda through the first six innings, but the Yankees finally broke through in the seventh with his pitch count nearing the century mark.
Derek Jeter ended Harrison's night with a one-out single to center, prompting manager Ron Washington to bring in hard-throwing righty Alexi Ogando. I know Ogando is really good, but it seemed odd to turn the two upcoming switch-hitters around to short part of the park. Oh well, I'm not complaining. Swisher's at-bat against Ogando was just terrific, an eight-pitch battle that featured an 0-2 count and three foul balls. Swish worked the count full before tomahawking a 98 mph heater up and out of the zone into the right field seats for a two-run shot. It was a grand slam on Monday night, but he only needed to do half that to get the job done on Tuesday. Seriously, that was a fantastic at-bat.
Two runs seemed like enough given how Kuroda was pitching, but Mark Teixeira went ahead and followed up with a solo homer of his own to tack-on an insurance run. The back-to-back jacks turned a tense scoreless game into a 3-0 lead and some nice breathing room. Harrison did a nice job mixing his pitches and keeping guys off balance, but Ogando wasn't going to throw his fastball over the plate and by the middle of this order no matter how hard he threw.

Leftovers
The nine-inning complete-game shutout is the first by a Yankee since Sabathia did it against the Rays on July 10th or last season. That was the 1-0 win over Jamie Shields right before the All-Star break. Remember that? The only run of the game scored when Shields threw the ball away trying to pick a runner off third. This one was a little more routine.
Casey McGehee, in his sixth game as a Yankes, finally hit his first two singles in pinstripes. His first four hits with the team had all gone for extra bases (three doubles and a homer). Jeter (two singles) and Teixeira (double and homer) were the only other players with more than one hit. In fact, Swisher's homer and a Russell Martin single were their only other hits period. Robinson Cano, Andruw Jones, and Curtis Granderson combined to go 0-for-10 after the top three hitters.
I have no idea who Scott & Todd are (apparently this is them), but the half-inning they were in the booth might have been the worst thing in television history. Worse than that time Charlie Sheen was in the booth. Break your pencil in half and stab both your ears bad.
Can I just take another second to talk about how good Kuroda was? Man, that guy is such a pleasure to watch when he's on. He kinda sorta reminds me of Mike Mussina with the way he can just systematically pick apart a lineup when he gets in groove. So much fun.
Box Score, WPA Graph & Standings
MLB.com has the box score and video highlights, FanGraphs the advanced stats, and ESPN the updated standings. The Orioles wrecked the Red Sox, so they remain six games back in the loss column. I assume the Rays will beat the lowly Mariners, so they'll remain five back. The magic number to clinch the division is down to 42. I guess I should put the Magic Number Countdown in the sidebar at some point soon, eh? Maybe after the homestand.

Source: FanGraphs
Up Next
Halfway there. The Yankees and Rangers will play the third game of this four-game series on Wednesday night, when Freddy Garcia gives it a go against Scott Feldman. Make sure you check out RAB Tickets for any last-minute deals if you want to catch the game.