The Yankees only lost by four runs on Tuesday night, but it felt like an awful lot more. At least they were gracious enough to lose in less than three hours so we could all get to bed at a decent hour.

Forgot How To Win
Ivan Nova just flat-out is not a big league caliber pitcher. He was last season and he might return to being one at some point in the future, but at this very moment he belongs in Triple-A. Nova's latest dud includes six runs in six innings, the final four coming on a Kevin Youkilis' opposite field grand slam. It's the fifth time in his last ten starts he's allowed at least six runs and the sixth time he's allowed at least four runs. The only good thing to come out of this start was the six innings, sparing a bullpen a bit.
Nova's problem on Tuesday was the same thing it's been all season: his command. He left the ball out of the plate when he missed his spots, further increasing his MLB-leading extra-base hit allowed total with a double, a triple, and two homers. There were also a number of "lined right at [defender] for the out" plays, and in fact Gameday says six of his 15 ball-in-play outs were line drives right at people. CC Sabathia came through his latest bullpen session fine and remains on track to return to the team on Friday, and Nova very clearly is the one that deserves to lose his rotation spot. I think the odds of that happening are very small, however.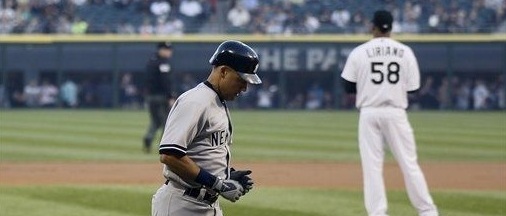 Stopped Scoring
Early on, this game had an eerie resemblance to Monday night's right down to the White Sox TOOTBLAN. Derek Jeter opened the game with a homer and the Yankees then proceeded to load the bases in the first inning, but they only scored one more run and squandered a golden opportunity. Francisco Liriano settled right down after that, striking out five across five more scoreless innings. The Yankees got just one more runner as far as second base against him.
Outside of a Russell Martin solo homer in the seventh and an Eric Chavez walk in the ninth, ten of the last 12 men New York sent to the plate made outs. Maybe they were just deflated by Nova's performance, but I doubt that since things didn't blow up until the fifth. As bad as the starter was, the offense didn't exactly give him very much to work with.
Leftovers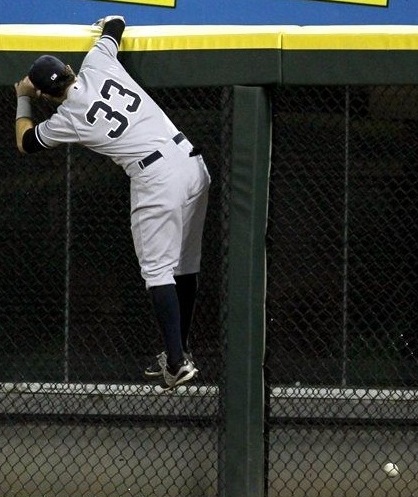 Jeter's leadoff homer was his fourth of the season and his second on the very first pitch of the game. The other came off Justin Verlander in the Phil Hughes complete-game. The dinger also put the Cap'n exactly 1,000 hits behind Pete Rose on the all-time list, but whether he'll actually catch Charlie Hustle down the road is a discussion for another time. For now, enjoy the mashin'.
As great as Jeter has been, Robinson Cano has done a great job of negating it with his miserable slump. I guess Melky Cabrera's ordeal has him a little down and he's decided to honor his good friend by performing like the 2010 version of him. Cano came into the game in a 3-for-30 slump and continued it with an 0-for-4. He's four more hitless at-bats away from a sub-.300 AVG, which was just unthinkable a few weeks ago.
Derek Lowe allowed a run on six baserunners (one was intentional) in two innings of relief to mop things up. Martin (single, homer) was the only Yankee with multiple hits, though Mark Teixeira reached base three times (single, two walks). Andruw Jones also singled and walked, plus he made a really strong throw on a sacrifice fly in the second that would have nailed a non-Alex Rios runner at the plate. Dems the breaks.
Box Score, WPA Graph & Standings
MLB.com has the box score and video highlights, FanGraphs some additional stats, and ESPN the updated standings. The Royals and Luke Hochevar in particular did the Yankees a solid by beating the Rays in extra innings. Hochevar struck out ten and allowed just one hit in eight shutout innings, so major props to him. Tampa remains four games back and the magic number dropped to 36.

Source: FanGraphs
Up Next
The Yankees will try to salvage this miserable series on Wednesday night when Phil Hughes matches up with Cy Young candidate Chris Sale. Go Royals?