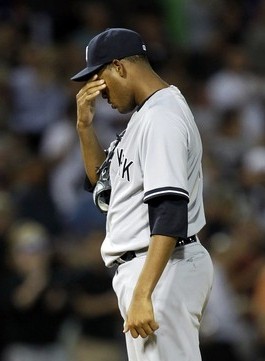 We're deep into August and it's pretty fair to say that Ivan Nova has been the Yankees' worst starting pitcher this season. I don't think it's all that close, honestly. He owns a 4.92 ERA (4.54 FIP) through 25 starts and 157.1 innings while leading baseball in extra-base hits allowed. Nova just doesn't get hit, he gets absolutely tattooed. Last night's loss was the latest example, the fifth time he's allowed at least six runs in a start since the calendar flipped over to July. There is no sugarcoating it, he's been miserable pretty much since Opening Day.
Thankfully, the Yankees will be able to soften the blow over the next week or two. Thursday's scheduled off-day combined with CC Sabathia's imminent return to the rotation — his latest side session went well yesterday — gives the Yankees a chance to skip Nova's next turn so he could work on some things on the side. That would leave both David Phelps and Freddy Garcia in the rotation for the time being, which is fine considering their performances relative to Nova's.
Since the Yankees are off next Thursday as well, they could skip Nova's next two starts if they really wanted. Assuming the master plan is to return Phelps to the bullpen at some point so he can solve some of the middle relief problems, the club could roll with this rotation these next few days…
Today @ White Sox: Phil Hughes (Phelps available in bullpen?)
Thursday 8/23: OFF
Friday 8/24 @ Indians: Sabathia
Saturday 8/25 @ Indians: Hiroki Kuroda
Sunday 8/26 @ Indians: Garcia or Phelps
Monday 8/27 vs. Blue Jays: Garcia or Phelps
Tuesday 8/28 vs. Blue Jays: Hughes
Wednesday 8/29 vs. Blue Jays: Sabathia (Phelps available in bullpen?)
Thursday 8/30: OFF
The Yankees could then run Kuroda, Garcia, Hughes, and Sabathia out there in the four games following the 8/30 off-day before reinserting Nova back into the rotation against the Rays on September 5th. No one would be on short rest through any of this and Ivan would get a solid ten days or so to work on some stuff with pitching coach Larry Rothschild. Since that early-September series against Tampa (on the road) could prove to be very important, they'd also have the option of starting him a few days earlier against the Orioles just to keep him away from the Rays.
Either way, something has to give here. Nova has struggled most of the season and these days his starts rarely afford the Yankees the opportunity to win. This isn't some little recent slump either — he's had a 5.00+ ERA in every month of the season other than June. At the very least, the Yankees should use tomorrow's off-day to skip his next turn just to give him a chance to clear his head and work on some things in a non-competitive environment. The Bombers have a nice four-game lead in the division with a month to play, but that lead has been shrinking due in part to Nova's complete ineffectiveness. Something has to be done about it, they've waited long enough as it is.