After losing eight straight agonizing one-run games, it was nice to be on the other side of the ledger for once. The Yankees took the finale of the four-game series with the Tigers on Thursday afternoon, using a late rally and some seriously clutch relief pitching to earn the split. It was their first one-run win since the big comeback off Scott Downs, the very first game after the All-Star break.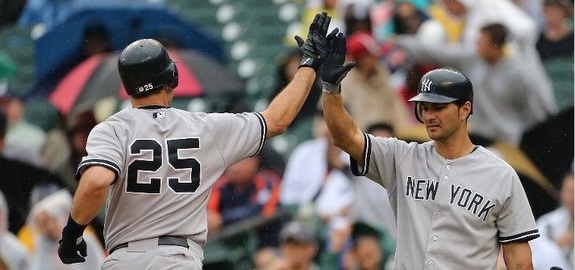 Back-to-Back
They say the Yankees can't hit homers in big ballparks or off good pitchers or in late-inning clutch situations, but they did all of that to win this game. Down 3-2 heading into the eighth against uber-setup man Joaquin Benoit, the Bombers stayed true to their moniker and used a pair of one-out solo homers from Mark Teixeira and Eric Chavez to tie the game and then take the lead. The back-to-back dingers came on consecutive pitches, and Tex's shot was yanked down the line to right field while Chavez went the other way to left. That was really impressive.
Believe it or not, the homer was Teixeira's fourth game-tying blast in the seventh inning or later this season. The rest of the Yankees have three. Chavez now has a dozen homers on the year and is on a 33-homer pace across 600 plate appearances, all while hitting a cool .289/.347/.526 on the season. That is in-his-prime type of stuff from the former Athletic. You just can't say enough about how amazing he's been this year, stepping up to produce in a big way while helping cover for various injuries. This game had all the look of another disappointing one-run loss, but Teixeira and Chavez came up with some enormous hits.

MFIKY
I've never been much of a Rafael Soriano defender, but that was without a doubt his biggest performance of the season and maybe of his Yankees career. Not only did he get a four-out save in a one-run game while pitching for the second straight day, he also pitched around a first-and-third, no outs jam in the ninth by inducing three weak pop-ups. Other than a strikeout, that's the best possible outcome of an at-bat in that situation. Furthermore, Miguel Cabrera was waiting on deck when the last out was recorded, so the margin of error was as small as it gets. That was a big boy save if I've ever seen one, Soriano came up huge.
While we're at it, we also have to give Clay Rapada and David Phelps some props for their work in the seventh and eighth. Rapada retired the two lefties he faced with a man on second to end the seventh, then Phelps came in to navigate around Cabrera, Prince Fielder, and Austin Jackson in the eighth. David Robertson was unavailable after throwing 35 pitches on Wednesday, and Joba Chamberlain was unavailable after throwing 20+ pitches on both Monday and Tuesday. Phelps fell behind Miggy 3-0 but battled back to get him to fly out, and while Fielder singled, he was able to retire A-Jax on a little fly ball to right. That was some serious work by the rookie, bravo.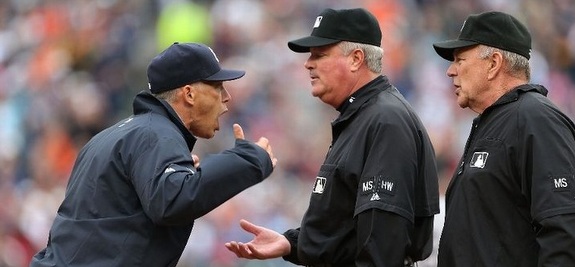 Ump Show
The umpiring crew was legit bad in this one. Third base ump Tim Welke initially called a ball that landed directly on the line foul before changing his mind and signaling fair, though it's unclear if that actually impacted Raul Ibanez's pursuit of the ball. Either way, Welke jumped the gun on the call and made a mess of things. Joe Girardi came out to argue, got tossed, and apparently tried to protest the game. First base ump Tony Randazzo also blew a call on an Omar Infante infield single — replays showed he was out by half-a-step if not more. That didn't lead to any scoring, however. And, of course, home plate ump Todd Tichenor had a goofy strike zone. Unfortunately this is just par for the course these days.
#HIROK
The final pitching line isn't anything special — 6.1 IP, 10 H, 3 R, 3 ER, 0 BB, 5 K, 7/5 GB/FB — but Hiroki Kuroda made basically one bad pitch all afternoon, and that was the pitch Alex Avila hit for the game-tying two-run homer in the fifth. Other than that, he got infield singled and blooped and dunked to death. It was ugly as all hell, but Kuroda still managed to turn in a quality start, his 11th in his last 14 starts. The dinger by Avila was the first Hiroki has surrendered in four starts.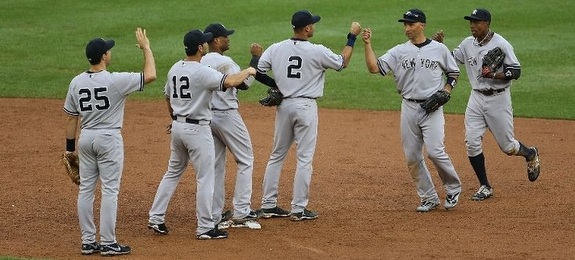 Leftovers
The Yankees scored their first two runs with two outs in the second inning, when Ibanez tripled (!) in Chavez and Ichiro Suzuki singled in Ibanez. The old guys were getting it done early. Ichiro also drew his first walk as a Yankee in this game, his 16th since the trade.
The bottom five hitters in the order went a combined 7-for-18 (.389) with two doubles, a triple, and a homer. The top four hitters didn't do much of anything — 3-for-18 (.167) — outside of Teixeira's homer, but sometimes the guys on the bottom have to pick the big bats up.
Box Score, WPA Graph & Standings
Now that is a fun graph, as long as you're pulling for the team is on the bottom. MLB.com has the box score and video highlights, FanGraphs the advanced stats, and ESPN the updated standings. The Rays won and the Orioles lost, so both clubs are now six games back of the Yankees in the loss column in the AL East race.

Source: FanGraphs
Up Next
The Yankees are taking a short trip up to Toronto and will open a three-game weekend series against the Blue Jays on Friday night. Freddy Garcia will be opposed by southpaw Ricky Romero.