These were supposed to be the easy games, three at home against the last place and injury-riddled Blue Jays. Instead, the Yankees lost the rubber game on Wednesday to drop the series, continuing their second half skid.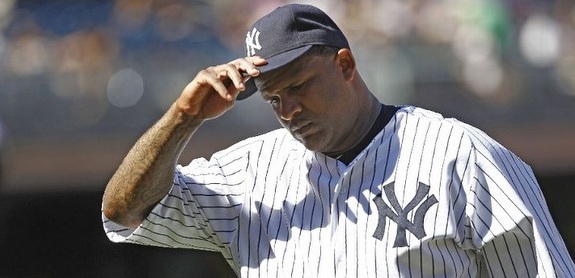 Needed More (Pitching)
The bullpen was short-handed and the Yankees needed a real quality outing from CC Sabathia, but instead he turned in his worst start against Toronto since 2005. It was his first lost at the hands of the Jays since 2007. The offense handed their ace two leads — 2-0 and 4-3 — and he blew them both with some help from his defense (more on that later). Sabathia did complete seven innings of work and only two of the five runs he allowed were earned, but it wasn't good enough.
In the third inning, the Jays loaded the bases with no outs on two dinky singles and walk, and it appeared as though the Yankees would escape unscathed after Mike McCoy bounced into a 5-2 double play. Instead, the Jays came through with three straight two-out hits to plate three runs. The first two singles were dinky, but the double down the left field line was well-struck. In the sixth, Yunel Escobar took Sabathia deep after an Adam Lind single. Outside of those two innings, Sabathia retired 15 of 16 batters faced with the one exception being a Derek Jeter error. He struck out eight and walked zero, but those two innings did him and the Yankees in.
Needed More (Hitting)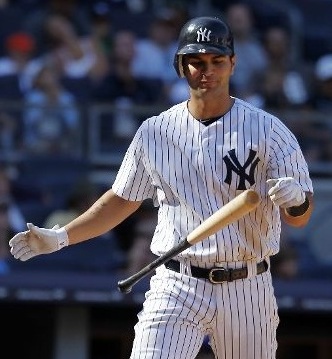 You know what was nice? The Yankees jumped out to a two-run lead right in the very first inning. They've been struggling in a bad way offensively, so scoring early is always a relief. Andruw Jones (single to center) and Curtis Granderson (fielder's choice) did the run-driving-in honors after Jeter singled and Nick Swisher walked. In the third, one half-inning after Toronto took the lead, the Yankees responded with two runs when Granderson doubled over the head of Rajai Davis with two outs. Swisher and Jones came around to score after drawing walks.
But, of course, there were plenty of blown opportunities. Jayson Nix drew a leadoff walk in the fifth and moved to third on Ichiro Suzuki's double, putting men on second and third with no outs. The Yankees didn't capitalize because Chris Stewart popped up on the first pitch and both Swisher and Robinson Cano struck out following an intentional walk to Jeter. It was his first intentional walk in two years. Leadoff double in the sixth? Stranded. One-out double in the seventh? Stranded. Raul Ibanez and Russell Martin hit back-to-back doubles to score a run leading off the eighth — Martin's hit the third base bag and bounced over Adeiny Hechavarria — but Martin was left stranded at second. All told, the Yankees went 3-for-17 with runners in scoring position as Jeter, Cano, Ichiro, and Eric Chavez each came up empty on multiple occasions.
Needed More (Defense)
The Yankees didn't just pitch poorly and hit poorly, they also played the field poorly as well. Jeter botched a ground ball in the first inning that didn't come back to bite them, but Nix booted a grounder in the third that contributed to the three-run inning. Chavez misplayed a ground ball of his own in the ninth, eventually leading to two more runs. Jones made a pair of diving grabs in right but didn't manage to hold onto the ball either time — I didn't see the first one, but the second one was a ball that had to be caught — leading to runs in the sixth and ninth. The Bombers aren't a great defensive club to start with, but having three infielders boot ground balls while two catchable balls find grass in the outfield is too much to take. You can only give a Major League team so many extra outs before they make you pay. To Toronto's credit, they turned four of the five miscues into runs.
Leftovers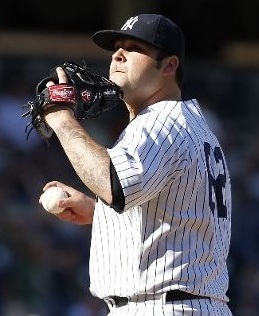 In a not-so-shocking turn of events, the non-David Robertson and non-Rafael Soriano portion of the bullpen allowing multiple runs after Sabathia exited the game. Derek Lowe (two hits, zero outs), Boone Logan (struck out the only batter he faced), Cody Eppley (one inning, one walk), Clay Rapada (walked the only man he faced), and Joba Chamberlain (one hit, two outs) combined to allow three late-inning runs in two innings of work. Some of that poor defense was a factor, but that's five pitchers allowing five baserunners while record six outs.
The Yankees had eight hits total but no one had more than one. Jeter (single, walk), Swisher (single, two walks), Jones (single, walk), and Nix (double, walk) all reached base multiple times. Stewart and Steve Pearce were the only starters not to reach base while Ibanez and Martin provided knocks off the bench. Somehow the Yankees mustered six doubles and only one of those guys came around to score. They needed a bad read from Davis and a lucky bounce off the bag to score three of the five runs.
Escobar came into the game with a .246/.292/.328 batting line on the season, and he managed to go 4-for-5 with three doubles and a homer. It was just his second multi-extra-base hit game of the season (double and a triple against the Rangers in May) and the first four-extra-base hit game of his 758-game big league career. In terms of WPA (+.486), it was the fifth best game of his career. Again, a .246/.292/.328 batting line coming into the afternoon.
Box Score, WPA Graph & Standings
MLB.com has the box score and video highlights, ESPN the updated standings. The Orioles lost and the Rays won, so they're now three and four games back in the loss column, respectively. The magic number actually dropped down to 30. That's entirely undeserved on the Yankees' part, but I'll take it.

Source: FanGraphs
Up Next
The Yankees will look themselves in the mirror and try to regroup during Thursday's off-day before welcoming the Orioles to town for a three-game weekend series. It is unquestionably the most important series of the season (to date), and that could have been avoided had the Yankees not been playing .500 baseball since the All-Star break. Hiroki Kuroda and Miguel Gonzalez kick things off Friday. Check out RAB Tickets if you want to catch the game.