The Yankees are now 7-4 this season in games in which they have a chance to finish off a three-game sweep, and they still haven't swept a three-game series against the Blue Jays in Toronto since the very first series of the 2003 season. A win would have been nice, but a 4-3 road trip after dropping the first two games isn't all that bad.

Phil Abused, Again
For the second straight start, Phil Hughes could not complete five innings of work. It's one thing to do that against the Tigers, it's another to do it against Edwin Encarnacion and the Las Vegas 51s. Phil allowed seven runs — six with two outs — on nine hits in exactly four innings, walking one and striking out four. Four of the nine hits went for extra bases, including Encarnacion's mammoth two-run blast in the fourth.
After allowing no more than three earned runs in 14 of his previous 16 starts, Hughes has surrendered at least four in his last two starts. Maybe it's just the ebb and flow of the season, maybe he's crashing back to Earth after three good months, maybe it's something else. Either way, the Yankees are starting to run short on starting pitching and they need Phil to shake off these two duds. More than anything though, they need him to start soaking up some innings. Only three times since April has he failed to pitch into the sixth inning, and two of those three are these last two starts.
Late Life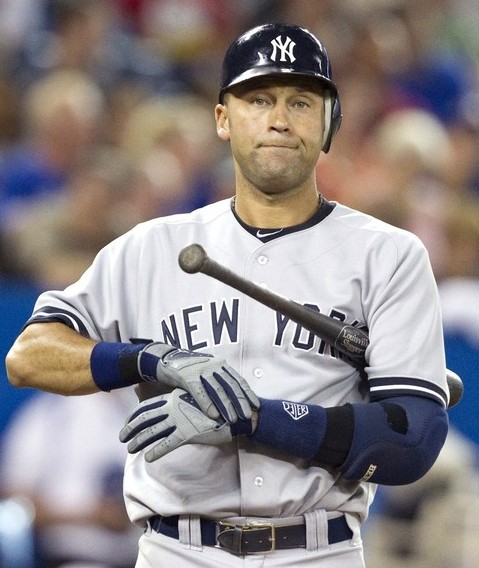 Derek Jeter led off the game with a single, but the next five innings had a "Derek made sure we won't get no-hit, let's just get out of here" feel to it. The underwhelming J.A. Happ overwhelmed the Yankees for the next four innings, retiring a dozen men in a row before surrendering a run in the fifth. By then Hughes had done his damage and the game was effectively out of the reach.
The Yankees did not continue to go quietly though, striking for three runs in the sixth and another three runs in the seventh. The sixth inning rally involved homers from Jeter (solo) and Robinson Cano (two run) while the seventh inning was all about two-out hits from Jayson Nix (double), Jeter (double), and Nick Swisher (single). It's easy to gripe about third base coach Robbie Thomson holding up Swisher at third on Mark Teixeira's double, but I thought that was absolutely the right call. Cano was due up and he represented the tying run, and I feel like you have to let him bat in that situation. Swisher get thrown out at home would have been a disaster.
So, anyway, Cano came to the plate but Darren Oliver took the bat out of his hands by plunking him in the behind. Andruw Jones grounded out sharply with the bases loaded to end the inning, and the Yankees didn't put another man on-base in the game. It was frustrating watching them get shut down by Happ for five innings, but the offense ultimately did its part. When your starter puts you in a seven-run hole after four innings, you're usually going to lose.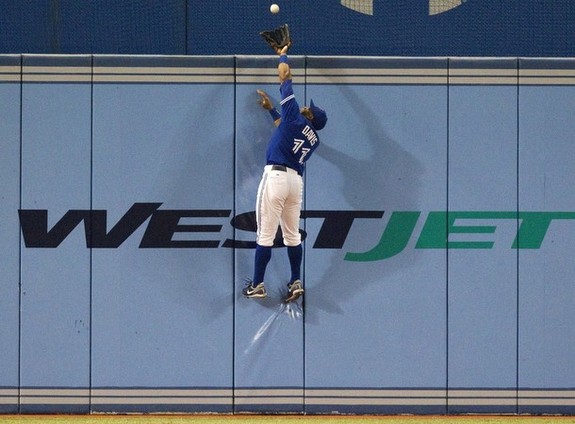 Leftovers
Rajai Davis was all over the place for the Blue Jays, doubling twice, stealing a base, and driving in five runs on the afternoon. That all happened before he robbed Casey McGehee of what would have likely been his second homer in pinstripes. Davis timed his jump very well, and caught the ball at the very top of the wall. If it wasn't going out, it was going to be damn close. It was a legitimately great catch that completely changed the complexion of the game.
Yankee-for-a-day Ryota Igarashi soaking up two bullpen innings and ultimately it was the three runs he allowed in the fifth — all on a Davis bases-clearing double — that decided things. He threw 35 pitches and probably would have done back out for another inning had the Yankees not mounted a bit of a comeback. Cody Eppley (five outs), Clay Rapada (no outs), and Joba Chamberlain (one out) handled the last two innings without much of a problem.
Every starter had at least one hit other than Russell Martin, though Jeter (triple away from the cycle) and Nick Swisher (two singles) were the only guys with multiple hits. McGehee doubled and still has yet to hit a single since the trade — it's been all extra-base hits. The Yankees didn't draw a single walk for the fourth time in 29 games since the All-Star break. They went walk-less just four times in 85 first half games.
Overall, the Yankees went 4-for-7 with runners in scoring position. They've hit a combined .318/.382/.504 in those situations since the All-Star break, a span of nearly 300 plate appearances (274 to be exact). Are we still going to complain that they can't hit with men in scoring position, or just reserve it for when they lose because they didn't score enough runs like every other loss in the history of baseball?
Box Score, WPA Graph & Standings
MLB.com has the box score and video highlights, FanGraphs some additional stats, and ESPN the updated standings. Both the Rays and Orioles won, so they're now five and six games behind the Yankees in the AL East race, respectively. The magic number to clinch the division is 44.

Source: FanGraphs
Up Next
The Yankees are heading back to the Bronx for a seven-game homestand that starts with four against the Rangers. David Phelps and trade deadline pickup Ryan Dempster will square off in Monday night's opener. Check out RAB Tickets for some last-minute deals if you want to catch the game.