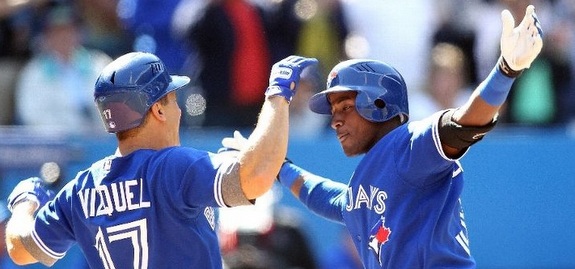 The Yankees only have 16 games left to play this season, but seven of the 16 will be against the Blue Jays. The first three of those seven will be played this week in the Bronx. New York leads the season series 6-5.
What Have They Done Lately?
The Jays have lost four of their last six games by losing the first two games and winning the third in a pair of three-game series. Injuries have hit them hard, and they're just 16-29 in their last 45 games. At 66-79 with a -37 run differential, Toronto is fending off the Red Sox for the AL East cellar.
Offense
With a team 93 wRC+ and an average of 4.5 runs per game, the Blue Jays have been just a bit below an average offense this season. Of course those season numbers aren't really an accurate representation of their injury depleted lineup, which is still without Jose Bautista (134 wRC+). You might remember him suffering what proved to be a season-ending wrist injury taking a swing against David Robertson earlier this year. Toronto still has Edwin Encarnacion (154 wRC+) though, and he's currently second in the league with 40 homers. He's basically the new Bautista.
Brett Lawrie (98 wRC+) recently came off the DL and is their second best healthy hitter right now. Colby Rasmus (88 wRC+) and Adam Lind (86 wRC+) have their moments, but both can be neutralized by left-handers. J.P. Arencibia (86 wRC+) recently came off the DL as well, and if nothing else he can hit the ball out of the park. Rajai Davis (86 wRC+), Kelly Johnson (84 wRC+), Moises Sierra (83 wRC+ in limited time), and Anthony Gose (81 wRC+ in limited time) haven't been all that productive. Yunel Escobar (74 wRC+) is in some hot water and it's unclear if the league will suspend him at some point. We'll find out this afternoon.
Yorvit Torrealba (67 wRC+) and Jeff Mathis (74 wRC+) highlight the rest of Toronto's position player crop. Omar Vizquel (38 wRC+) is the punchless utility infielder, and the lot of September call-ups includes Adeiny Hechavarria, Yan Gomes, and Mike McCoy. The Jays are healthier than the last time they played the Yankees, but they're still missing a lot of their typical punch.
Pitching Matchups
Tuesday: LHP Andy Pettitte vs. LHP Ricky Romero
The nightmare season is almost over for the 27-year-old Romero, who has pitched to a 5.87 ERA (5.15 FIP) in 29 starts and 167 innings this summer. Two starts ago he allowed seven runs while recording just three outs. The strikeout (6.09 K/9 and 15.0 K%) and ground ball (53.1%) rates are career-lows while the walk (5.07 BB/9 and 12.4 BB%) and homer (1.08 HR/9) rates are career-highs. Yeah, it's that bad. Romero is the same guy stuff-wise — low-90s four-seamer, low-80s changeup, upper-70s curveball — but his location is just terrible. The Yankees have both pounded and been shut down by the southpaw this year.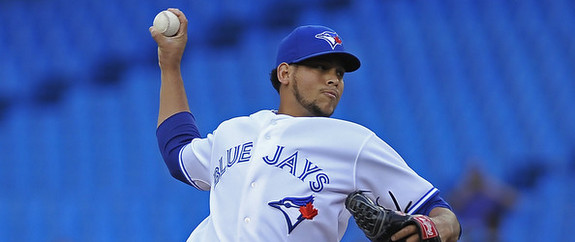 Wednesday: RHP Phil Hughes vs. RHP Henderson Alvarez
Alvarez, 22, has the lowest strikeout rate (3.31 K/9 and 8.5 K%) among qualified starters in baseball this year, by nearly a full whiff per nine too, and yet he managed to set a season-high with six strikeouts against the Yankees a few weeks ago. His performance is in line with what you'd expect from an AL East pitcher who allows so much contact (4.91 ERA and 5.33 FIP), though he does mitigate the damage by limiting walks (2.72 BB/9 and 7.0 BB%) and getting grounders (57.3%). Alvarez uses two fastballs (low-to-mid-90s two- and four-seamers) to set up his two offspeed pitches (mid-80s slider and mid-80s changeup). The Yankees have seen him twice this year, once hammering him and once getting kept in check.
Thursday: LHP CC Sabathia vs. LHP Aaron Laffey
Injuries have forced the 27-year-old Laffey into the rotation this year, and the former Yankee has pitched to a 4.55 ERA (5.55 FIP) in 87 total innings for the Jays. He doesn't strike anyone out (4.66 K/9 and 12.2 K%) but will get some grounders (49.6%), though he is homer prone (1.55 HR/9) and will occasionally walk himself into trouble (3.31 BB/9 and 8.7 BB%). Laffey is a soft-tosser as you probably remember from last season, routinely sitting in the mid-80s with the four-seamer and cutter while mixing in low-80s sliders and changeups. Classic kitchen sink approach. He's faced the Yankees once in relief this year, with little success.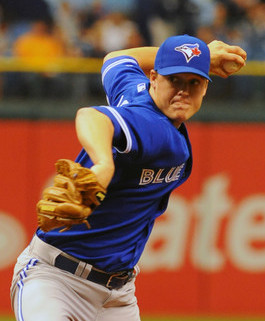 Bullpen Status
Like the Yankees, the Jays had Monday off and come into the series with a fresh bullpen. Manager John Farrell has a strong righty-lefty setup duo in Brandon Lyon (3.03 FIP) and Darren Oliver (2.91 FIP) in front of closer Casey Janssen (3.22 FIP). Southpaw Aaron Loup (1.98 FIP) has emerged as a dominant specialist, and Steve Delabar (4.26 FIP) has been surprisingly strong since coming over at the trade deadline. Long-time Blue Jay Jason Frasor (3.84 FIP) will also see some late-game work. The rest of the bullpen features deadline pickup Brad Lincoln (3.75 FIP) and a bunch of September call-ups: Chad Beck, David Carpenter, Joel Carreno, and Chad Jenkins.
Although Joe Girardi's core relievers had yesterday off, they have been worked hard of late as Ken Davidoff explained. Check out our Bullpen Workload page for the exact details, but I don't think you need me to tell you that David Robertson, Joba Chamberlain, Boone Logan, and Rafael Soriano could use a few innings on the sidelines in blowouts this week. For the latest and greatest on the Blue Jays, we recommend Drunk Jays Fans and Tao of Stieb.