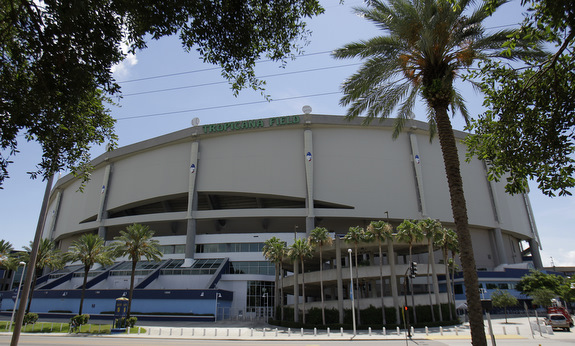 Another day, another huge series. The Yankees fell on their face against the Orioles this weekend and now head to Florida to face the Rays, who sit four games back in the loss column. New York has won just five of 12 against Tampa this year, including just one of their last ten at Tropicana Field.
What Have They Done Lately?
The Rays wrecked Ricky Romero and the rest of the Blue Jays over the weekend, winning the last two after losing six of seven. At 73-61 with a +77 run differential, Tampa has the fifth best record and fourth best run differential in the league.
Offense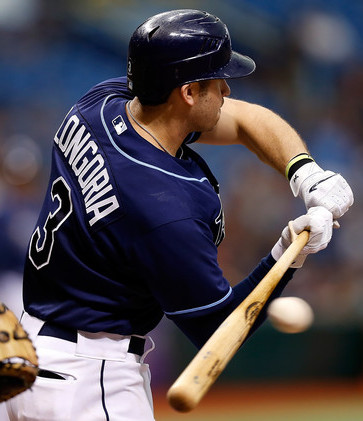 With a team 96 wRC+ and an average of 4.2 runs per game, the Rays are a slightly below-average offensive club. They recently welcomed Evan Longoria (132 wRC+) back from a lengthy DL stint and he's obvious a huge, huge part of their lineup. He's that legitimate, don't let him beat you bat that they were sorely lacking in the first half.
Aside from Longoria, manager Joe Maddon's best offensive weapons are Ben Zobrist (132 wRC), Matt Joyce (124 wRC+), and contact machine Jeff Keppinger (134 wRC+). Desmond Jennings (108 wRC+) and B.J. Upton (102 wRC+) have been a bit better than average, Luke Scott (93 wRC+) slightly below. Carlos Pena (91 wRC+) has really struggled in recent weeks and has started to lose playing time, but you know he'll hit a homer or two this series. The Yankees haven't figured out how to retire him yet. It's only been six years, hard to blame them really.
The rest of the lineup is filled out by Ryan Roberts (76 wRC+), the recently acquired Ben Francisco (88 wRC+), the recently healthy Sam Fuld (122 wRC+ in limited time), and the punchless catching tandem of Jose Molina (65 wRC+) and Jose Lobaton (83 wRC+). September call-ups include the speedy Rich Thompson, third catcher Chris Gimenez, and flamed out former prospect Reid Brignac. The Rays usually get written off as having a poor offense, but Longoria, Joyce, Zobrist, and Keppinger can do a lot of damage in a hurry.
Pitching Matchups
Monday: LHP CC Sabathia vs. RHP Jamie Shields
It's been an up-and-down season for the 30-year-old Shields, who has pitched to a 3.91 ERA (3.70 FIP) overall but a 2.01 ERA (3.00 FIP) in his last half-dozen starts. The right-hander currently has career-high strikeout (8.70 K/9 and 22.7 K%), walk (2.42 BB/9 and 6.3 BB%) and ground ball (51.7%) rates among his six full big league seasons. Shields is a master at pitching backwards, using three fastballs — low-90s four-seamer, low-90s two-seamer, upper-80s cutter — and three offspeed pitches — upper-80s slider, mid-80s changeup, upper-70s curveball — to keep hitters guessing. He's had starts that range anywhere from bad to good to great against the Yankees both this year and throughout his career. There's no mystery here, both sides are familiar with each other.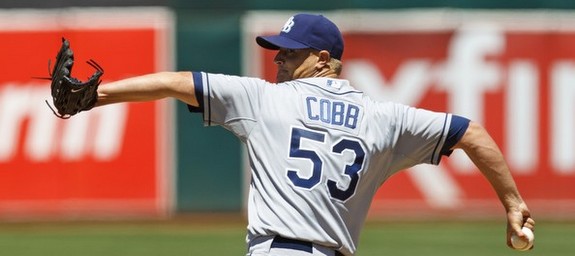 Tuesday: RHP Freddy Garcia vs. RHP Alex Cobb
Cobb, 24, stepped into the rotation when Jeff Niemann broke his leg earlier this season and he's basically taken his job. The right-hander owns a 4.39 ERA (3.61 FIP) in 18 starts and 106.2 innings this year, relying more on grounders (57.0%) and limiting walks (2.45 BB/9 and 16.4 K%) than missing bats (6.67 K/9 and 17.5 K%). Cobb relies heavily on his two-seam fastball that sits right around 90, though he will mix in a few straight four-seamers at the same velocity. Lefties get his low-80s changeup, righties his upper-70s curve. The Yankees saw Cobb earlier this season, hanging four runs on him in seven innings.
Wednesday: RHP Hiroki Kuroda vs. LHP Matt Moore
You won't find many 23-year-olds with better arms than Moore, who has more than held his own (3.58 ERA and 3.85 FIP) during his first full season in the big leagues. The walks (3.98 BB/9 and 10.4 BB%) are a bit high but that's nothing unusual for a rookie in the AL East. Moore is missing plenty of bats (8.77 K/9 and 22.9 K%) and getting a lot of easy-to-catch fly balls (38.% grounders). The left-hander throws some of the easiest mid-90s gas in the league, backing up the heater with low-90s slider and a mid-80s changeup. For whatever reason, Moore has a pretty drastic reverse split (lefties have gotten him for a .343 wOBA, righties just .299). It's just weird, you'd expect him to own lefties. Anyway, the Yankees scored three runs in seven innings off the rookie earlier this season.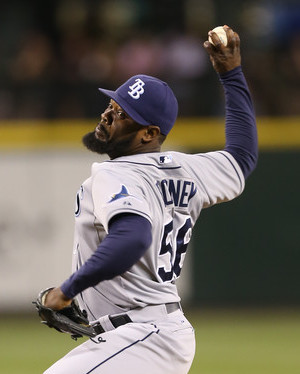 Bullpen Status
Expanded rosters means everyone has a few fresh relievers nowadays, but the core late-game guys are the most important. Lights-out closer Fernando Rodney (2.80 FIP) has been the best reliever in the AL this season, and he was able to take yesterday's game off following a five-out save on Saturday. Setup man Joel Peralta (3.28 FIP) has had some rough moments this season, but former Yankee Kyle Farnsworth (2.70 FIP) will lend a helping hand.
From the left side, the Yankees will have to deal with the hard-throwing Jake McGee (2.28 FIP) and the soft-tossing J.P. Howell (4.34 FIP). Former starter Wade Davis (3.29 FIP) seems to have found a niche as a multi-inning middle reliever, and ground ball machine Burke Badenhop (3.79 FIP) is the need-a-double play guy. The two September call-ups are right-hander Brandon Gomes and left-hander Cesar Ramos. It's a solid bullpen overall with a dominant closer. Considering the magnitude of the series, I have to think Rodney will be available for more than one inning if needed.
Joe Girardi ran through most of his bullpen yesterday, though the late-game tandem of David Robertson and Rafael Soriano were able to get some rest. The middle relief is a complete mess at the moment, not so much in terms of availability, just effectiveness. Cory Wade might see some seventh inning time just by default. I would expect Boone Logan to be unavailable this afternoon, but check out our Bullpen Workload page for the latest on the team's bullpen usage. For the latest and greatest on the Rays, DRays Bay is the place to go.