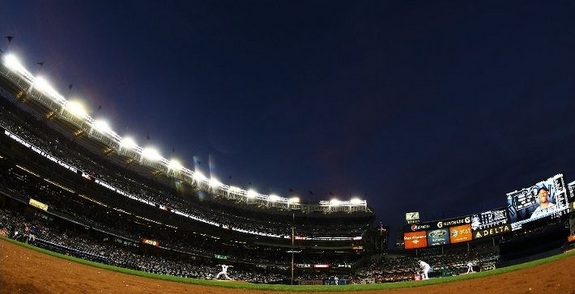 The Yankees and Athletics have played two series this season, a pair of sweeps that bookend New York's great midsummer stretch. The Yanks won three straight in Oakland in late-May, won 31 of their next 44 games, then lost four straight in Oakland in late-July. Now the season series comes to the Bronx for the first time, and everyone is looking for some revenge after that four-game sweep.
That said, these games are probably a little more meaningful that you realize. Obviously the Yankees need to win as many games as possible to maintain their AL East lead, but should they fall back and have to settle for a wildcard spot, they could easily end up playing the Athletics in the play-in game. Since the A's currently lead the season series 4-3, that play-in game would be played in their ballpark. If the Yankees win this series and the two clubs finish with the same overall record, the game would be played in the Bronx because they (currently) hold the tiebreaker. The Athletics are a much different team at home than on the road, so yeah, keep winning. Here's the starting nine…
DH Derek Jeter
RF Nick Swisher
2B Robinson Cano
3B Alex Rodriguez
CF Curtis Granderson
C  Russell Martin
1B Eric Chavez
LF Ichiro Suzuki
SS Eduardo Nunez
LHP CC Sabathia
Tonight's game is scheduled to start a little after 7pm ET and can be seen on My9 locally and MLB Network nationally. Enjoy.