If there's one thing you can say about Tuesday night's loss to the Red Sox, it's that the Yankees definitely earned it. They didn't cash in on run-scoring opportunities (as usual), made mental mistakes on the field, and let Boston's best hitters beat them despite a depleted lineup. Once again, the division lead is down to zero.

Death By A Million Cuts Dinky Hits
You know what the worst part of the game-losing ninth inning rally is? It's that only one of the three hits was hard-hit. Willie Mays Pedro Ciriano managed to get the bat on a David Robertson curveball that was literally three or four inches off the ground — the third straight curve after two swings and misses — for a ground ball single, and then Mike Aviles fouled off a bunch of fastballs before reaching on an infield single to Derek Jeter's right. With men on first and second with one out, Jacoby Ellsbury lined Robertson's 29th and final pitch of the night to right for the walk-off single.
With injuries and trades depleting their lineup, the Sox only have three legitimate MLB caliber hitters these days. Cody Ross is a platoon guy and faced righties all night, so he was rendered moot. Ellsbury and Dustin Pedroia managed to 7-for-9 with a double (Ellsbury) and a homer (Pedroia) though, and they're the two guys the Yankees couldn't let beat them. The rest of the Boston offense went 5-for-27 with eight strikeouts. That's not the sole reason why they lost the game, but letting those two do so much damage was a huge contributor.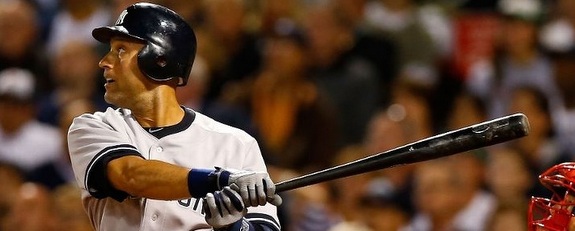 Blown Chances
It took all of 17 batters for Jon Lester to set a new career-high with six walks, and a little later in the game he tacked on a seventh for good measure. He became the 15th pitcher to walk seven or more hitters in a game this year (16 total instances). Only two of those walks came around to score though, and that happened five innings apart. The Yankees went 0-for-9 with runners in scoring position in-between Robinson Cano's run-scoring ground out in the first and Jeter's two-run bloop double in the sixth, and they left men on-base in every inning Lester pitched as well.
All told, New York went 1-for-12 with men on second and/or third, including 0-for-2s for Curtis Granderson, Alex Rodriguez, Nick Swisher, and Steve Pearce. The lone hit was Jeter's bloop, a well-placed two-strike cue shot that hopped the short fence in right after Nix bunted the runners up, so hooray small ball I guess. That was it though, no one else really came close to getting the proverbial big hit. It's been a season-long problem and it's gotten to the point where RISPFAIL has a mind of it's own.

The Hiro We Deserve, Not The Hiro We Need
It wasn't a great outing for Hiroki Kuroda but it certainly wasn't terrible. Three runs in 6.1 innings isn't the end of the world, especially when several of the eight hits he allowed were dinky little infield knocks. The problem is that he gave back two one-run leads, including the second one in the span of three pitches (Pedroia's homer in the sixth). I don't mean to single out Kuroda because he is just the latest offender, but the Yankees have had some major problems holding leads in recent weeks. I mean giving it back in the span of an inning too, not just at some point later in the game.
Leftovers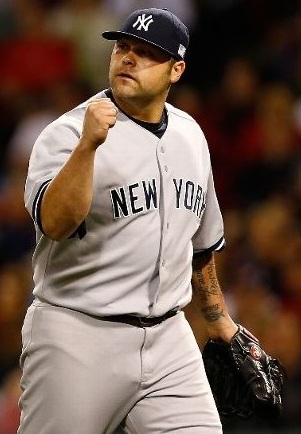 Robertson ended up taking the loss in his second inning of work, becoming the first full-time Yankees reliever with seven losses in a season since Jeff Nelson in 1997. He was dominant in the eighth through, striking out the side before getting beat in the ninth. Boone Logan forgot to cover first on an Ellsbury ground ball hit in the seventh — Swisher ranged too far off the bag for the ball anyway, plus I doubt Boone was outrunning Ellsbury — but Joba Chamberlain continued his strong pitching by escaping the bases loaded, one-out jam with a ground ball to first (runner forced out at home) and a pop-up to short by Pedroia. Joba's been coming up big of late, it's good to see.
I didn't understand the pinch-running in the eighth and ninth innings. Running for Andruw Jones with one out in the eighth makes sense, but Nix didn't even give Chris Dickerson a chance to steal. He bounced into an inning-ending double play on the first pitch. In the ninth, Eduardo Nunez ran for Swisher with one out, then he got caught stealing for the second out. With A-Rod and Cano coming up, you gotta let them bat with a man on-base in the ninth inning of a tie game, especially in that ballpark. Running for Swisher is fine, but I don't like the steal attempt. First base is scoring position for those two hitters.
Andruw actually reached base three times, once on a single and twice on a walk. It was his most productive game in a long time. Jeter and Russell Martin each had a hit and a walk, plus Nick Swisher doubled and singled. Hopefully he's starting to snap out of his slump. The three-four hitters went a combined 0-for-7 with two walks and four strikeouts, three by A-Rod. Fourteen base-runners and three runs. That's how the Yankees roll these days.
Box Score, Standings & WPA Graphs
MLB.com has the box score and video highlights while ESPN has the updated standings. The Orioles stomped the Rays in the opener of their series, so they are once again tied with the Bombers for first place in the AL East. Tampa is two games back and they have to win the second game of that series to balance things out now. The magic number still sits at 22.

Source: FanGraphs
Up Next
Same two teams on Tuesday night, when David Phelps matches up against Aaron Cook. If they can't pound that guy, then I don't know what it'll take for the offense to get going.