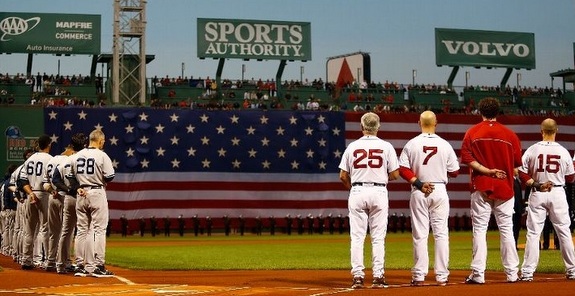 The Yankees keep finding new and imaginative ways to lose these days. Even if they do manage to back into the playoffs, it's impossible to have faith in them making any noise given how poorly they've played in almost every facet of the game in recent weeks. Seriously, what has stood out as a no-doubt positive in the last month? Derek Jeter? That's pretty much it, nothing else jumps to mind. Things are going so bad right now that the team bus hit a fence and broke a window after the game last night.
1. What in the world could Casey McGehee have done to lose playing time to Steve Pearce? McGehee had gone 7-for-30 with two doubles, a homer — remember he had that other dinger taken away by Rajai Davis in Toronto — and three walks against lefties as a Yankee before they traded for Pearce, who has gone 3-for-15 with a homer and three walks against southpaws since being acquired. We're splitting hairs here with the super small sample sizes, but McGehee's track record in the big leagues is so much longer and so much more impressive that I'd much rather have him in the lineup (and batting sixth!) against lefties than Pearce. It's probably too late now given his ultra-sporadic playing time, but I feel like this was a problem that didn't need fixin'.
2. An unofficial stat from Moshe, who doesn't blog anymore but remains near and dear to our hearts (through Twitter)…
Yanks have lost 27 games since start of 4 gamer with Oakland. In 23 of those, they had at least tying run to plate, 7th inning or later.

— Bloggie McBlogger (@yagottagotomo) September 12, 2012

As I said, that's unofficial. He went back and counted it manually, so right or wrong he deserves props for the effort. Anyway, yeah that's pretty crazy. The Yankees have played so any tight games this season and especially of late — at least more than we're used to seeing — and things so rarely seem to go their way. Jerry Meals blows a call at first base, Davis climbs walls and robs homers in Toronto, Pedro Ciriaco slaps a single on a curveball three inches off the ground, so on and so forth. I'm not making excuses here, the Yankees create their own bad luck more often than not, but so many of these recent losses have been imminently winnable games. They just can't seem to get over that hump.
3. This kinda sorta ties into the last point, but in three of the last four series the Yankees have lost games because David Robertson or Rafael Soriano blew them. Soriano gave up the homer to Colby Rasmus against the Blue Jays, then Robertson allowed the go-ahead single to Chris Gimenez in Tampa, the two homers in the series opener in Baltimore, and then the walk-off rally last night. That was his second inning of work and the first two hits were not hard-hit last night, so I don't want to get on him too much for that. Still though, that's three losses in the last four series directly attributed to the team's two core, late-inning relievers. We created the Death By Bullpen tag back during the "cover your eyes, hide the children" bullpen days of early-2007, but it has certainly applied many times this season. Those losses with Soriano and Robertson (or Mariano Rivera) on the mound are always tough to swallow.