Got five questions for you this week. The Submit A Tip box in the sidebar if the best way to send us anything, including links, mailbag questions, and whatever else.

Anonymous asks: Time for a post on tie breakers? My main question would be this: what happens if the Yanks and Orioles (or Rays) tie for the division lead, but have records good enough to be one of the Wild Cards? Will they do an on-paper tie-breaker or will they make them play a game? Since it's so much better to be the division winner, I would think they would have them play. In the past it was a paper tie-breaker, but there was no negative to being the Wild Card. Now there is.
Under the old system, teams would only play a tie-breaker game if it was a situation in which one team would make the playoffs and the other would not. If two teams tied atop the division but were both going to the playoffs anyway, they didn't bother to play a game and used (I think) head-to-head record to decide who was the division champ and who was the wildcard.
With the new system, teams will play a tie-breaker to decide the division winner even if both clubs are guaranteed to make the postseason, as they should. Home field for that tie-breaker game is determined by head-to-head record, but since the Yankees and Orioles split the season series, the game would be played in Baltimore because they have the better overall intra-division record (at the moment, still time to change that). The Yankees have to sweep the Rays this weekend just to tie the season series.
There would be a tie-breaker game if two teams tie for the second wildcard spot obviously, but I have no idea what happens if more than two teams tie for that spot. Given the craziness of the current races, there's a very real chance we see a three-way tie this year. I'm not sure even MLB knows what they'll do in that situation, but I'm rooting for the chaos as long as the Yankees aren't involved. I wasn't a fan of the new playoff system when it was announced and I still don't like the one-game, winner-take-all aspect of the wildcard play-in game, but these last few weeks of baseball are going to be a lot of fun. Lots of tight races and big games coming up.
Nate asks: Is it me, or has Robinson Cano hit more opposite-field home runs this year than ever before?
He has, actually. The two-run dinger over the Green Monster on Wednesday was Cano's fifth homer to the opposite field this season, a career-high. His previous career high was three, which he'd done multiple times (2006, 2007, 2009, and 2011). Robbie's always hit the ball to all fields but almost all of his power has been to the pull side, which is not unusual at all. This year he's starting to spray the dingers out a little more, and I don't think it's a coincidence that he's set a career-high in homers during the year in which he's showing the most opposite field power.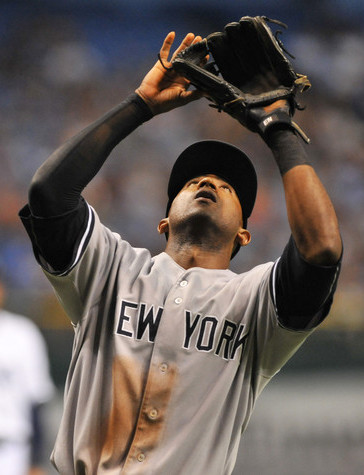 Nar asks: When does Eduardo Nunez become arbitration-eligible and did he spend enough time in the minors this year to delay it another year? Thanks.
If he spends all of next year in the big leagues, Nunez is going to be right on the Super Two bubble at two years and 30 or so days of service time. The cut-off for this coming offseason is approximately two years and 34 days, but it fluctuates year-to-year. Either way, Nunez won't be eligible for free agency until after the 2017 season if he's back in the show for good. Whether he's a Super Two (and arbitration-eligible four times instead of three) depends more on the cutoff next year than anything else.
Reggie asks: Is it possible that David Adams could latch on with the ML team next season as a utility guy from the go? Is it too late to get Adams to play a corner OF spot when Brett Gardner and a re-signed Nick Swisher need an off-day?  If Adams can play 3B, that'd be a boon for the team, especially if Eric Chavez retires/signs elsewhere.
It's possible but I also think it's unlikely. Adams hasn't played a single inning at shortstop as a professional and has fewer than 40 games worth of third base experience, so the Yankees would still need another middle infielder on the bench. It's not too late to try him out in the corner outfield, though a) I'm not sure how well he runs these days after the ankle injury, and b) that's not exactly something you want him to learn at the big league level. I think it's far more likely that Corban Joseph breaks camp in this Chavez role next year than Adams.
Len asks: In the never-ending parade of one-run loss horrors lately, how many did the Yankees actually lead in (and how many of those were blown by the bullpen?) and how may were failed comebacks?
Since the start of the four-game series in Oakland that seems to mark the beginning of this downward spiral, the Yankees have lost 28 of 50 games. Thirteen of those 28 losses came by one-run while another three were decided by two runs. Here's the breakdown of the one-run losses…
The Yankees had the lead at some point in eight of the 13 games. That's an awful lot.
The bullpen blew the game ten times (!) in the 13 games. That's not just surrendering the lead, it's also giving up the go-ahead run in a tie game. That's also an awful lot.
The Yankees had the tying run on-base in the seventh inning or later (my arbitrary definition of "failed comeback") in seven of the 13 games for a total of nine failed comebacks. They had the tying run on-base in multiple late innings in a few of those losses.
One of those failed comebacks was the Mark Teixeira/Jerry Meals game, a comeback that was completely successful had the first base umpire made the correct call. What can you do though, can't go back in time to change it. Anyway, a lot of these recent losses were really close and imminently winnable games, but the Yankees have just been unable to get over the hump lately. It's frustrating as hell.