The Yankees had their seven-game winning streak snapped by the Athletics on Sunday, but they got right back on the horse with a 6-3 win over the Twins on Monday. The game wasn't as close as the final score indicates; the Bombers were in control pretty much from first pitch.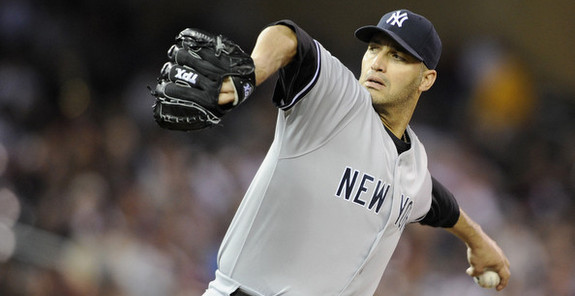 Dandy Results
Andy Pettitte's second start off the DL went just as well as the first, it just lasted a little longer. Pettitte still struggled to command his breaking pitches and he did put eight men on-base (six singles, one double, one walk) in six innings, but zero runs crossed the plate. He struck out three, got the Twins to roll into two double plays, and just made pitches when he needed to in typical Andy fashion. It's cliche, but it's true.
Other than the win, the most important thing is that Pettitte stretched his pitch count up to 88 after throwing 75 pitches a week ago. Next time out against the Blue Jays — his final start of the regular season — should get him up to 95-100 pitches, then they'll pretty much be able to turn him loose (if they make it to the postseason, of course). The command still needs to be fine tuned, but as we saw in these last two starts, Andy can get outs even when he's not locating precisely. You gotta hand it to the guy, he's a pitching marvel.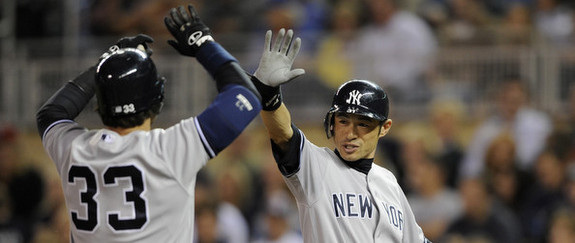 All Bombs Everything
The Yankees scored three runs in the first and six runs overall, and only one of them scored on a non-homer. Robinson Cano plate the first run of the game with a ground ball, but it was all about the power after that. Nick Swisher launched a two-run shot off the facing the upper deck in right-center one batter after Cano opened the scoring, giving Pettitte a three-run lead before he even took the mound. Curtis Granderson (fourth inning), Raul Ibanez (seventh), and Eric Chavez (seventh) all followed with solo shots off starter Liam Hendriks. Granderson's and Ibanez's were no-doubters but Chavez's just sneaked over the wall. They all count the same though.
Death By Bullpen
A six-run lead with six outs to go should be a piece of cake, but Cory Wade allowed a solo homer to a guy who had a .093 ISO in Triple-A this season (Pedro Florimon) in the eighth before Justin Thomas and David Robertson combined to allow another two runs in the ninth. Thomas put the two guys on and Robertson allowed Chris Parmalee to drive them in with a triple to dead center with two outs. Granderson deserves an assist for his circuitous route.
With David Aardsma set to be activated tomorrow, there's a pretty good chance Wade has made his last appearance in pinstripes road grays. He was fantastic last year and again this April and May, but it just hasn't worked since. I think Thomas will get the benefit of the 40-man roster doubt because a) he's a lefty, and b) he retired two of the three lefties he faced this game, allowing just a broken bat blooper to Justin Morneau. Since Pedro Feliciano isn't coming back, keeping the third southpaw just in case someone gets hurt is a good idea.
Leftovers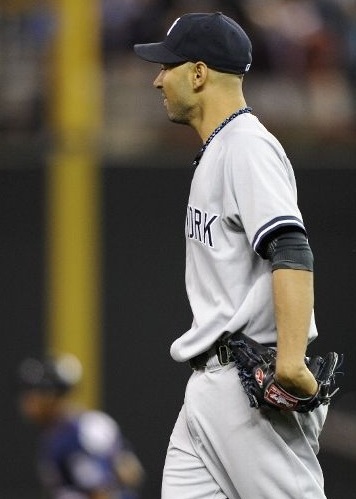 He waited until his final at-bat to do it, but Derek Jeter did extend his hitting streak to 18 games with (what else?) a single to right with one out in the ninth. It's the fourth longest hitting streak of his career, and the Cap'n is up to 207 hits on the season. One more and he'll tie Pete Rose for the most hits ever by a 38-year-old, eleven more and he'll tie his career-high hit total set in 1999. That is insane.
Big but forgotten moment: Granderson throwing Ryan Doumit out at the plate to end the fourth inning. The Yankees were up 4-0 at the time, but the play prevented Minnesota from getting kind of momentum. Curtis deserves credit for the throw and Russell Martin deserves the same amount of credit for the tag. The play had to be turned perfectly and it was. Well done, fellas.
Granderson's homer was his 40th of the season, making him the fifth Yankee in history to go deep 40+ times in back-to-back seasons. Babe Ruth, Lou Gehrig, Mickey Mantle, and Jason Giambi have all done it as well. It's also just the 30th season of 40+ homers by a Yankee. Here's the list.
Ibanez (two) and Chavez (three) were the only Yankees with multiple hits while Cano and Martin were the only ones without a knock. Jeter (two) and Granderson (one) drew walks. Going 1-for-5 with runners in scoring position is much more tolerable when the balls are flying out of the park.
It's probably worth noting that Josh Willingham left the game with some kind of shoulder problem, though it's unclear if he'll miss any more time. He is the Twins' huge right-handed bat, so avoiding him these next two days would be sweet.
Box Score, WPA Graph & Standings
MLB.com has the box score and video highlights while ESPN has the updated standings. Big ups to the Blue Jays, who managed to split a doubleheader with the Orioles on Monday. The lead in the division is up to two games in the loss column for the first time in three weeks, and the magic number to clinch the AL East is down to just eight. The magic number to clinch a playoff berth is just five. Almost there.

Source: FanGraphs
Up Next
Same two teams on Tuesday night, when Phil Hughes gives it a go against Esmerling Vazquez. The Yankees are 13-9 against pitchers they've never faced before this season, though I don't think Vazquez counts. They saw him when he was working out of the Diamondbacks bullpen two years ago, hanging five runs on him in zero innings.