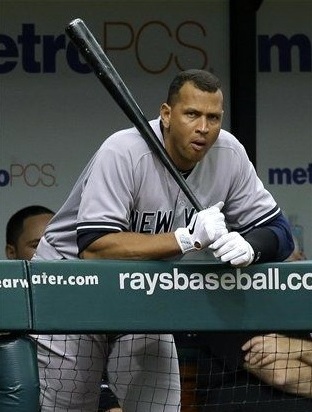 So are you panicked yet? I don't really panic or worry since I have zero control over how the team plays, I just get frustrated and annoyed. At the end of the day is basically the same feeling happening in different ways anyway, worrying and getting frustrating.
Anywho, the Yankees are playing like complete trash and when you watch them these days, you wonder how the hell they'll ever win another game. There is just so much going wrong between the dormant offense, the sketchy middle relief, the starters turning in underwhelming outings … a prolonged slump like this takes a total team effort. It'll get better at some point though, it almost has too. Even the Astros won four of five a few weeks ago. It can happen!
1. I think the Yankees really need to start playing some of their younger guys regularly. Raul Ibanez, Andruw Jones, and Ichiro Suzuki have been automatic outs for the last few weeks, so I think getting them out of the lineup for a bit might help. Obviously it's tough to do with Curtis Granderson (hamstring) and Mark Teixeira (calf) injured, but when they come back hopefully later this week, Chris Dickerson (who actually isn't all that young) and Eduardo Nunez should take some of those at-bats. By no means am I declaring Dickerson and Nunez stars or anything, but the other three guys haven't done anything lately and the Yankees can't afford to wait around for them to figure it out at this point. The call-up guys will add some much-needed speed to the offense, plus they're surely eager to prove they belong as well. Might as well give them a chance to prove it, not like they could actually be a downgrade from the other guys anyway.
2. If the Yankees do end up continuing this slide through the end of the season and wind up missing the playoffs, I don't see how in the world Joe Girardi survives the offseason. Blowing a ten-game lead with a $200M+ payroll usually results in someone being scapegoated — I assume it would anyway, it's never actually happened in baseball history — and the manager is as good a bet as any to get the axe. I don't think Girardi's a bad manager nor do I think he's a great one, he's fine, and neither am I endorsing his firing should they miss the postseason. I'm just saying that I can't imagine his job being safe if this continues even though Brian Cashman and Hal Steinbrenner hand-picked him for the job.
3. When is the last time the Yankees made a trade that you can look at and say "alright, they made out well with that one?" I'm not talking about the random Chad Qualls-for-Casey McGehee or Steve Pearce-for-cash swaps, I mean when they gave up a player(s) of legitimate value. Here's a list of the team's recent trades courtesy of MLBTR for you to reference. The last one is the Nick Swisher trade, isn't it? That was a long time ago, four years ago this November. That's a mighty long time to go between "winning" trades*. All of the moves they made to improve the team this season — Ichiro Suzuki, Chris Stewart, McGehee, Pearce — have had zero impact, which is contributing to this downward spiral.
* Obvious disclaimer here is that the book has yet to be written on some recent trades, specifically the Jesus Montero-for-Michael Pineda swap. Right now though, that one looks like an unmitigated disaster.
4. We know that RBI don't have much analytical value, but it's going to be very weird when the Yankees finish the season with zero 100+ RBI guys. It'll take a big final month from Teixeira (81 RBI), Granderson (79), Nick Swisher (77), or Cano (71) for someone to get over the century mark, otherwise the Yankees will have their first zero 100+ RBI team since 1992, not counting the work stoppages in 1994-1995. Obviously injuries and RISPFAIL play a part in that, but it's still just weird.