Stop me if you've heard this before, but the Yankees were outplayed by a team chasing them in the standings and it led to another loss on Monday afternoon. It was their ninth loss in the last 14 games.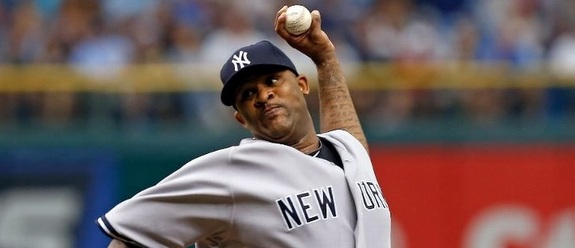 Shaky Sabathia
It certainly wasn't pretty, but CC Sabathia gave the Yankees seven innings of three-run ball with only one of the runs coming on a real hard-hit ball — B.J. Upton's solo homer in the third. That was crushed. CC got dinked to death in the second, as two broken-bat bloops and a ground ball pastadiving Derek Jeter resulted in a run. The third run scored following a leadoff walk (very bad), a single, a double steal, and a ground out. Sabathia retired nine of the last ten Rays he faced and threw 116 really hard-fought pitches.
Once again, it was his command that was the problem. Sabathia threw first pitch strikes to just 14 of 31 batters and generated only eight swings and misses out of those 116 pitches. Those rates are way, way too low for any pitcher, nevermind someone of CC's caliber. The Yankees needed a little more out of their ace than what they got, but it wasn't exactly a disaster start by any means. Three runs in seven innings used to be an insta-win for a starter on this club.
One Good Inning
The Yankees have scored more than three runs just four times in their last dozen games, which is unfathomably bad. Injuries or not, a replacement level AL lineup probably scores 4+ runs four or five times during that stretch. All three runs on Monday came in the fourth inning, which started with a Robinson Cano double and ended with a Russell Martin infield hit. In between, Alex Rodriguez singled on a ten-hopper with eyes, Eric Chavez lined a sacrifice fly to left, and Raul Ibanez tripled (!) past a diving Ben Francisco. Ichiro Suzuki (swinging) and Chris Dickerson (looking) struck out to end the inning with Martin on first.
I thought Ibanez's base-running on the infield single was excellent and deserves to be highlighted. Martin's infield hit ricocheted off starter Jamie Shields and right to first baseman Jeff Keppinger who was probably 20-feet away from the bag. He looked Ibanez back to third before breaking for the first base bag. That's when Ibanez took off for home and Martin slide in safely just before Keppinger got there. Most guys — especially old and slow guys — just stay at third on that play with one out. Real heads up job by Raul to score that run.

Lost
Middle relief has been a real big problem lately, but you have to feel pretty good when the starter is able to hand the ball right off to David Robertson. The setup man started the eighth inning with an unconventional out — single then the runner was thrown out trying to steal second on a pitch-out — before retiring the next batter on a fly ball to right-center (more on that in a second). With two outs, Ryan Roberts singled through the 5.5 hole before stealing second uncontested. In a 3-1 count, third catcher Chris Gimenez grounded a single through the hole on the right side to score Roberts for the winning run.
The ball was just beyond the reach of Robinson Cano and I thought he absolutely had to dive for it in that situation. Man on second, two outs … gotta knock that sucker down and keep the man at third. After the game we found out that Cano suffered a hip injury on the play, so I'll give him the benefit of the doubt I guess. Instead, I'll wonder why Robertson threw just one curveball out of 17 pitches, a curve that Francisco took for a ball before flying out. David's curve has been missing for a while and I have no idea why, but I do know that his strikeouts are way down — just 12 strikeouts in his last 17 appearances (6.48 K/9 and 18.5 K%) — and it's reducing his effectiveness. Unless his elbow is barking (please no), Robertson really needs to get back on the curveball horse and start missing some bats again. That's why he was so great a year ago, Gimenez wouldn't even have put the ball in play in that situation last summer.
Leftovers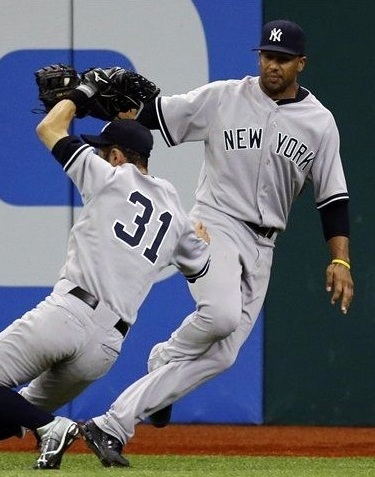 Outside of that three-run fourth inning, the Yankees went a combined 1-for-26 with three walks and five strikeouts. They got four hits in the span of five batters that inning — Chavez's sac fly could have easily been a hit as well, he smoked that thing — and just one in the other eight innings. Brutal. The Yankees haven't picked up more than six hits in any of their last four games and in five of their last six. Their last double-digit hits game was the series finale in Cleveland, when they had eleven. They haven't had more than a dozen hits in a game (a completely arbitrary criteria on my part) since the third game in Detroit a few weeks ago.
Not that this is all that surprising, but Cano didn't bust it out of the box on his hard-hit eighth inning ground out. Elliot Johnson booted the ball at third and Robbie didn't take off until the ball hopped away, otherwise he likely would have been safe. He almost beat it out anyway. Cano said he didn't hurt his hip until that play in the bottom of the eighth, so that's no excuse. I suppose he may have thought Johnson caught the ball on a fly, but still man, your team is playing like crap. Show some urgency.
A-Rod's return to the lineup featured a 1-for-4 with a strikeout. The hit was that funny looking ten-hopper with eyes, but the other two balls in play where a soft line drive to short and ground ball to third. He was crushing the ball in batting practice — hit two balls on top of the restaurant in center field — so there's still some strength in that left hand after missing six weeks with a broken bone. Of course doing that in game situations is another matter entirely, but I took it as a good sign. Certainly better than the alternative.
Dickerson and Ichiro collided in right-center field for the second out of that eighth inning, but Dickerson managed to hold onto the ball for the out. Unfortunately for him, Dickerson is the hardest thing Ichiro's hit in two weeks. Zing! (h/t Andy Hamilton)
This was my seventh credentialed game at Tropicana Field, and they Yankees have won just one of those games. If I believed in jinxes and other stuff like that, maybe I'd stop coming. But I won't. I'll try to bring you some neat stuff these next few days.
Box Score, WPA Graph & Standings
MLB.com has the box score and video highlights while ESPN has the updated standings. The Orioles won again as you know by now, so they're just one game back in the division. One game. One. The Rays are three back in the loss column and the magic number remains 28.

Source: FanGraphs
Up Next
Same two teams on Tuesday night, when Freddy Garcia squares off against Alex Cobb. That's not exactly a pitching matchup you pay to see, but it's a monumentally important game for the Yankees.