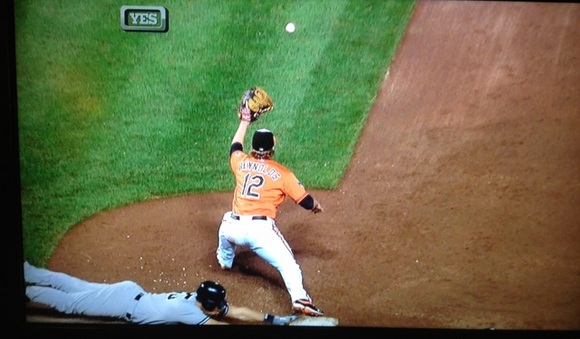 It's entirely possible the Yankees would have lost this game in extra innings given their bullpen anyway, but man if they lose the division by one game…
Blown Call: You all know what happened and can see it above if you don't. First base ump Jerry Meals said the throw beat Mark Teixeira to the bag for the final out of the game as the game-tying run was scoring from third. He was completely and indisputably wrong. Bad calls happen, but I just hate that such an egregious mistake decided a game of this magnitude.
SuCCks: The blown call wouldn't have mattered if CC Sabathia had been able to keep the Orioles in the park, as they tagged him for three dingers in 6.1 innings. He blew a two-run lead in the second, the fourth lead he's blown in three games back from the DL. Sabathia hasn't been himself pretty much all season but especially of late, and the Yankees simply needed him to pitch much better in a game this important. I don't know if the elbow is still bothering him or what, but this nonsense is not good enough for the supposed ace of a contender.
Eighth Inning Non-Rally: The Yankees scored a run in the first (Teixeira sac fly) and a run in the second (Ichiro Suzuki double), but the bats went into hibernation against Joe Saunders and various relievers until the eighth. Alex Rodriguez homered for the second time in as many games in the eighth, but the Bombers were unable to capitalize further when Curtis Granderson popped up to end the inning with men on corners. I love Curtis as much as anyone, but Joe Girardi had to pinch-hit for him in that spot with the left-hander just entering the game (and thus unable to be replaced). Granderson hasn't been hitting for far too long to be left in in that spot.
Ninth Inning Rally: Single to left (Ichiro), single to left (Eric Chavez), bunt single to third (Derek Jeter). Boom, just like that the Yankees had the bases loaded with no outs against Jim Johnson in the span of six pitches. They needed to score two runs to tie and they did … until the blown call. Swisher grounded into a fielder's choice to short to score the first run, a ball hit too softly for a double play thankfully. You know what happened on Teixeira's slow grounder to second. With a scorching hot A-Rod on deck, the call hurts even more.
Leftovers: Scott Proctor Cody Eppley did a fine job after Sabathia, retiring five of the six men he faced … Granderson didn't start the game but he still managed to kill two big rallies (sixth and eighth innings), both with two men on-base … Swisher went 0-for-5 and is still hitless on the road trip, though he did have the homer robbed a night ago. I'm sure that helps him sleep well at night … Jeter had three more hits while Ichiro had two, so the two most veteran of veterans deserve props for having huge series this weekend … Nick Markakis will miss six weeks after Sabathia broke his thumb with that hit by pitch, which really sucks. Don't want to see anyone get hurt like that … the Orioles have out-homered the Yankees 12-4 in the series, which sucks for them because little do they know you can't win with homers in the postseason!
MLB.com has the box score and video highlights while ESPN has the updated standings. If you want to see the (depressing) WPA Graph, check out FanGraphs. The Yankees and Orioles are tied atop the AL East again, though the Rays lost to the Rangers and remain two back in the loss column. This nightmare series and road trip will conclude on Sunday afternoon, when Freddy Garcia gives it a go against Zach Britton.
[Photo via @JimmyTraina]