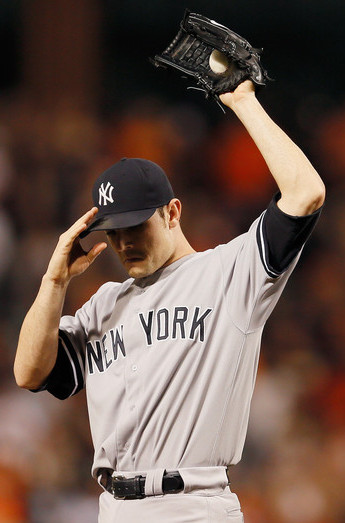 Much has been made of the 2014 payroll plan, specifically how the Yankees will plug numerous rotation and lineup holes in the next 14 months or so while trimming payroll. The combination of one-year contracts signed this winter and impending free agencies mean the team could be looking to fill as many as three rotation spots and six everyday lineup spots. It's a daunting task, and yet we all seem to be overlooking the bullpen.
Right now, the Yankees are projected to open 2013 with four relievers who will qualify for free agency after the season: Mariano Rivera, Joba Chamberlain, Boone Logan, and David Aardsma. That leaves David Robertson (due to hit free agency after 2014), Clay Rapada, and the long-man (Ivan Nova? David Phelps?) as the hold-overs heading into 2014. Cody Eppley deserves a mention here as well. Standard disclaimer: bullpens have a very high turnover rate and the club's relief corps will look very different 12 weeks from now, nevermind 12 months.
The Yankees do have some nice relief depth scheduled to open the season in Triple-A, guys we figure to see next year at some point. Right-hander David Herndon, who spent the last few seasons with the Phillies, signed a minor league contract and is due to return from Tommy John surgery at midseason. Right-hander Chase Whitley (3.25 ERA and 3.70 FIP) threw 80.1 innings in Triple-A this past season and figures to be among the first called up whenever an arm is needed. Adam Warren will start the year in the Triple-A rotation but is likely to wind up in the bullpen long-term. The same is probably true for Dellin Betances as well. Left-hander and 2011 Rule 5 Draft pick Cesar Cabral will get a long look in Spring Training next year and could carve out a role with the team.
A little further down is right-hander Mark Montgomery, the team's very best relief prospect. He's a strikeout machine (career 14.6 K/9 and 40.0 K%) who will open the year in Double-A and earn a promotion before long. Left-hander Francisco Rondon was added to the 40-man roster after the season, so the team obviously thinks he can help them sooner rather than later. Non-40-man right-hander Graham Stoneburner could work his way into the mix as well. Right-handers Branden Pinder and Tommy Kahnle will start the year in Double-A with a chance to pitch there way into big league consideration down the line. Danny Burawa is coming off a lost season (rib injury) and the team liked him enough to invite him to big league camp this past year.
Prospects, especially bullpen prospects, have a high rate of attrition. Not all of these guys are going to work out, and in fact I'd be thrilled if three of them turned into legitimate big league options for New York. Some will be traded, some will get hurt, some will stink for no apparent reason. It happens. The Yankees do have plenty of inventory though, which is pretty much the only thing the team can control. They've also been aggressive with scrap heap pickups in recent years, plucking guys off waivers or signing them to minor league contracts, and that doesn't figure to change. Outside of Rivera and Rafael Soriano, the club has had fielding a cheap and effective bullpen during the Joe Girardi era.
Despite that, I wouldn't expect the Yankees to replace Mo, Joba, Logan, and Aardsma with only prospects or scrap heap pickups next year. If things play out like that and there are four bullpen holes to be filled, you can bet they'll venture out into the free agent market for an arm or two. Here's the list of free agents for next winter, and right now guys like Grant Balfour, Matt Belisle, and Eric O'Flaherty jump out as potential targets. Again, a whole lot can and will change before next offseason rolls around. I'm just looking ahead and thinking out loud here.
The rotation and lineup holes are going to draw a lot of attention (and posts) heading into 2014 given the plan to get under the $189M luxury tax threshold, but we shouldn't forget about the bullpen. The Yankees could have a lot of holes to fill beyond the right-center field wall as well, though the difference is that their internal relief solutions are far better (and more plentiful) than their in-house rotation and position player options right now. Given the inherent volatility of relievers, having depth and plenty of options to sort through is the best and most cost effective way to build a bullpen unit. The same can't be said for starters and position players.