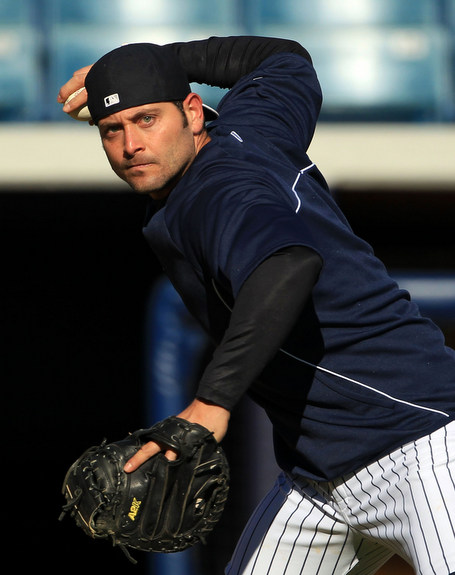 The Yankees have a history of fake Spring Training competitions — the 2010 fifth starter's competition stands out the most — though this spring's catching competition both is and isn't legit. Austin Romine has almost no chance of making the team because both Chris Stewart and Frankie Cervelli are out of options, so in that sense the competition is fraudulent. Neither Stewart nor Cervelli has a first grasp on the starting job though, and those two are in a real competition for playing time.
We don't learn much after just ten Grapefruit League games, but one thing is very obvious so far this year: Cervelli's throwing has been demonstrably better than it was from 2010-2011. He threw out 36.4% of attempted base-stealers as a minor leaguer from 2005-2008, then he threw out 43.5% of attempted base-stealers during his big league time in 2009. Something changed though, and that number dropped to just 14.1% in the show from 2010-2011. That defensive decline is a big reason why the Yankees traded for Stewart at the end of camp last year and surprisingly demoted Cervelli to Triple-A.
"It made my mind stronger," said Cervelli to Mark Feinsand about the demotion. "I kept learning that nothing comes easy … Right now, I look at the past and I think it was the best. Maybe last year, the first two months in Triple-A was bad. The frustration, you don't understand it in the moment, but when you have a little time and you think a little fresh, you realize things happen for a reason – and always a positive reason."
Cervelli credited his parents — who spent a lot of time with him last summer — for helping him get over the disappointment of being demoted and focusing on the things the Yankees wanted to improve, including his throwing*. Frankie has thrown out five of six (!) attempted base-stealers during his five games behind the plate so far this spring. Obviously that is an unsustainable pace, but his throws have been strong and right on the bag at second as opposed to short-hopping the infielder or winding up in center field as they had in recent years. The improvement is noticeable.
"Rushing," said Cervelli to Chad Jennings when asked what he was doing wrong before. "I tried to throw the ball too hard and I tried to get the ball before it was in my glove. Now I work relaxed behind the plate. Same energy, but I just try to be more relaxed and let my body go … The past few years in the big leagues, I had bad habits. Maybe frustration, or if you don't play every day, you want to do things perfect. I was a little young, too. You're a little desperate sometimes. When you get more mature and have more experience, play every day like last year, you start to get that feeling."
Cervelli threw out 30.0% of attempted base-stealers with Triple-A last year — on par with his 2005-2008 performance — then went to winter ball and threw out nine of 14 attempted base-stealers (64.3%) in his 21 games. No one will ever confuse him with Yadier Molina, but Cervelli had a track record of throwing runners out at a better than average rate before falling to some bad habits (to use his words) in recent years. His performance these last ten months or so suggest he's back to where he needs to be.
"I just think he worked hard at it," said Girardi to Feinsand about Cervelli's throwing. "He had a chance last year to catch every day. He also went to winter ball, and I think he worked really hard at it. As I said, I think he got a little out of whack from maybe rushing or trying to do too much, and he was able to go down there and really get it back together like he had when he first came up for us throwing the baseball. It's shown up."
Cervelli will turn 27 later this week, and among the team's catching options, he has (by far) the best chance to contribute offensively this summer. That doesn't mean he'll be above-average or anything, just less below-average than Stewart or Romine. If his throwing and defensive improvements are real and not just a small sample/early-Spring Training fluke, his value to the team could be much greater than anticipated. We need to see more before we can say he's over those bad habits for certain, but the early returns are very encouraging.
* Brian Cashman spoke more about the things the Yankees wanted Cervelli to improve during an on-air interview this weekend, which you can watch here. Apparently Frankie will no longer go into a Tony Pena-esque crouch as he had in the past. I thought that was interesting.