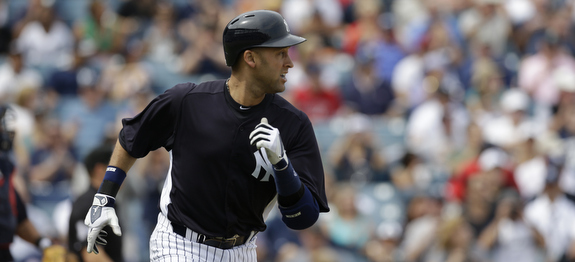 Spring Training has not gone well for the Yankees on the health side of things, and things have only gotten worse these last two days with the news of Derek Jeter's setback. Of course the team hesitates to call these things setbacks, but the Cap'n had to be shut down from baseball activity to receive medical treatment (including a cortisone short) as part of his rehab from ankle surgery. It's a setback. Brian Cashman acknowledged yesterday Jeter might have to start the season on the DL because he simply may run out of time to prepare for Opening Day.
Along with Mark Teixeira (wrist) and Curtis Granderson (forearm), the Yankees have now lost three of their four (five, at worst) most important offensive players before the season even begins. Sure, Jeter may heal up in time for Opening Day, but they would be foolish to consider this a one-time blip on the radar. He may seem immortal, but the Cap'n is going to be 39 years old this summer and he won't heal as well as he did earlier in his career. There's a very good chance he will have to deal with similar nagging soreness and stiffness and inflammation all year long.
The Yankees should plan for this. They sought out Spring Training upgrades in the outfield by signing Ben Francisco and Brennan Boesch, but plugging a shortstop hole is much more difficult. Cashman acknowledged that Eduardo Nunez will take over as the everyday shortstop in Jeter's stead and … I mean fine, whatever. They obviously love him and if they're ever going to give him a chance to play shortstop everyday, might as well do it now to see what happen. That said, they can't hedge their bets with Jayson Nix and Gil Velazquez. They'll need to dig up a better backup plan.
Veteran John McDonald would have been nice — mentioned him in this post last week — but he was traded by the Diamondbacks to the Pirates yesterday. Ronny Cedeno was released by the Cardinals earlier this week and he's someone the Yankees should look into bringing in for depth. The 30-year-old put up a surprising 107 wRC+ in 186 plate appearances for the Mets last year, but otherwise he has no track record of hitting at the big league level (68 wRC+ in nearly 2,500 plate appearances). Cedeno can legitimately play shortstop though, and he'd instantly become the team's best defender at the position in the upper levels. In a way he's a better depth option than McDonald because he can go to Triple-A (on a minor league deal). Stashing a guy like him in the minors will be important in case Nunez's throwing issues continue (as they probably will).
The bigger issue is Jeter's lost offense. I'm not sure he will repeat his .316/.362/.429 (117 wRC+) effort from a year ago — heck, there's a chance he will reverted to his .270/.340/.370 (93 wRC+) form from 2010 — but that's what the Yankees will have to try to replace. They've already lost Teixeira and Granderson (and Alex Rodriguez!) on top of the Nick Swisher and Russell Martin free agent defections, so taking Jeter away means they're down to one right-handed hitter (Kevin Youkilis) who poses a real threat to the opposition. Maybe Francisco or Juan Rivera will have a surprisingly productive year, but I'm not going to hold my breath.
There's a chance, maybe even a good one, that Jeter will be ready and healthy enough to join the team on Opening Day. That would be outstanding. The Yankees should still consider this latest bout of inflammation a warning shot though, a harsh little reminder that the 38-year-old coming off major ankle surgery might not remain in one piece all year. Nunez is an okay backup plan, but his defensive issues mean they'll need a backup plan for the backup plan. Cedeno is just one player who is available. The fact that Jeter's and Teixeira's injuries may linger should have the team looking intently for replacements before the season even begins.