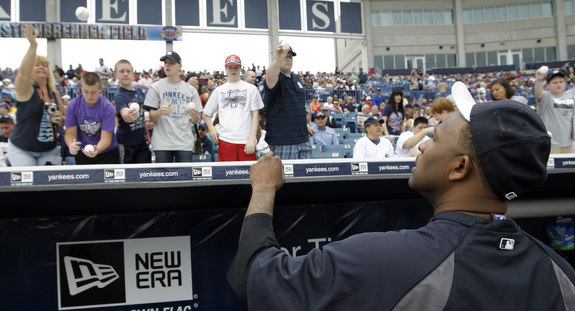 The Yankees beat the Red Sox this afternoon thanks to a four-run second inning that featured one double (Ben Francisco), one walk (Brett Gardner), two sacrifice flies (Jayson Nix and Eduardo Nunez), and a whole bunch of singles (Juan Rivera, Chris Stewart, Thomas Neal, and Melky Mesa). Vidal Nuno threw five shutout innings, allowing just two hits and one walk against one strikeout. David Robertson and Mark Montgomery each allowed a hit and struck a batter out in their scoreless innings while Joba Chamberlain tossed a perfect frame. It was his second consecutive day on the mound. Here's the box score and here's the rest from Tampa…
During the YES broadcast of this afternoon's game, CC Sabathia said he threw 92 pitches in a minor league game. It was his second-to-last outing before Opening Day, and he and his surgically repaired elbow came through the day just fine. Sabathia allowed one run with eight strikeouts in six innings. [Bryan Hoch]
Clay Rapada is going to try to throw a flat-ground bullpen session — regular pitching mechanics, but not on an actual mound — later this week as he comes back from shoulder bursitis. He still hasn't been cleared to do anything more than play catch, however. [Chad Jennings]
Josh Spence left this afternoon's game after getting hit in the barehand by a comeback ground ball. It wasn't hard hit and it deflected off his glove first, but I guess the Yankees didn't want to take any chances. For what it's worth, YES showed Spence in the dugout laughing with teammates afterwards, so I guess it wasn't anything serious. No official update, however.
Ronnie Mustelier was scratched from today's game because he's still banged up after running into the railing the other day. Forgotten right-hander David Herndon is throwing bullpens and could pitch in a game in late-April. He's coming off Tommy John surgery and figures to be in the bullpen mix once healthy. [Chad Jennings]
Both Montgomery and Matt Tracy were sent to minor league camp following today's game, the team announced. The Yankees are down to 46 players in big league camp, but my unofficial count.
There was a scout from the Yomiuri Giants in camp today. Japanese clubs usually monitor the final weeks of camp and try to poach guys on the roster bubble, which I guess could mean someone like Jim Miller or Thomas Neal. Who knows. [Josh Norris]
The Twins will be in Tampa for a night game tomorrow. David Phelps will start and you'll be able to watch that one on YES.
Here is your open thread for the evening. Both the Knicks and Nets are playing, so talk about either of those games or anything else here. Go nuts.