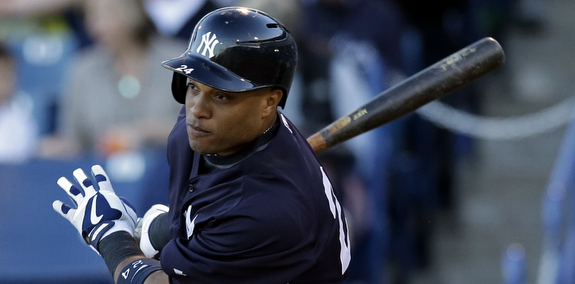 The Yankees are done with Spring Training in Florida and they might already be in Washington D.C. by time you read this. They lost to the Pirates in this afternoon's Grapefruit League finale, a game that had "hurry up and swing, I've got an 8pm reservation at Komi" written all over it. Hiroki Kuroda was magnificent, allowing one base-runner (a single) and striking out five in six scoreless innings. Brennan Boesch hit a double and Frankie Cervelli hit a triple, and that's pretty much it. Not the most exciting game. Here's the box score and here's the rest from Tampa…
In case you missed it earlier, Juan Rivera was released and the bench started to come into focus. Nothing is official yet, but it sure looks like Lyle Overbay, Ben Francisco, and Boesch will make the team.
Ronnie Mustelier has a bone bruise in his knee, and Joe Girardi confirmed the injury takes him out of the running for a bench spot. That really stinks, he had a legit chance to break camp with the club. [Bryan Hoch]
Vidal Nuno has won the James P. Dawson award as the top rookie in camp, the team announced. David Phelps won the award last year, and previous winners include Manny Banuelos, Jon Weber (!), Brett Gardner, Shelley Duncan, and Jorge Posada.
The Yankees will play an exhibition game against the Nationals in Nationals Park tomorrow afternoon (2pm ET). Andy Pettitte will get the start and the game will be broadcast on YES.
Here is your open thread for the evening. The Rangers and Islanders are both playing, plus MLB Network will air a Spring Training game as well. Looks like the Twins and Red Sox. Talk about any of those games and more right here. Go nuts.