On Jackie Robinson Day, the Yankees won in a game 4-2 in which the big hit came from a player named after the Hall of Famer and the save was recorded by the last player who will ever wear #42. Baseball can be pretty cool sometimes.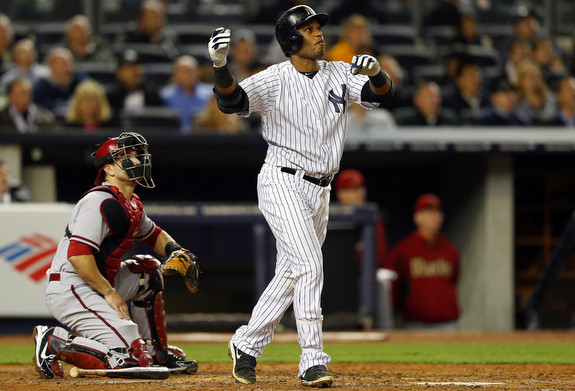 One Too Many Changeups
When the Yankees offense was in its heyday a few years ago, they wore pitchers down and forced them to throw a ton of pitches early in the game. They used the same approach to the extreme on Tuesday, forcing Diamondbacks right-hander Brandon McCarthy to throw 30 pitches in the first, 57 pitches through two innings, 66 pitches through three innings, and 98 pitches through four innings. They were relentless, the poor guy couldn't get a quick out to save his life.
Of course, McCarthy allowed zero runs through the first three innings, dancing out of a bases loaded situation in both the first and second innings. Things unraveled in the fourth, when Lyle Overbay and Chris Stewart opened the inning with seeing-eye singles through the left side of the infield. I was worried the Yankees would have Brett Gardner bunt in that spot, but they let him swing away and the result was a strikeout. Considering what happened next, the strikeout was actually a good thing.
Robinson Cano came to the plate next, and McCarthy immediately fell behind in the count 3-0. He ran the count full by feeding Robbie changeup after changeup, but the fourth straight changeup and sixth pitch of the at-bat was a total mistake. It hung in the middle of the zone and Cano did what MVP-caliber players are supposed to do with that pitch: he hit into orbit. Three-run homer in the right field bleachers …  no Yankee Stadium cheapie, no help from the wind, nothing. It was gone off the bat and the Yankees went from down two to up one just like that. Had Gardner bunted, Robinson almost certainly would have been intentionally walked to set up the double play. Hooray for not bunting.
Ivan No No Nova
I'll take two runs in five innings out of my fifth starter every day of the week, but my goodness was Ivan Nova a chore to watch on Tuesday. He threw 94 pitches in five innings, including 72 pitches in the first three innings. Seventeen of the 24 batters he faced saw a first pitch strike, but 12 saw at least four pitches in their at-bats. It was basically the same stuff we saw against the Tigers a week ago, just against a much less potent lineup. Then again, not many teams can match the Detroit offense, so perhaps it's not a big deal.
I do think the Yankees are starting to run out of patience with Nova, whose track record of success in the big leagues is basically the second half of 2011. I also don't think he's in imminent danger of losing his rotation spot, not with Andy Pettitte's back acting up and Phil Hughes looking like a pitcher who missed basically all of Spring Training due to injury. Nine base-runners in five innings is pretty darn awful regardless of how many runs scored, and we really didn't see any improvement from Nova's first start to his second. He'll get another chance to raise my blood pressure to dangerously high levels in five days.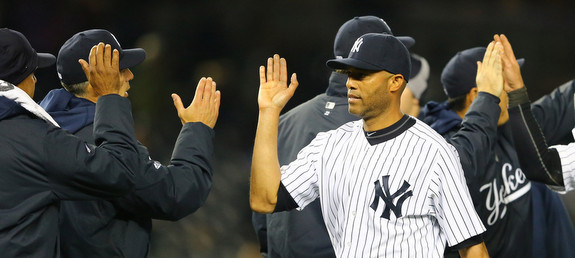 The Bullpen Formula
The middle relief crew has been very shaky early this season, but the bullpen picked up Nova with four dynamite innings to close things out. Boone Logan retired all four men he faced (including two lefties) before Joba Chamberlain finished off the seventh by retiring both men he faced. David Robertson allowed a single in the eighth but otherwise threw a stress-free scoreless inning. That put the ball in Mariano Rivera's hands, and as he's done a couple hundred times before, he retired the final three batters of the game in order to secure the win.
Four innings of work, one base-runner (the single), three strikeouts. Damn near flawless effort from the bullpen in a close game, can't really ask for much more. Considering how shaky the non-Robertson and Mo relievers have been so far, this was a very welcome sight. Hopefully it continues, I think we all know these guys are better than what they've shown the last two weeks.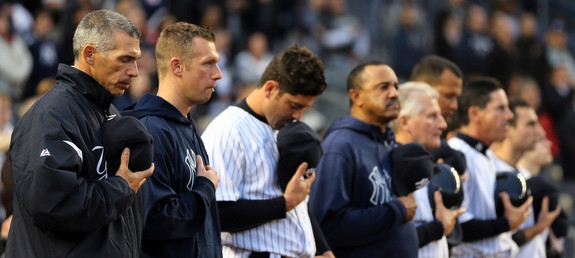 Leftovers
The Yankees tacked on a rather big insurance run in the seventh, loading the bases with no outs before Eduardo Nunez lifted a sacrifice fly to left-center. Considering the two blown bases loaded opportunities earlier in the game, it sure was nice to see someone cash in a run there. New York went 1-for-8 with runners in scoring position overall, but the one was Cano's dinger.
Speaking of Robbie, his homer was part of a 2-for-4 with a walk night, meaning he has now gone 9-for-19 (.474) with four homers on Jackie Robinson Day in is career. Pretty great way to honor to man you were named after, no?
Gardner (double), Kevin Youkilis (two singles), Travis Hafner (two doubles), Ichiro Suzuki (single), Nunez (single), and Stewart (two singles) all had hits as well. Vernon Wells drew an unintentional walk while Cano and Ichiro (!) were given true free passes. They were put on intentionally.
Very nice gesture by the Yankees to play Sweet Caroline after the third inning in support of Boston. Sports rivalries mean nothing in real life.
Box Score, WPA Graph & Standings
MLB.com has the box score and video highlights, FanGraphs some other stats, and ESPN the updated standings.

Source: FanGraphs
Up Next
Same two teams on Wednesday night, when CC Sabathia gets the ball against NL Rookie of the Year runner-up Wade Miley. That starts a stretch of five lefty opposing starters in the next seven games. Check out RAB Tickets for any last-minute deals.