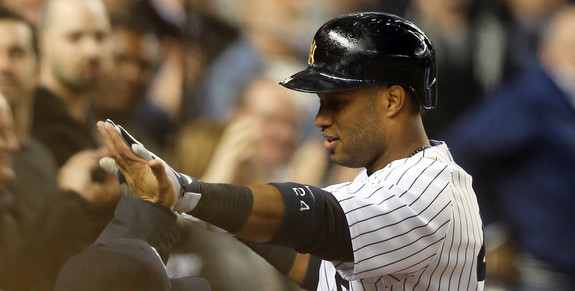 Twelve games down, 150 to go (or, I guess about 93% of the season remaining). I thought I'd take a page out of the Axisa Book of Introspection, and jot down a few thoughts on the season thus far on this random Wednesday. Anyway, you know the routine…
1. Who else has been pleasantly surprised by Vernon Wells? Be honest. He's batted .300/.391/.600 (good for a 170 wRC+). Obviously it's very very very early in the season, and I still think two years of Vernon at any amount of dollars is probably two years too long. Still, the guy does deserve a bit of credit for taking advantage of the opportunity. The same has to be said for Kevin Youkilis too. Hopefully, the Yankees can continue turning the league's various retreads into useful contributors – especially now while the team is working through so many injuries.
2. On the other hand, wow, Ichiro Suzuki has sure looked cooked early on. Anecdotally, it seems as though every single time he makes contact with the ball, it results in a soft grounder to the opposing team's second basemen. Now, just as Vernon could morph back into the pumpkin we're all anticipating at any moment (and he probably will), so too could Ichiro regain some of the spark he displayed at the end of last season. Of course, given Ichiro's age, I'm not overly bullish on that happening. Alas, keeping Nick Swisher would have been a fantastic alternative this past offseason, but as we all know, that ship has long since sailed.
3. Injuries, injuries, injuries. The walking wounded have dominated our attention this season. I keep telling myself that eventually the team will not be able to sustain the next one that happens. I mean, you know times are a bit desperate when a Eduardo Nunez plunking causes us to cringe. Mike discussed his concerns about Andy Pettitte the other day. I think one could probably show justifiable concern about all of the injurious for various reasons honestly – age, severity, etc. We've seen teams such as Toronto and Boston basically crash after being decimated by injuries in recent years.
With that being said, I think every team in the AL has obvious warts. There really isn't that "complete" team (though the Tigers maybe the closest thing to it at the moment now that they're finally giving Benoit a shot as their closer) — especially in the AL East. So, if New York can stay afloat and weather the storm for the first month or so, you have to like the team's chances to capitalize down the stretch … at least as much as anyone else's.
4. Ivan Nova really needs to get himself together and keep himself together. The team seems more than willing to show him patience as he figures things out too. Perhaps this because they still see potential in him. Or, perhaps it's because they are desperately avoiding apprehensive about their alternatives. Or, perhaps both to some degree.
In any event, Nova needs to be a positive part of the rotation and fast. He and Phil Hughes have been a huge burden on the bullpen. The problem, as I see it, is that Nova may not be a very good pitcher in actuality (his own real sustained success was limited to the second half of 2011), and may never be more than a fifth starter kind of arm at best. I guess time will tell. In any event, last night certainly helped the cause in terms of runs surrendered, though it would have been nice if he could have logged another inning and not given up so many base runners. Let's hope the trend continues upward.
5. I'm not sure if this final thought is really appropriate for this post, but here goes nevertheless. What happened in Boston a couple days ago was completely horrific. Tragedies such as this impact us all differently. For me, as a 28-year-old newlywed, events such as this tend to discourage me a bit about having children someday. It also makes me fear for the safety of my friends and family. In any event, my heart goes out to all those affected and I hope we, collectively, can find the resolve to move on as gracefully as we can as often as we can, despite the sinister efforts of those who would wish to do us harm.