The Yankees had lost six straight against the Tigers (including postseason) coming into Sunday's game, but more than anything they just needed a win to start feeling good about things after the rough opening week to the season. They had the right man on the mound in the series finale against Detroit — they don't make another regular season trip to Comerica Park this year, and I don't think I'm alone in saying "thank goodness" — and walked away with a much-needed 7-0 win.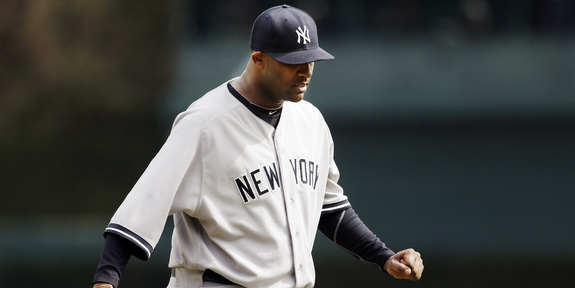 Sabathia Not Sharp, But Effective
After watching their bullpen get torn to shreds the last two games, the Yankees desperately needed a quality outing from CC Sabathia on Sunday. He delivered in a big way despite being something less than sharp, holding the Tigers to four singles and zero runs in seven innings. His strikeout (three) and walk (three) totals tell you he off a bit, but Sabathia made pitches when he had to and never once allowed a runner to reach third base. Only one made it as far as second.
Sabathia, who had to really grind through the 114-pitch outing, averaged 90.9 mph with his fastball and topped out at 92.5 according to PitchFX. That's up a bit from Opening Day last week (89.9 and 91.7, respectively), so at least he's heading in the right direction. This is still something work monitoring, of course. Detroit's batters swung and missed ten times total against the southpaw, including six times against the 20 changeups he threw. That was the pitch he leaned on last time out as well.
Opponents have scored against Sabathia in only one of his 12 innings this year, and on Sunday he limited the top five hitters in Detroit's lineup to one single and two walks in 16 plate appearances. The powerful three-four-five combination of Miguel Cabrera, Prince Fielder, and Victor Martinez went a combined 0-for-9 with a strikeout against the Yankees' ace. That's pretty much the recipe for beating the Tigers, keeping those guys in check. It wasn't his most effortless outing, but big ups to CC for coming up big when his team really needed it.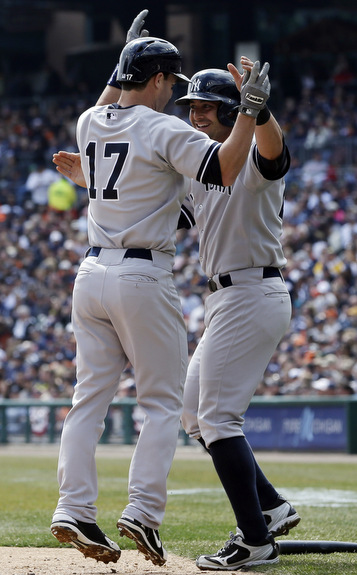 Bottom Of The Order Does Some Damage
The Yankees have had some run-scoring issues so far this year, but the bottom of the order did some damage against Justin Verlander in the second inning. The rally started a hard-fought, seven-pitch walk from Vernon Wells — already has four walks as a Yankee after drawing 16 in 77 games last year — who moved to second on Ichiro Suzuki's ground out. Frankie Cervelli got the Bombers on the board with a double into the left-center field gap, though left fielder Matt Tuiasosopo deserves an honorable mention for a horrendous route.
Lyle Overbay followed with a fly out, but Jayson Nix came through with the big two-out, two-run homer to left. He came into the season with five strikeouts (at least three looking) in seven plate appearances and didn't inspire much confidence in that spot. With Eduardo Nunez's recent biceps injury and Derek Jeter's slow recovery from his ankle surgery, the Yankees need Nix to be somewhat productive as the utility infielder. Hitting a two-run dinger off Verlander to give the club a three-run lead is about as good as it gets there.
Blown Open
For the first time since Game One of the ALDS, the Yankees managed to put more than four runs on the board. They broke things open against the suspect Tigers bullpen, pounding former Yankees Phil Coke and Octavio Dotel for four runs on six hits and one walk in 1.2 innings. They combined to throw 47 pitches and got one swing and miss.
There really wasn't a big blow in those last two innings, it was two steady rallies. Ichiro (sacrifice fly) and Cervelli (single) each plated one run in the eighth while Kevin Youkilis (single) drove in a pair in the ninth. It had been a while (13 games in fact) since the Yankees last blew one open like that, so it was a welcome sight. After all of Sabathia's hard work it was nice to know the bullpen had some breathing room.
Leftovers
Prior to the game, the Tigers gave Mariano Rivera some framed photos with dirt from Tiger Stadium and Comerica Park as part of his farewell tour. This is one of those things that is definitely cooler than it sounds. Later on, Mo threw a scoreless ninth with two bloop singles mixed it. David Robertson pulled a Houdini act in the eight with two strikeouts.
Nix led the offense with three hits, but Youkilis, Cervelli, and Travis Hafner all had two apiece as well. Overbay was the only player in the lineup not to reach base as even the struggling Brett Gardner and Robinson Cano picked up a hit (one single apiece). Gardner also made a great running catch in the right-center field gap in the late innings to help stifle a rally. Wells, who doubled and had a pair of walks, also made a nice lunging (more like flopping, really) catch early on.
Youkilis and Verlander were jawing at each other after the former's first inning double, and I think it had to do with something earlier in the at-bat. Youkilis hit a deep fly ball that hooked foul a few pitches earlier, but he stared it down like a no-doubt homer. Verlander might not have liked that. No idea what the conversation was about though, just speculating.
In case you're wondering, Joba Chamberlain shaved off that atrocious mustache citing superstitious reasons. "It wasn't doing us any good," he said before the game. You can say that again.
Box Score, WPA Graph & Standings
MLB.com has the box score and video highlights, FanGraphs the other stats, and ESPN the updated standings. Hooray for no longer having the worst run differential in baseball.

Source: FanGraphs
Up Next
The Yankees are heading to Cleveland for a four-game series with the Indians that begins Monday afternoon. Hiroki Kuroda, who still has some soreness in his right middle finger after being hit a line drive on Wednesday — "I would be lying if I said it wasn't bothering me …. At the same time I have to deal with it," said Kuroda to George King prior to Sunday's game — will get the ball against Ubaldo Jimenez.