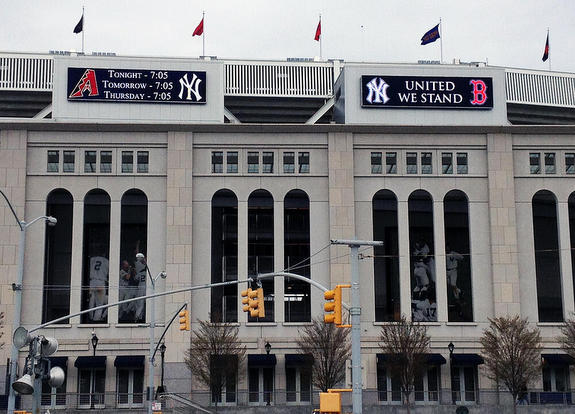 I've gotten a lot of mileage out of baseball as a coping mechanism over the years, and the last 36 hours or so are no different. Anytime something tragic happens like what happened in Boston yesterday, I turn to baseball. I used to just watch it or read about it, maybe play a video game once upon a time, but nowadays I just write. I don't know what else to do. As my pal Carson Cistulli put it: "Baseball is not a distraction, it's a reason to be alive."
The Yankees return to the field tonight following their third off-day in the last six days, but at least this one was scheduled. The other two were unplanned. The Diamondbacks are in the Bronx for the first interleague series of the year and the third time overall since the 2001 World Series, another time baseball helped me cope. I know I wasn't alone back then. Here's the lineup that will face right-hander Brandon McCarthy…
CF Brett Gardner
2B Robinson Cano
3B Kevin Youkilis
DH Travis Hafner
LF Vernon Wells
RF Ichiro Suzuki
SS Eduardo Nunez
1B Lyle Overbay
C Chris Stewart
And on the mound is #42 for a night, Ivan Nova. Oh yeah, the Yankees are honoring Jackie Robinson this evening after having yesterday off.
Tonight's game is scheduled to start a little after 7pm ET and can be seen on YES locally and MLB Network nationally. Enjoy.
Andy Pettitte Update: Pettitte (back) threw 40 pitches in the bullpen this afternoon and said everything went fine. He expects to start on Friday, but the Yankees haven't made anything official yet. They probably want to see how he feels the next few days before making anything final.
Mark Teixeira Update: Teixeira (wrist) will see a doctor at some point this evening for his latest checkup. He's been simulating swings and running the bases hard, though he has yet to be cleared to swing a real bat. Tex has been doing everything but that, it seems.