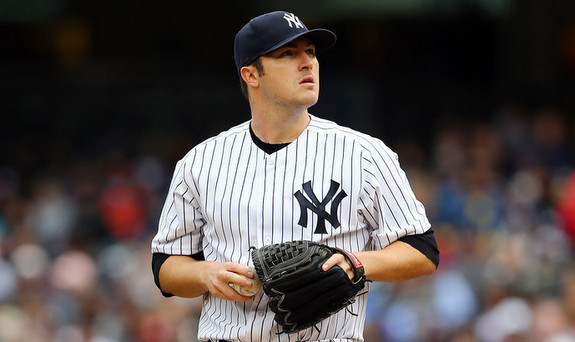 The Yankees pulled off their first improbable win last night, at least in the sense that for most of the game, it didn't feel like they had much of a chance. Wade Miley was on cruise control, the Diamondbacks scored some runs early … that kind of stuff makes a game feel like a loss in a hurry. Instead, the offense came through late and here we are looking at a potential sweep.
Of course, to get that sweep the Yankees will have to rely on Phil Hughes, who hasn't pitched well at all this season. If that's not enough, they're also going to have to overcome left-hander Patrick Corbin, who will be on the bump for Arizona. The Yankees come into the game with a wimpy little 58 wRC+ as a team against southpaws, so they're really going to earn this sweep if they manage to pull it off. Here's the starting lineup…
CF Brett Gardner
LF Vernon Wells
2B Robinson Cano
1B Kevin Youkilis
DH Ben Francisco
C Frankie Cervelli
RF Ichiro Suzuki
SS Eduardo Nunez
3B Jayson Nix
And on the mound is the right-hander Phil Hughes.
Tonight's game is scheduled to start at 7:05pm ET and can be seen on YES. Enjoy.