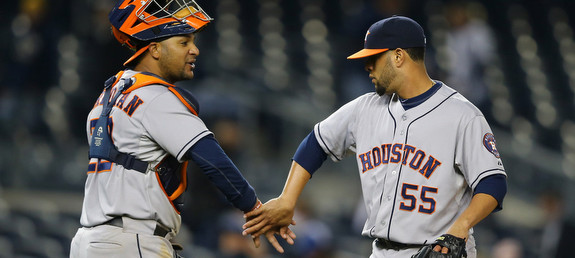 The Yankees got walloped by the lowly Astros on Monday night, losing 9-1 to the league's worst team in their own building. Stuff like that will happen a few times each year, it's inevitable with a 162-game schedule, but that doesn't make it feel any better. It's pretty embarrassing.
Luckily, the Yankees and Astros are back on the field today for game two of the three-game series. New York has a chance to put the blowout loss behind them and get back to winning, something they've done very well since that brutal 1-4 start. They aren't scoring a ton of runs — 3.8 runs per game since the two de-pants-ings of the Indians — but their pitching has been stellar. Well, stellar outside of Andy Pettitte last night. Here's the lineup that will face right-hander Phil Humber…
CF Brett Gardner
LF Ichiro Suzuki
2B Robinson Cano
DH Travis Hafner
RF Brennan Boesch
3B Jayson Nix
1B Lyle Overbay
SS Eduardo Nunez
C Chris Stewart
And on the mound is the veteran right-hander, Hiroki Kuroda.
It's a lovely day in New York, perfect baseball weather. The game is scheduled to begin at 7:05pm ET and can be seen on YES. Enjoy.