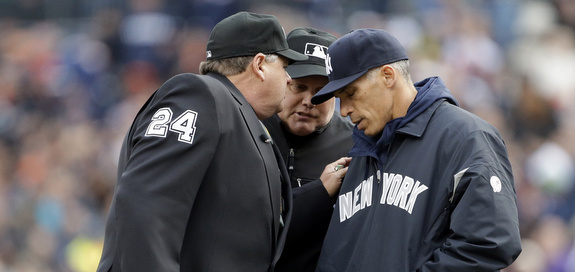 The Yankees haven't had much of a chance these last two games against the Tigers because of their pitching, the bullpen in particular. If they want to avoid the sweep this afternoon they'll have to find a way to beat Justin Verlander, pretty much the best right-handed hitter on the planet. They're going to need good pitching and good hitting, something they've been unable to do in the same game yet this year. If that streak of 13 consecutive games* with four or fewer runs — dating back to Game One of the ALDS — is going to come to an end, they'll have to earn it. Here is the starting nine…
And on the mound is the 2007 AL Cy Young Award winner, CC Sabathia.
This afternoon's game is scheduled to start a little after 1pm ET, but the Tigers are holding a ceremony to honor Mariano Rivera, so first pitch may be delayed a bit. They're apparently giving him something "Michigan-flavored." Not sure what that means. Anyway, the game will be on YES. Enjoy.
Eduardo Nunez Update: Nunez (biceps) tried to hit and play catch today, but he's still in pain and can't do it. He's not available to do anything more than pinch-run.
Hiroki Kuroda Update: Kuroda (finger) came through his bullpen session a few days ago just fine and he played catch today. He will indeed start against the Indians tomorrow as scheduled.
* The last time the Yankees started the season by scoring four or fewer runs in five straight games was 2008, when they did it in six straight. Last year they didn't have their fifth game of four or fewer runs until April 25th, the 18th game of the season.