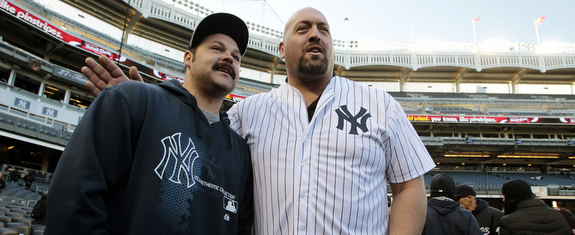 The first two games of the season have not gone according to plan, to say the least. The Yankees have been outplayed by the Red Sox in pretty much every facet of the game (hitting, pitching, defense) and are a well-deserved 0-2 to start the year. Things could always be worse, I guess.
For the sake of lowering expectations, there are two things I would like to see the Yankees do in tonight's series finale against Boston. One, it would be cool if they weren't done four runs after two innings. That one seems simple enough, yet they were unable to do it Monday or Wednesday. Two, it would be even cooler if they actually held a lead at some point. Remember, they didn't hold a single lead in the ALCS last year, so you have to go back to Game Five of the ALDS for the last time the Yankees had more runs than their opponent.
If they do one of those two things, I guess I'll be happy. If they do both, then I'll be even happier. If they do all that and manage to win … well, I don't want to get greedy now. Here's the slightly shaken-up lineup…
CF Brett Gardner
2B Robinson Cano
3B Kevin Youkilis
DH Travis Hafner
LF Vernon Wells
RF Ichiro Suzuki
1B Lyle Overbay SS Eduardo Nunez
SS Eduardo Nunez 1B Lyle Overbay
C Frankie Cervelli
And on the mound for his first April start since 2010, left-hander Andy Pettitte.
It's cold once again in New York, but it's not as brutally freezing as it was last night. First pitch is scheduled for 7:05pm ET and the game can be seen on YES locally and MLB Network nationally. Try to enjoy.