For the second time this year, the Yankees are at their home away from home in Tampa. They lost two of three to the Rays at Tropicana Field about a month ago, the only other time these two teams have played in 2013. Believe it or not, this is a pretty important series for both clubs. Important for late-May, anyway.
What Have They Done Lately?
The Rays kinda stink. They just lost two of three to the Blue Jays to drop their season record to 24-22 with a +11 run differential. Before the Toronto series, they won nine of eleven. Tampa currently sits in fourth place in the AL East, four games back of the Bombers for the top spot.
Offense
Believe it or not, the Rays are one the top offensive teams in baseball. They average 4.8 runs per game with a team 110 wRC+, and both rank as top-six marks in all of baseball. Tampa's offense is healthy outside of OF Matt Joyce (130 wRC+), who is day-to-day while nursing a hamstring issue. He could return to the lineup as soon as tonight.
As always, manager Joe Maddon's lineup is anchored by 3B Evan Longoria (171 wRC+) and 2B/OF Ben Zobrist (105 wRC+). This year they're getting a lot of help from 2B Kelly Johnson (128 wRC+), who plays primarily against righties, and 1B James Loney (150 wRC+). Yes, Loney is really hitting .350/.405/.497. And you thought Lyle Overbay was exceeding expectations. DH Luke Scott (149 wRC+) has performed well since coming off the DL a few weeks ago.
OF Desmond Jennings (92 wRC+) hasn't been any good as the leadoff man, but UTIL Sean Rodriguez (111 wRC+) and IF Ryan Roberts (94 wRC+) have done fine in their limited platoon roles. SS Yunel Escobar (76 wRC+) and OF Sam Fuld (42 wRC+) have been terrible. Former Yankee C Jose Molina (69 wRC+) and C Jose Lobaton (88 wRC+) sharing catching duties. The Rays don't steal as many bases as they once did (only 21 this year), but they don't need to because the lineup is deeper and more powerful.
Starting Pitching Matchups
Friday: RHP David Phelps vs. RHP Roberto Hernandez
The pitcher formerly known as Fausto Carmona has been predictably awful this year, pitching to a 5.24 ERA and 4.98 FIP in eight starts. His underlying performance has actually been outstanding — 8.46 K/9 (21.2 K%), 2.62 BB/9 (6.6 BB%), and 53.3% grounders — but he's insanely homer prone (1.81 HR/9 and 25.0% HR/FB) and has been a few years now. The 32-year-old Hernandez lives off his trademark low-90s sinker and the Rays have him throwing his mid-80s changeup nearly 30% of the time, way more than he ever has before. A low-to-mid-80s slider rounds out the repertoire. It's worth noting Fauxsto has a massive platoon split, holding righties to a .268 wOBA while lefties tag him for a .400 wOBA. That's good for the Yankees, who have seen Hernandez plenty over the years.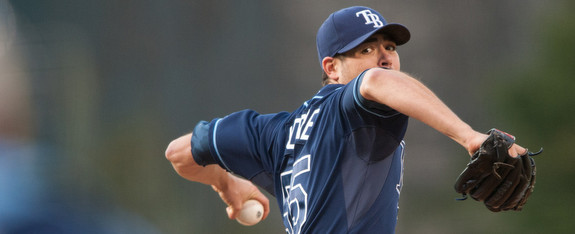 Saturday: LHP Vidal Nuno vs. LHP Matt Moore
Moore, 23, is starting to live up to the hype as the next great Rays pitcher by going 8-0 with a 2.29 ERA in his first nine starts. Of course, his FIP sits at a much less impressive 4.20 because he walks a ton of guys (4.25 BB/9 and 11.6 BB%) and will serve up the long ball (1.15 HR/9 and 10.8% HR/FB). In fact, when you add in his strikeout (8.84 K/9 and 24.0 K%) and ground ball (36.0%) rates, basically all of his peripherals stats have taken a step back from last season. The joys of a .197 BABIP, eh? Moore is a true-three pitch pitcher who uses a low-to-mid-90s four-seamer to set up mid-80s changeups and low-80s curveballs. He will beat himself with walks if given the opportunity, but this Yankees lineup is one of the least patience in the game. They've seen Moore a few times since he broke in late in 2011, and they actually roughed him up good last summer.
Sunday: LHP CC Sabathia vs. RHP Alex Cobb
This spot was supposed to belong to rookie RHP Jake Odorizzi, but the Rays took advantage of yesterday's off-day and flipped him with the 25-year-old Cobb. Cobb has been very good this year, posting a 2.73 ERA (3.78 FIP) in nine starts with greatly improved peripherals: 8.19 K/9 (22.3 K%), 2.12 BB/9 (5.8 BB%), and 54.4% grounders. He is pretty homer prone (1.21 HR/9 and 19.5% HR/FB) like most of the Rays pitchers this year. I guess that's the extra 2%. Cobb is a mid-80s changeup specialist, though not as extreme as former Ray Jamie Shields. He'll set the change up with low-90s two- and four-seamers while backing it up with an upper-70s curveball. Cobb is pretty darn good, and he's pitched very well against the New York every time he's faced them.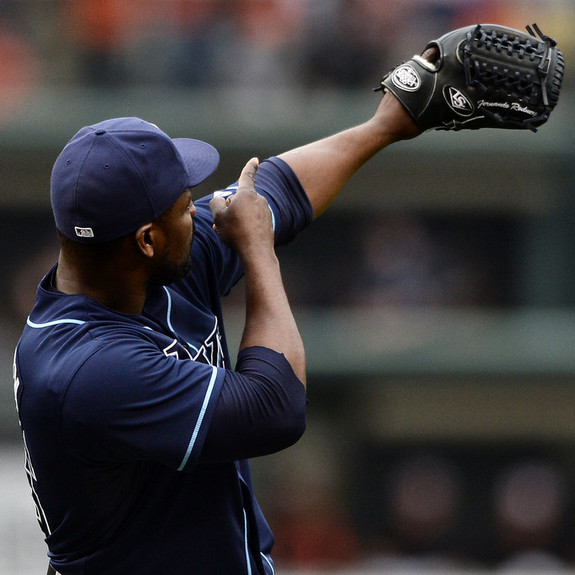 Bullpen Status
As I mentioned, the Rays were off on Thursday, so their bullpen is as fresh as can be. RHP Fernando Rodney (5.38 FIP) has been dreadful this year, so much so that he was yanked from his last appearance mid-inning before things could really spiral out of control. He hasn't officially lost the closer's job yet, but it won't be long at this rate.
RHP Joel Peralta (2.62 FIP) is the backup plan at closer, and he has been Maddon's most (only?) consistently reliable reliever this season. RHP Kyle Farnsworth (6.88 FIP) is cooked and LHP Jake McGee (5.15 FIP) has been unable to repeat last season's success. RHP Jamey Wright (4.07 FIP) is his perpetually solid but unspectacular self while LHP Cesar Ramos (3.03 FIP) has done a nice job in a matchup role. Rapist RHP Josh Lueke (5.11 FIP) rounds out the bullpen. As a unit, the Tampa bullpen is a bottom-three unit with a 4.81 ERA (4.18 FIP).
The Yankees, meanwhile, are pretty well set in the bullpen outside of Adam Warren, who threw 60 pitches in long relief in Thursday and still needs at least one and probably two more days of rest before he's available again. David Robertson and Boone Logan have both pitched in three of the last five days but should be fine for tonight. Check out our Bullpen Workload page for reliever usage details, then check out DRays Bay and Process Report for the latest and greatest on the Yankees' division rival to the south.