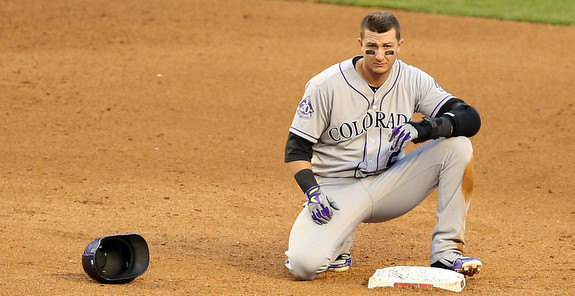 For the first time this year, the Yankees are heading to a National League park for interleague play. They're in Colorado for a three-game set with the Rockies, only their third trip to Coors Field since the place opened. The Yankees are just 2-4 at Coors all-time, and that includes getting swept in three games back in 2007. On the other hand, they scored 41 runs in three games back in 2002, the all-time for a three-game series in that building.
What Have They Done Lately?
The Rockies were picked by many (including me) to finish in last place in the NL West, but they're currently right behind the Giants for the division lead at 18-13 with a +27 run differential. They did just lose two of three to the Rays this weekend though, and after starting the year with 13 wins in 17 games, they've since lost nine of their last 14 games.
Offense
Home/road splits might be one of the most over-analyzed things in baseball, but Coors Field is a different animal. It's an extreme hitter's park not only because there are more homers due to the way the ball carries in the thin mile-high air, but also because breaking balls don't break as much as they do at sea level. Outfielders tend to play deeper as well, which results in more bloop hits. Since the place opened in 1995, games at Coors Field have a .3333 BABIP compared to a .3001 BABIP everywhere else. We're talking hundreds of thousands of plate appearances here.
Anyway, rather than the usual block text preview, I'm going to present the Rockies' active position players in a table to make life easier. All of the stats are for this year only.
Overall wRC+
Home wRC+
Road wRC+
CF Dexter Fowler
158
125
186
2B Josh Rutledge
72
77
70
LF Carlos Gonzalez
157
127
186
SS Troy Tulowitzki
182
197
172
RF Michael Cuddyer
162
226
115
1B Todd Helton
88
0
179
C Wilin Rosario
128
28
231
3B Nolan Arenado
171
270
102
Bench
OF Eric Young Jr.
104
99
106
UTIL Jordan Pacheco
90
67
112
C Yorvit Torrealba
110
143
84
IF Jonathan Herrera
50
123
-73
IF Reid Brignac
57
57
58
Surprisingly, the Rockies are actually hitting better on the road (120 wRC+) than they are at home (105 wRC+) so far this year. I'm guessing that has a lot to do with some brutally cold April weather in Denver, which included a few snow-postponed games. I don't expect that reverse split to last long, the Rox are going to mash at home once it heats up. Hopefully that process doesn't start this week.
Starting Pitching Matchups
Just in case you're wondering, no, Colorado no longer employs that four-man rotation/tandem starter thing they tried for most of last season. It's a regular starter/bullpen setup.
Tuesday: RHP Hiroki Kuroda vs. LHP Jorge De La Rosa
It's safe to say the Rockies haven't gotten their money's worth out of the 32-year-old De La Rosa, who signed a two-year, $21.5M deal with Colorado prior to 2011 before exercising his $11M player option for 2013. He made just 13 starts from 2011-12 due to Tommy John surgery and subsequent setbacks, and so far this year he owns a 4.18 ERA (4.64 FIP) in six starts. His strikeout rate (5.29 K/9 and 14.3 K%) is way down from his pre-surgery levels, and neither his walk (3.62 BB/9 and 9.8 BB%) nor ground ball (43.9%) rates have improved to compensate. De La Rosa's two- and four-seamer now sit in the low-90s, down a few ticks from before surgery. A low-to-mid-80s splitter is his top secondary offering, but he'll also throw low-80s sliders and low-70s curveballs. The Yankees haven't faced De La Rosa since 2007, and he's had a massive platoon split in recent years. It's a good game to sit some lefties and load the lineup with righty hitters … if the Yankees had anyone worthwhile righty bats.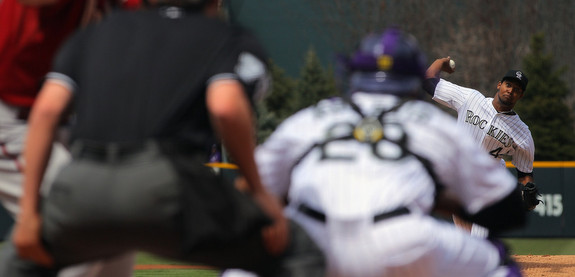 Wednesday: RHP Juan Nicasio vs. RHP David Phelps
Nicasio, 26, is best remembered for having his neck broken by a line drive back in August 2011. He had surgery and missed the rest of the season, but recovered well enough to make the team's Opening Day rotation last year. That's pretty remarkable. Nicasio owns a 4.91 ERA (5.83 FIP) in six starts this year, and outside of his ground ball rate (47.9%), his peripherals stink. He doesn't get a ton of strike threes (6.14 K/9 and 15.0 K%) and issues a lot of ball fours (4.60 BB/9 and 11.3 BB%). Nicasio is very fastball heavy, throwing his 91-95 mph four-seamer more than 70% of the time. A low-80s slider is his offspeed pitch of choice, and he'll seldom use his mid-80s changeup. The Yankees saw Nicasio when the Rockies came to the Bronx in 2011, and they hung four runs on him in five innings. It was his sixth career start and a little more than one month before the neck injury.
Thursday: LHP CC Sabathia vs. LHP Jeff Francis
The 32-year-old Francis falls into the Mark Buehrle category of soft-tossers, meaning the laws of FIP/DiPS Theory don't really apply. Unlike Buehrle though, Francis' career 4.91 ERA is more than half-a-run higher than his career 4.40 FIP. Buehrle has outperformed his FIP, Francis has underperformed it. The left-hander owns a 7.27 ERA (5.27 FIP) in six starts this year even though his strikeout (7.27 K/9 and 16.7 K%) and ground ball (52.8%) numbers are his best as a full-time big leaguer. His walk rate (3.81 BB/9 and 8.7 BB%) is a career-high and more than double what he's done in recent years. Francis sits in the mid-80s with his four-seamer and sinker, two pitches he uses to setup his upper-70s changeup and upper-60s curveball. Francis has faced the Yankees once in his ten-year career, holding them to one run in seven innings back in 2007.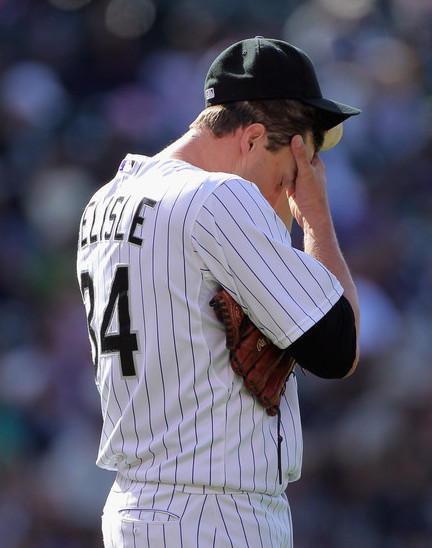 Bullpen Status
Both teams were off on Monday, so both bullpens are as fresh as can be. The Yankees might get David Robertson back from his hamstring problem tonight, though that depends on how his pre-game workout goes. Check out our Bullpen Workload page to see the team's reliever usage info.
Rookie Rockies manager Walt Weiss has a pretty awesome bullpen at his disposal, starting with veteran closer RHP Rafael Betancourt (3.16 FIP). RHP Matt Belisle (2.94 ERA) and LHP Rex Brothers (2.09 FIP) do most of the setup work, but former Yankee farmhand RHP Wilton Lopez (2.32 FIP) will draw some high leverage work as well. Brooklyn-raised RHP Adam Ottavino (3.51 FIP) shares middle relief worth with LHP Josh Outman (2.30 FIP). RHP Edgmer Escalona (3.87 FIP) does most of the long relieving. For the latest and greatest on the Rockies, check out Purple Row.