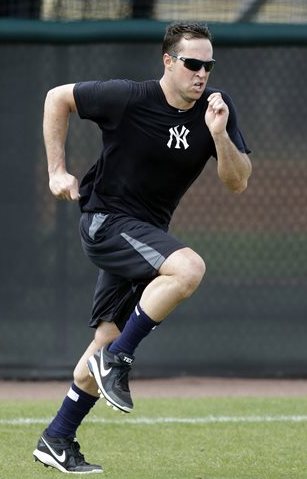 Last week, Mike polled RAB about which player on the disabled list the Yankees miss the most. Specifically, he focused on the players who started the season on the DL, who would have undoubtedly made the team's Opening Day roster, and would have been expected to be primary contributors – Curtis Granderson, Derek Jeter, Alex Rodriguez, and Mark Teixeira.
As I contemplated my response to the poll (I voted Jeter by the way), I considered the cost of those four players. They are worth approximately $85M in annualized salary. Add in Kevin Youkilis (who was the injury-prone back up plan to the injury-prone third baseman) for the sake of argument, and we've accounted for approximately 40% of the total cumulative Yankee payroll in 2013 (~$228M).
Now, just out of curiosity, I took a quick jaunt over to Cot's Baseball Contracts and looked at the other AL East rosters. I imagined what those lineups might look like if one effectively removed approximately 40% of the payroll from those rosters. In terms of players, I began by filtering out some of the more expensive contracts on the payroll, as they presumably would have been the same type of key starters that the teams were counting on the most – kind of like the Yankees. It's not a scientific comparison by any means, but I think the point stands to reason nevertheless.
| Orioles ($92M Total) | Red Sox ($155M Total) | Rays ($62M Total) | Blue Jays ($119M Total) |
| --- | --- | --- | --- |
| Nick Markakis ($15.3M) | John Lackey ($15.9M) | David Price ($10.1M) | Jose Bautista ($14M) |
| Brian Roberts ($10M) | David Ortiz ($11.5M) | Evan Longoria ($6M) | Josh Johnson ($13.7M) |
| Adam Jones ($8.9M) | Ryan Dempster ($13.2M) | Ben Zobrist ($5.6M) | Mark Buehrle ($12M) |
| Matt Wieters ($5.5M) | Jon Lester ($11.6M) | Yunel Escobar ($5M) | Jose Reyes ($10M) |
Frankly, it's kind of laughable. For Baltimore, I think they could survive without Roberts (as he's been pretty injured the last few seasons anyway). Take away Markakis, Jones and Wieters though, and I think they're in a lot of trouble. I don't see the Rays surviving without Price or Longoria, let alone both, and I think we're seeing what the Jays look like when their superstars aren't overly effective or are absent from the lineup altogether. The Red Sox started the season with Ortiz on the DL and with Lackey being, well, himself. That said, they have relied quite a bit on Dempster, Victorino, and Lester to all help shoulder the burden. Take Lester out of the mix, and that MLB leading record might not be so shiny.
I'm not sure where I'm going with this other than it's pretty incredible that the Yankees have not only continued to win (fifth best record in the AL, seventh best record in MLB) but have really handled a brutal injury plague about as well as could be expected. After all, many of us (including me) were hoping the team could merely stay afloat. We were hoping come mid-May, the team wasn't 10+ games back already.
Some of this success can and should certainly be attributed to guys like Vernon Wells and Travis Hafner really stepping up to the plate (see what I did there?), and Robinson Cano performing like the MVP candidate that he is. However, it's hard to imagine most teams survive in this environment. Now, one could understandably question how much more the team can handle, or even if no one else gets hurt, how long this can last as it is. Still, I for one am absolutely pleased with where the team is all things considering.