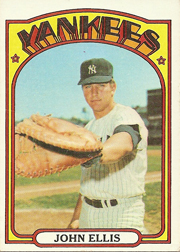 Recently, I had the distinct pleasure of chatting with former Yankee backstop, John Ellis. Mr. Ellis played for the Bombers from 1969-1972. He would go on to spend the rest of his career playing for both Cleveland and Texas. Ellis played side-by-side with Yankee legend, Thurman Munson, was part of the trade that brought fan favorite Graig Nettles to New York, and was also listed as the first official designated hitter in Cleveland Indian history.
Matthew Warden: A lot of us here at RAB were disappointed to see Russell Martin relocate to Pittsburgh. He seemed to be generally regarded as a quality defensive catcher with some pop in his bat. What are your thoughts on his skillset and did the Yankees make a mistake in letting him go?
John Ellis: Russell Martin was a tough, good catcher. But no, I don't think [they made a mistake]. Based on the start of the season, Martin's replacements are doing very well. Most importantly, the pitching staff is responding.
MW: When you watch the Francisco Cervelli/Chris Stewart tandem, what do you see?
JE: This tandem is as good as Martin, maybe not for homeruns, but as defensive catchers, who will [hopefully] hit for a higher average.
MW: Now that Cervelli is injured, what about Austin Romine? How hard is it for a kid to come up and immediately build that rapport with the pitchers?
JE: I do not think it is that hard to learn the pitcher's breaks [movement on pitches]. What is hard is learning the AL batters and how to set them up and get them out.
MW: Pretend you're the starting catcher on the Yankees roster today. What advice would you have for Ivan Nova? It seems like his control is simply not there. Do you see any mechanical flaws, or is he simply not the pitcher we saw in the second half of 2011?
JE: I have to believe that his arm must still be bothering him. As far as being an effective sinker-slider pitcher, he will just not have the consistency [while experiencing injuries].
*Note: this question was posed prior to Nova being sent to the DL for triceps inflammation. Turns out, Mr. Ellis was right on the money with his reply about a potential lingering injury.
MW: Can Nova be a viable starting pitcher for the Yankees once healthy? Do you see enough potential there?
JE: Of course. Definitely.
MW: On the other hand, how impressive have Andy Pettitte and Hiroki Kuroda generally been thus far?
JE: As far as Andy and Hiroki, they are healthy. They are pitching great and using all their pitches.
MW: How concerned are you about CC Sabathia's declining velocity?
JE: As many have said, "he just gets it done."
MW: So we can tell folks to take a step back from the ledge? The big guy will be fine?
JE: Absolutely. He is great.
MW: Alex Rodriguez, Derek Jeter, Mark Teixeira, and Curtis Granderson are all on the DL. Nick Swisher, Russell Martin, Andruw Jones, Eric Chavez, and Raul Ibanez are no longer with the team. That's a lot of talent (and power) that's no longer present. What are your expectations for this team offensively?
JE: Presently, [the offense] is doing more than anyone expected. Travis Hafner, Vernon Wells, Kevin Youkilis and Lyle Overbay have all done a great job. All of these guys have had a great start in NY and I expect them to get better.
MW: Chicks love the long ball though. Are homeruns as necessary as we make them out to be? Are you okay with a more National League style of play?
JE: I like the AL's designated hitter and I like the homeruns. But the Yankees will still have to find ways to get it done with or without them. They have to.
MW: One of the big narratives of the offseason was the new austerity budget that could take effect in 2014. What are your thoughts on the possibility of a new financially leaner Yankee squad?
JE: I am not sure about the austerity budget but the Yankees continue to find talent and I expect that to continue.
MW: Do you foresee some "rebuilding years" in New York's near future — a few seasons where they simply aren't competitive?
JE: No, they have a chance to rebuild the team right now [as they go] … and they are. If they rebuild anything, it will be replacing some of the great pitchers they have now [who may not return next season].
MW: Speaking of finances, how about the looming Robinson Cano contract? The man is going to be paid, and paid handsomely. What do you expect his next contract will look like? Will it be with the Yankees? Does Robbie belong in pinstripes for the foreseeable future?
JE: Cano is a great player and I expect the Yankees to sign him to a mega deal and be with the team for the remainder of his career.
MW: Are you in favor of teams making these mega deals? Does it matter that they can cripple roster flexibility down the road? Any idea what that mega deal might look like (in terms of dollars and years)?
JE: Firstly, I believe they insure their mega deals and I expect teams to continue making them [regardless of whether they hinder the team or not down the road] … especially for starting pitchers. As for Robbie, [his contract] could go as high as 10 years $20M a season. That said, I'm in favor of retaining the talent.
MW: The AL East is a gauntlet this year. It's probably about as balanced as it's ever been in terms of competitiveness. Who's going to pose the most threat to the Yankees?
JE: Boston and Tampa.
MW: What do these teams have that Baltimore and Toronto don't?
JE: Better starting pitching.
MW: Who wins the division?
JE: The Yankees.
MW: Does Toronto end up living up to the preseason hype?
JE: Yes, but one game still separates everybody.
MW: So you envision this year's race to come down to the very end then?
JE: To the last day.
MW: Who's the best player in the AL these days in your eyes?
JE: Mike Trout from the Angels.
MW: Do you see him ever topping his numbers from last season?
JE: It's certainly possible.
MW: Just for some perspective here, what former ball player would you compare Trout too?
JE: Fred Lynn.
MW: How about in the NL?
JE: John Buck from the Mets.
MW: Wow! Really? You're okay with putting him before guys like Andrew McCutchen, Buster Posey, or Bryce Harper? What are you seeing in Buck that I am not?
JE: Homeruns. Just having a better season so far!
MW: I'm sensing a little catcher bias here … maybe.
JE: [Laughs]
MW: What were your thoughts on the Zack Greinke altercation? Don Mattingly suggested that Carlos Quentin should be punished as long as Greinke is injured. Agree?
JE: Nice thought, but I do not recall the incident (who threw or charged who?).
MW: All indications were that Greinke accidentally hit Quentin. However, those guys had a "history" prior. Apparently, before the charge, Greinke did verbally provoke Quentin though. Does this change anything?
JE: Not really. It happens.
MW: Did you have a "history" with any players during your days in The Show?
JE: No, I was a gentleman.
MW: Be Honest now! There wasn't anyone that got your blood boiling?
JE: [Laughs] Nope.
MW: [Laughs] Let me ask you this then. Are you obligated to join the brawl if the benches start clearing?
JE: Yes.
MW: What's the expectation there for players?
JE: Hold each other back and protect your own players.
MW: You knew this question was coming. How far do the Yanks go assuming they win the division?
JE: All the way!
MW: Thank you so much for your time Mr. Ellis.
JE: You're welcome! Thanks for having me.
For more baseball banter with John, be sure to check out the first time I interviewed Mr. Ellis back in 2011.
Aside from being a former Big Leaguer, current entrepreneur, and a gentleman, Mr. Ellis is also a philanthropist. Be sure to check out Mr. Ellis' charity, the Connecticut Sports Foundation Against Cancer (CSFAC) for additional information or if you're interested in becoming a donor.