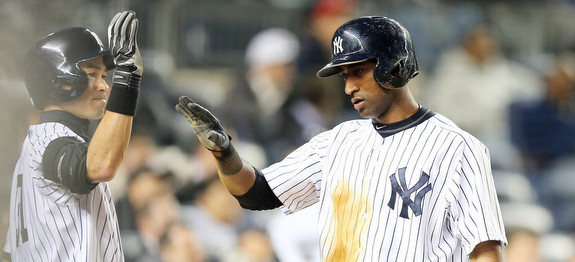 The Yankees and Astros have split the first two games of this three-game set, so New York needs s win tonight to avoid what would be an undeniably disappointing series loss to the worst team in the league. Tomorrow is an off-day, and off-days are always better when they following wins.
Because tomorrow is an off-day, the entire bullpen should be ready to go behind David Phelps, who is making his first start in place of the injured Ivan Nova. Something like ten pitchers have already set a career-high in strikeouts against Houston this year, so can Phelps top the nine whiffs he recorded against the Blue Jays five days ago? I'll settle for two or fewer runs instead. Here's the lineup that will face veteran left-hander Erik Bedard…
CF Ichiro Suzuki
3B Jayson Nix
2B Robinson Cano
LF Vernon Wells
DH Travis Hafner
RF Ben Francisco
SS Eduardo Nunez
1B Lyle Overbay
C Chris Stewart
And on the mound is the 2005 Missouri High School All-State MVP, David Phelps.
Yet another gorgeous night in New York. The game is scheduled to start at 7:05pm ET and can be seen on YES. Enjoy.
Mark Teixeira Update: Teixeira (wrist) hit in the batting cage today for the first time since suffering his wrist injury. Joe Girardi said he was still limited to dry swings, but Teixeira confirmed he was actually hitting baseballs on Twitter.