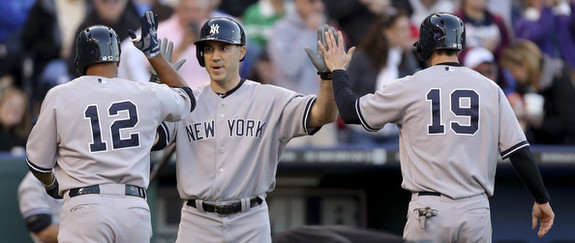 Even though they've won 21 of their last 30 games, the Yankees have yet to sweep a three-game series this year. That comes with a big asterisk though, remember they did sweep the Blue Jays in a four-game series at Yankee Stadium late last month. They've won the first two games of this series in Kansas City and have arguably their best pitcher on the mound going for their fifth straight win overall this afternoon. Here's the lineup that will face right-hander Ervin Santana…
CF Brett Gardner
2B Robinson Cano
LF Vernon Wells
DH Travis Hafner
RF Ichiro Suzuki
SS Jayson Nix
1B Lyle Overbay
3B Chris Nelson
C Chris Stewart
And on the mound is the 2005 Best Nine Award winner in Nippon Pro Baseball, right-hander Hiroki Kuroda. That award is given annually the best player at each position.
This afternoon's game is scheduled to start at 2:10pm ET and can be seen on YES. Enjoy.
Mariano Rivera-Joba Chamberlain Spat: As you've probably heard, Mo and Joba had a little verbal spat in the dugout prior to yesterday's game. Sweeny Murti says they kissed and made up afterwards. The only real mistake here was letting it happen in public. No big deal.
Real Joba News: Chamberlain (oblique) felt fine after throwing a bullpen session this morning. He'll make a minor league rehab appearance with Triple-A Scranton on Tuesday. The team will see how he feels about that, but it's possible he'll be activated off the DL as soon as Thursday.
Ivan Nova Update: Nova (triceps) felt something in his side playing catch either yesterday or today, so he has been ruled out for tomorrow's doubleheader against the Indians. Joe Girardi confirmed he would have been activated off the DL to start the second game.