I think a reasonable goal for any doubleheader is a split, and that's exactly what the Yankees got during their one-day, two-game trip to Cleveland. They traded shutouts with the Indians, leaving town on the heels of a 1-0 loss and 7-0 win.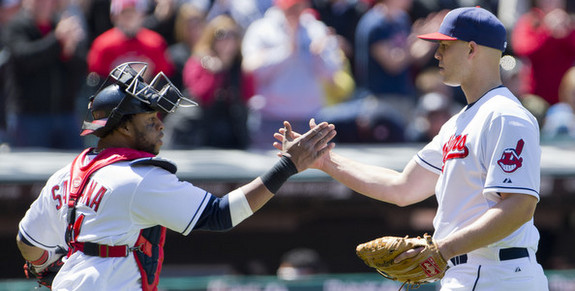 Game One: Offense Gets Mastered, Son
The key to beating right-hander Justin Masterson is loading the lineup with left-handed hitters. They came into the game with a .317 wOBA against him this year and .349 for his career, compared to .258 and .276 by right-handed batters, respectively. Joe Girardi put six lefties in his starting lineup, including five in the first five spots, but they responded by going a combined 2-for-21 with two walks against the Cleveland starter. Brett Gardner had a bunt single and Brennan Boesch a ground ball bleeder through the infield. That was it.
The Yankees' best chance to score came in the second inning, when the bottom of the order loaded the bases with two outs on a walk and two infield singles. The recently-acquired Alberto Gonzalez struck out to end the threat though, and Masterson went on to retire 21 of the final 25 men he faced. He struck out nine, got eleven ground balls, and recorded 23 of his 27 outs on the infield. The Yankees didn't even hit a ball hard until about the sixth inning. Tip your cap, Masterson was excellent. The Bombers were lucky Terry Francona didn't send him back out there to start Game Two.
Game One: Phelps Pays For His Mistake
David Phelps had an effective and really uneven outing. Jason Kipnis took him deep for a solo homer two batters into the game — Michael Bourn was incorrectly called out at second on a stolen base attempt one batter prior, so it could have easily been a two-run shot — and he seemed to be behind pretty much every batter for the first four or so innings. In fact, he fell behind in the count to 13 of the first 18 men he faced. That's really, really bad.
To his credit, Phelps settled down. He retired ten of the final dozen batters he faced, throwing a career-high 115 pitches thanks to seven strikeouts and five walks in 6.2 innings. New York's starters have a knack for battling through tough starts, but I don't know if that's a character/competitiveness thing or a teachable skill. Either way, I'm sure watching veterans like CC Sabathia, Hiroki Kuroda, and Andy Pettitte do it time after time has rubbed off on Phelps. He was shaky at times against the Indians, but at the end of the day he surrendered just one run in 6.2 innings. Can't ask for more.

Game Two: Numbero Nuno
It's fitting Vidal Nuno's first career big league start came against the team that originally drafted — and soon thereafter, released — him. The 25-year-old left-hander was making his first start in three weeks and first appearance of any kind in two weeks, and he responded by firing five scoreless innings against an Indians team that came into the day with a 120 wRC+, the highest in baseball by a wide margin.
Nuno did exactly what you expect a finesse left-hander to do: he worked quickly and used all sorts of different pitches. PitchFX says he used five different pitches in fact, four at least ten times each, yet he failed to record even a single swing and miss. Didn't cost him though. Nuno threw a first pitch strike to 17 of 21 batters and, at least until he visibly ran out of gas in the fifth, was going right after hitters quickly and aggressively all afternoon. Nuno allowed three singles and three walks against five strikeouts and in his first MLB start, squeezing through the minimum five innings needed for his first career win.
Game Two: RailRiders Lead The Big Inning
The second game mirrored the first game in terms of offense, at least for the first six innings. Not a whole lot happened. The Yankees took a quick one-run lead in the first inning thanks to some defensive funny business, and the score remained 1-0 until they broke things open in the seventh. That rally was started by a pair of recently recalled Triple-A Scranton/Wilkes-Barre RailRiders.
Corban Joseph, who was up for the day as the 26th man, started the inning with his first career big league hit. It was a solid single to left-center that he hustled into a double, and two batters later Austin Romine doubled him in with a line drive to left. That was a big insurance run at the time, but not so big overall because the Yankees scored another five runs in the frame. Jayson Nix and Vernon Wells had RBI singles while Lyle Overbay doubled in two (off a lefty!). To think, the second batter of the inning tried to sacrifice bunt. That breathing room was much appreciated considering David Robertson and Mariano Rivera were likely unavailable due to their recent workloads.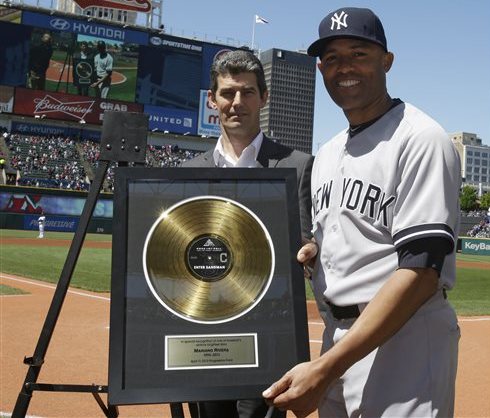 Leftovers
Despite having two kids starting both ends of a doubleheader, the bullpen came through the day in pretty good shape. Boone Logan was only one of Joe Girardi's trusted late-inning arms to pitch, and he struck out the only man he faced in Game One. Preston Claiborne threw a perfect inning in that game, then Adam Warren picked up his first career save with four scoreless frames in relief in Nuno. He's the first Yankee with a four-inning save since … Derek Lowe last August. Not that long ago. The bullpen is now up to 22 consecutive scoreless innings, by the way.
Robinson Cano went 1-for-9 during the doubleheader and is very much in "swing at everything" mode right now. Here's proof. Yikes, Robbie. Gardner went 1-for-8 with four strikeouts, the bunt single, and a walk in the two games. He was the only Yankee without a hit in Game Two and is also in a "swing at everything" rut as well. Nix, Wells, and Gonzalez were the only players with two hits on the day, though Gardner, Overbay, and Joseph reached base twice as well.
Joseph, who sat on the bench for two days earlier this year, started the first game at first base and the second at second. He looked fine at first, making a number of nice scoops and starting a 3-6-1 double play. Second base didn't go as smoothly, including one ball thrown into the dugout. As per the 26th man rules, Joseph has to go back to Triple-A before the next game.
The Yankees are now 22-4 when holding their opponents to four runs or less than this year, and all four losses are shutout losses. They improved to 4-0 immediately following a shutout loss with the Game Two win. Six wins and 16 total runs allowed (!) on the eight-game road trip has to be considered a huge success.
The Indians gave Mariano Rivera a gold Enter Sandman record from the Rock and Roll Hall of Fame between games, and it's easily the best gift he's received during his farewell tour. Easily.
Box Score(s), WPA Graph(s) & Standings(es)
ESPN is the place for up to the minute standings. MLB.com has the box score and video highlights of Game One while FanGraphs offers some other stats.

Source: FanGraphs
As for Game Two, here are the MLB.com and FanGraphs links. Box score, video highlights, nerd stats, etc.

Source: FanGraphs
Up Next
One day in Cleveland is enough. The Yankees are heading home to the Bronx and will welcome Jesus Montero and the rest of the Seattle Mariners to town for a three-game series. CC Sabathia and Felix Hernandez kick things off in the Tuesday night opener. Check out RAB Tickets if you want to catch the battle of aces.