This three-game series against the Astros was a lot more difficult than it needed to be. The first game was a blowout loss while the two wins that followed were both unnecessarily close. Wednesday's final was 5-4 in favor of the good guys.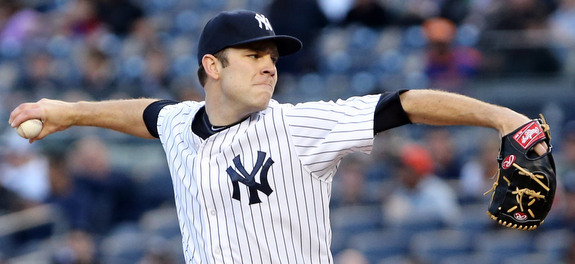 Great Start, Bad Finish
In a not-so-shocking turn of events, David Phelps really struggled once the lineup turned over. Coming into Wednesday's start, opponents posted a 96 OPS+ (2.76 K/BB) against Phelps the first time they faced him in a game and a 105 OPS+ (2.24 K/BB) each time thereafter during his young career. The Astros went 1-for-9 against the New York starter the first time through the lineup on Wednesday before locking in and going 7-for-13 with a walk for the duration of his outing. That's an extreme case of struggling after the lineup turns over, but it's not uncommon for the right-hander.
Those struggles led to Phelps blowing a four-run lead in the fourth inning, a rally that included a bases loaded hit-by-pitch and two run-scoring balls that didn't leave the infield (infield single, fielder's choice). Only one of the nine Astros to bat in the inning saw a hitter-friendly 2-0 or 3-1 count while three of the seven base-runners reached in two-strike counts, so Phelps was getting ahead but failing to put guys away. Four runs in 5.2 innings from the sixth starter is fine, but I do think the Yankees should at least consider starting Vidal Nuno the next time this rotation spot comes around. Barring something unexpected, I expect them to continue to run Phelps out there as Ivan Nova's replacement though.

Go-Ahead Rally
The game remained knotted up at four until the sixth inning, when the Yankees weirdly manufactured a run. It all started with an Eduardo Nunez double into the left field corner, and a pitch later he was at third base thanks to a wild pitch. Lyle Overbay walked to put men on the corners.
Contact and speed-machine Ichiro Suzuki was the plate with one out, so the chances of an inning-ending double play was basically zero. The inning did indeed end on a double play though, but not before the run came around to score. The slow grounder to second allowed Overbay to get caught in a run down long enough for Nunez to trot in home well before the tag was applied for the final out. Not exactly a conventional way of producing a run, but you gotta do what you gotta do.

Leftovers
Of course, Phelps couldn't blow a four-run lead if the offense hadn't actually scored four runs first. They were all over starter Erik Bedard, plating one run in the first (Jayson Nix single), one run in the second (Chris Stewart sac fly), and two runs in the third (Robinson Cano and Ben Francisco solo homers). Bedard put ten men on-base in four innings of work and the left a pair of runners on-base in both the second and fourth innings. They had opportunities to put this one to bed super early.
It took a month, but Brett Gardner finally has more stolen bases (four) than homers (three). He swiped both second and third base in the eighth inning, but the Yankees were unable to push across an insurance run. Not coincidentally, Joe Girardi let Stewart bat in an obvious pinch-hitting situation only to watch him make an unproductive out. He grounded to third with the infield in and men on the corners with one out, two innings after striking out on three pitches with men on the corners and no outs. There are lefty bats on the bench for a reason, you know.
Ichiro was the only Yankee with multiple hits (triple and single), but Nix (single and a walk), Francisco (homer and a walk), Nunez (double and a walk), and Overbay (double and two walks) all reached base multiple times as well. The 3-4-5 combination of Cano (homer), Vernon Wells (single), and Travis Hafner (walk) each reached base once. Stewart was the only player who failed to get on-base.
Big ups to the bullpen. Boone Logan cleaned up Phelps' sixth inning mess before tacking on a scoreless seventh, then David Robertson and Mariano Rivera did their thing to record the final six outs. The three relievers combined to allow two singles — both runners were erased on double plays — while striking out four in 3.1 innings. Great job both those three.
Robertson appeared to roll his left ankle on his final pitch — he limped off the field — but after the game he said he tweaked something in his left knee. He got some treatment following the game and is fine. Exhale.
Box Score, WPA Graph & Standings
MLB.com has the box score and video highlights, FanGraphs some other stats, and ESPN the updated standings.

Source: FanGraphs
Up Next
The Yankees have an off-day on Thursday, their first in 16 days. That dates back to before the start of the Diamondbacks series. The Athletics are coming to the Bronx for a three-game weekend set starting Friday night, and the series-opening pitching matchup will be CC Sabathia against right-hander A.J. Griffin. RAB Tickets is the place to go for the latest deals on tickets for that series.