For the first time in their last ten games and the second time in their last 13 games, the Yankees scored more than four runs on Monday night. In fact, they nearly doubled that number and scored seven runs. New York got a sorely needed 7-4 win in the series opener against the Indians.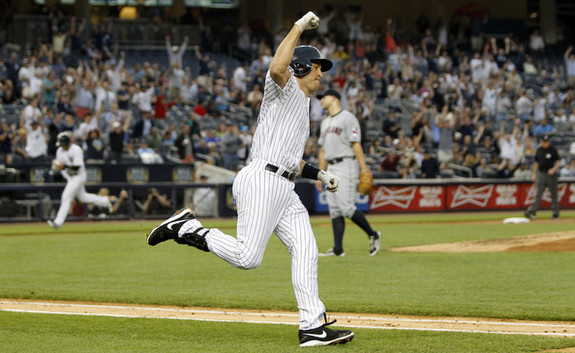 No Review?
The Bombers really needed a strong start, and Mark Teixeira did the honors with a third inning grand slam off Justin Masterson. It was the first homer Masterson has allowed to the Yankees in 53.1 career innings, which is nuts. Needless to say, the homer felt like a huge relief at the time. The Yankees have been struggling to score runs in a big way, so getting four on one swing against a really good pitcher is a definite confidence builder.
Now, make no mistake, the grand slam was a total Yankee Stadium cheapie. Some little kid caught it (in his hat!) in the very first row, and it looked like he might have reached over the fence a bit to snag the souvenir. Indians manager Terry Francona never asked for a review though, so the grand slam stood. Of course, that rocket was (at worst) a bases-clearing double in a normal-sized park, so we're talking about one run here. But considering how much they've been struggling, one run is big. Thanks, Tito.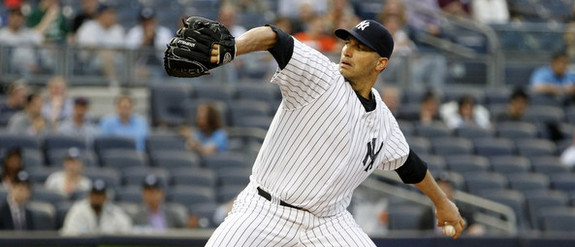 Out Of Gas
In his first start in more than two weeks, Andy Pettitte looked like vintage Andy Pettitte … until he ran out of gas at 70 pitches or so. With a man on second and two outs in the fifth, Pettitte threw ten straight balls to walk Nick Swisher and Mark Reynolds and put Carlos Santana in a hitter-friendly 2-0 count with the bases loaded. A few pitches later Santana tied the game with a hard-hand ground ball that ate up David Adams at third and hopped into the stands for a two-run ground-rule double.
Andy looked perfectly fine up until that fourth inning. His cutter was cutting and his curveball was catching the outside corner to righties, plus the Indians weren't hitting a ton of balls in the air — nine of his 12 outs and 11 of his 17 balls in play were on the ground. Pettitte threw only one 75-pitch simulated while on the DL (no minor league rehab games), so I guess his stamina just wasn't there following the layoff. Hopefully this isn't an issue in five days.

The Cutoff That Turned The Season Around?
The Yankees got not one, but two offensive breaks in this game. Francona didn't ask for a review on the Teixeira grand slam, and in the sixth inning Masterson inexplicably cut off Michael Bourn's throw from center field.
Brett Gardner slapped a single to center with men on second and third with two outs, but Austin Romine was the trail runner. As per baseball rules, the catcher must be slow as hell, and it was obvious from the various replays Bourn's thrown would have had him at the plate (assuming catcher Yan Gomes held on) had it not been cut off. Best of all, Gardner managed to make it to second base anyway. Maybe Masterson learned from his former teammate Manny Ramirez?
It was a lucky break for sure — legitimately the difference between a one-run lead and two-run lead in the final third of the game — but the most important thing here is that Gardner picked up the runners with a solid two-out, two-strike base hit back up the middle off a really good pitcher. The dumb cutoff will get all of the attention, but Brett came through in a real big spot there. He came into this game hitting .290/.351/.464 (118 wRC+) with men on-base this year, so he's getting things done.
Leftovers
It was only seven innings, but Lyle Overbay looked playable in right field. He was only tested three times, though. He had to retrieve a double into the gap (barehanded the ball cleanly off the wall and hit the cutoff man), scoop up a single hit in front of him, and come in to catch a routine can of corn in shallow right. That was just a little adventurous, but nothing crazy. As expected, he was lifted for defense in the late innings. For a guy who had never played the position at the big league level, Overbay was fine.
Heads up play by Adams to tag Mike Aviles as he went to third on Swisher's run-scoring fielder's choice in the third. The easy play was to take the out at first, but he made a heady play to get the lead runner. Oddly, Joe Girardi lifted Adams for defense in the eighth inning. He's been up for more than two weeks now, but that was the first time that happened. I know the Santana ground-rule double was botched, but it was hardly a routine play. I guess Joe just wanted to make sure they nailed down the much-needed win.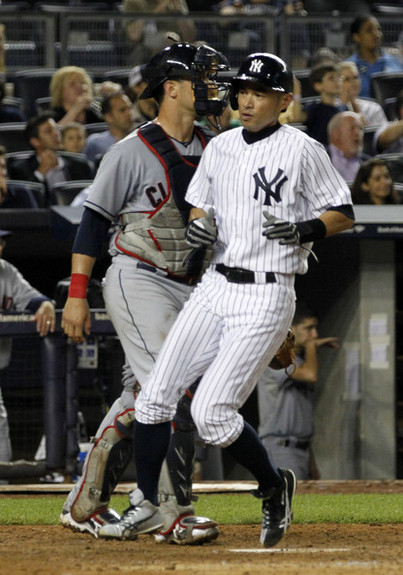 The only Yankees with multiple hits were … Reid Brignac and Romine. Naturally. In fact, Adams was the only player to go hitless, and six of the nine starters reached base at least twice. Travis Hafner hit a solo homer in the seventh, his first dinger in exactly two weeks. Vernon Wells has stunk of late, but Pronk has been pretty terrible recently as well. Hopefully he starts to turn it around.
I can't ever remember seeing a sacrifice fly on a ball hit to an infielder, but that's how the Tribe scored their second run. Robinson Cano ranged out into medium center field to snag an Aviles pop-up in the fifth, and he was unable to throw out the speedy Drew Stubbs flat-footed. In retrospect, Gardner has to catch that ball coming in from center so he can use his momentum towards the plate on the throw.
Shawn Kelley bailed Pettitte out of the fifth inning and followed with a scoreless inning of his own. He struck out two of the five batters he faced and dropped his strikeout rate to 15.31 K/9 (41.3 K%). Joba Chamberlain struck out two and walked one in his scoreless inning, David Robertson struck out zero in his perfect inning, and Mariano Rivera pitched around a bloop single to record the save with a perfect inning. Textbook.
The Yankees have scored seven or more runs ten times this year, and four of those ten times have come against the Indians. They did it twice against the Blue Jays and no other team more than once.
Box Score, WPA Graph & Standings
MLB.com has the box score and video highlights, FanGraphs some other stats, and ESPN the updated standings. None of the other AL East teams played Monday, so the standings remain unchanged. The Red Sox are two up in the loss column while the Yankees, Rays, and Orioles are all tied for second.

Source: FanGraphs
Up Next
Same two teams on Tuesday night, when the Yankees and Indians play game two of this three-game set. David Phelps and Scott Kazmir is your pitching matchup. Check out RAB Tickets if you want to catch the game live.