Splitting a four-game series with a Rays is not a terrible result, but it is kinda disappointing the Yankees were unable to make it three of four on Sunday. The Bombers head into Monday's off-day on the heels of a 3-1 loss.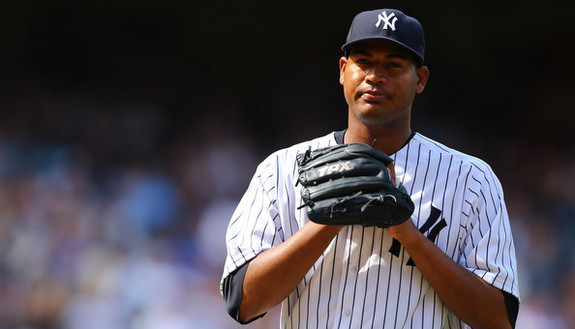 Nova Returns
By Game Score (52), this was Ivan Nova's best start since his third to last start of 2012. That's kinda telling since he still managed to put a dozen men on-base — seven singles, three walks, two hit batsmen — in 6.2 innings of work. The Rays scored a run in the first and it appeared like the same ol' Nova was ready to make this one a laugher before it really got started, but he settled down and followed with five scoreless frames before things unraveled a bit in the seventh. More on that in a second.
Nova threw 68 of 103 pitches were strikes and started 17 of 30 batters faced with a first pitch strike, and he seemed to be relying on his breaking stuff a ton. First pitches, put-away pitches, ahead in the count, behind in the count … it seemed like every important pitch was a breaking ball. Fifty (!!!) of those 103 pitches were breaking balls according to PitchFX, and 32 of those 50 were strikes. Eight of those strikes were swings and misses. Fifty breaking balls is a ton. Hell, half that is a lot for one start.
Anyway, nice very job by Nova in the spot start. He gave the Yankees exactly what they needed and probably more than they expected. I can't imagine the team will make the decision to re-insert him back into the rotation based on one decent outing, but I'm sure he'll get another chance before long. Hopefully he's ready.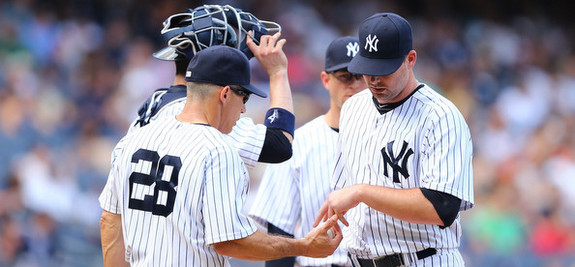 Two Outs, Two Strikes … Two Runs
The afternoon was moving along just fine for Nova, who retired the first two men he faced in the seventh without much of a problem. Then he hit Desmond Jennings with two outs. Usually that wouldn't be a big deal, but the inning snowballed out of control after that. Nova plunked Ben Zobrist with an 0-2 breaking ball to put two on with two outs, then Shawn Kelley came out of the bullpen to walk Evan Longoria on five pitches to load the bases.
Joe Girardi summoned Boone Logan out of the bullpen to face the left-handed James Loney with two outs, and the southpaw quickly jumped ahead in the count 1-2. Instead of burying the put-away slider in the dirt or off the plate away, Logan hung it middle-middle and Loney lined it back up the box for a two-run, two-strike, two-out single. That proved to be the difference in the game.
Nearly halfway through the season, lefties are hitting .295/.311/.432 against the team's only lefty reliever. If Logan doesn't show some improvement soon, the Yankees are going to have to think about adding a second southpaw to the bullpen for those important late-inning matchup spots.
Leftovers
If the Rays hadn't scored in the seventh, this game would have gone about 20 innings. The Yankees scored their only run on a hard-hit Cano sacrifice fly in the very first inning, but after that they only had four players reach second base. None reached third base and the final eight batters they sent to the plate made outs. Just two of their final 16 batters reached base. After back-to-back games of 6+ runs, it was back to offensive incompetence on Sunday.
After starting his big league career with 14 straight walk-less appearances, Preston Claiborne has now walked four batters in his last five outings. Nine men have reached base across four innings in those five games. Joba Chamberlain, meanwhile, had just his second scoreless appearance in his last six outings. Kelley and Logan each allowed the only he faced to reach base, so the bullpen combined for five base-runners in 2.1 innings in relief of Nova. Yuck.
Brett Gardner continues to be outstanding atop the lineup, going 3-for-4 with a double on Sunday. He's hitting .339/.378/.514 over the last month, but with only two steals in four attempts. Only eleven steals nearly halfway through the season? Weird. Anyway, Zoilo Almonte went 2-for-4 with two doubles while the rest of the lineup went a combined 2-for-24 (.083) with six strikeouts.
Box Score, WPA Graph & Standings
MLB.com has the box score and video highlights, FanGraphs some other stuff, and ESPN the updated standings. The Red Sox lost and the surging Blue Jays — they've won eleven straight, you know — destroyed the Orioles, so the Yankees are tied with Baltimore and one back of Boston in the loss column. Toronto is just two back (!) while Tampa is three back.

Source: FanGraphs
Up Next
For the third consecutive week, the Yankees are off on Monday. The Rangers are coming to the Bronx for a three-game series starting Tuesday night, when countrymen Hiroki Kuroda and Yu Darvish square off in the opener. Check out RAB Tickets if you want to catch the tenth matchup of Japanese-born starting pitchers in baseball history in person. At least I think it's the tenth such matchup; my count is unofficial.