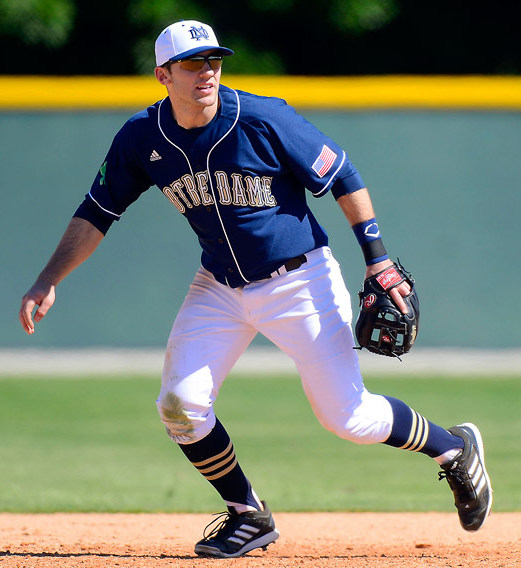 It's been a long, long time since the Yankees drafted a college bat like Eric Jagielo. The Notre Dame third baseman is the first college position player they've selected in the first round since taking Florida State outfielder John Ford-Griffin — he was considered more of a second round talent because of injury concerns and a lack of power — with the 23rd overall pick in 2001. You have to go all the way back to Thurman Munson in 1968 for the last time the Yankees landed a slam dunk first round college bat.
Baseball America and Keith Law (subs. req'd) ranked Jagielo as the 16th and 26th best prospect in the draft in their final rankings, putting him firmly in the back-half of the first round mix. To get an idea of the skillset it takes to be considered a back-half of the first round college bat, here's a snippet of Baseball America's pre-draft scouting report (subs. req'd):
He combines the ability to hit for power and average like few players available … He has shown more discipline, made more contact and done a better job of using the whole field. He now projects to hit for a solid average with at least plus power. While he's a below-average runner and his agility and reactions still need improvement, scouts believe Jagielo will be able to stick at the hot corner. His actions, hands and arm all are fine for the position. He played all four corner positions for the Fighting Irish, not becoming a full-time third baseman until mid-2012.
Now here's a piece of what Keith Law (subs. req'd) had to say:
Jagielo is one of the more polished college bats in the class, valuable even though he doesn't have the explosive tools of Hunter Renfroe or huge raw power of Kris Bryant … In the field, he's an adequate defender at third with arm strength, agile enough to stay at the position even though he's going to be among the bigger third basemen in pro ball. I could see him as a 20-homer guy with mid-.300s OBPs who plays solid-average defense in a few years, which would make him an everyday guy who could make an All-Star Game or two.
By all accounts, or at least the accounts of people much more informed than me, Jagielo is a  legitimate two-way player who projects to hit for average and power in addition to contributing on defense. Will he be Scott Rolen? No. Can he be an above-average third baseman in the big leagues? Sure, if he develops as expected. That part is always tricky.
Because it's been so long since the Yankees drafted a college bat like Jagielo, I really have no idea how they will handle him now that he's agreed to a straight slot signing bonus and is ready to begin his pro career. The easy answer is an assignment to Short Season Staten Island before starting next year with High-A Tampa and hopefully finishing it with Double-A Trenton, which was the path Griffin was on until being dealt to the Athletics in the three-way Jeff Weaver/Ted Lilly trade at the 2002 deadline.
Griffin's career started more than a decade ago, however. The Yankees have changed development personnel and stuff since then, and Jagielo is a better pro prospect now than Griffin was then. There's not a one-size-fits-all development plan for college bats, which is why I wonder if Jagielo's polish could earn him an assignment to High-A Tampa this year — first a few days with the Rookie GCL Yanks (who play in Tampa) as a tune-up after not playing since late-May, then a move to Tampa where they conveniently lack an everyday third baseman. It would be a true fast track.
For what it's worth, the Yankees assigned Rob Refsnyder, another polished college hitter, straight to Low-A Charleston after selecting him in the fifth round last year, so jumping a college bat over the short season leagues into full season ball right away isn't something the organization is unwilling to do. My general rule of thumb is if you take a college hitter in the first round and can't send him to High-A ball to start his first full season as a pro, you took the wrong guy. Jagielo can definitely start next year with Tampa, but I wonder if the Yankees like his bat enough and think he's polished enough to make the jump right now rather than wait until next April, especially since he mashed with wood bats in the Cape Cod League last summer. We'll have an answer relatively soon.